50 Must-Read Books About Unicorns
I don't know about you, but I went through a serious unicorn phase when I was a kid, which lasted well into high school not because of Lisa Frank, but rather thanks to Sue Dawe and her ability to make unicorns look like they were all stepping off of a heavy metal album cover. I'm not sure when dragons suddenly took over from unicorns as being "cooler" in my brain, but they never fully expunged these magical horses and their stab-a-guy-ready horns. And while I think dragons have taken over fantasy that involves magical creatures, unicorns are still gamely hanging onto the written word, just waiting for their chance to take over again. Here's a list of 50 books about unicorns (not just unicorns as "also appearing"), both old and new, that are well worth reading.
I've separated these books about unicorns loosely by age group, but does age really matter to unicorns? I will note that this book list turned out very white, almost entirely so. I spent days sifting through unicorn books and failed pretty hard when it came to locating more written by authors of color; perhaps it's an issue of the specificity of the topic. Here's hoping for more unicorn books from a wider array of voices in the future—because unicorns are for everyone.
Are there any awesome unicorn books I missed, either favorites from your childhood or new releases? Let us know in the comments!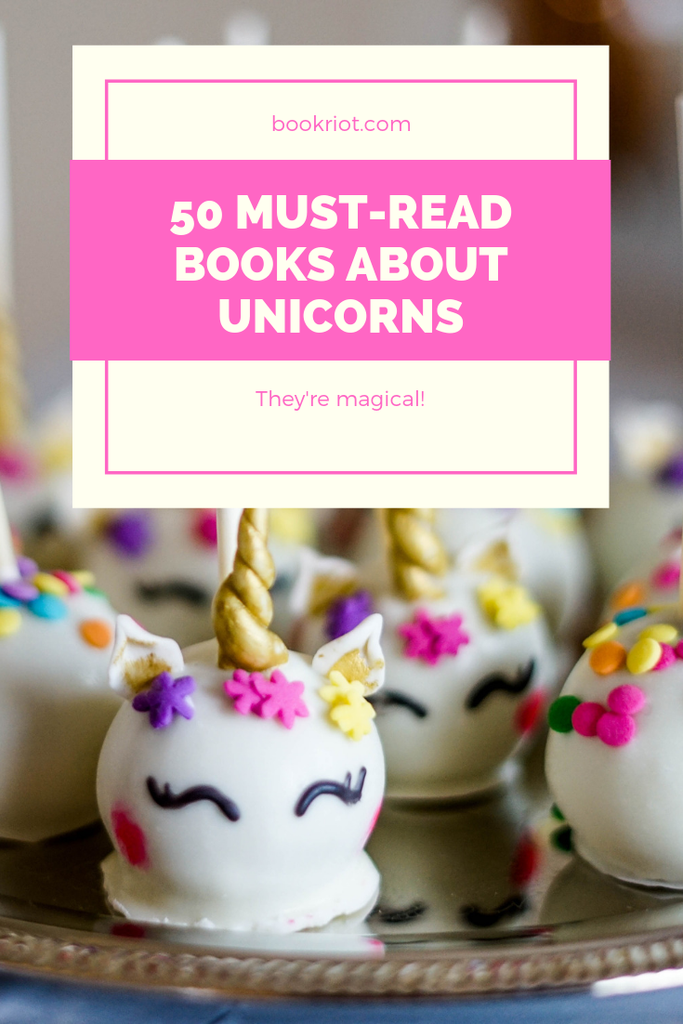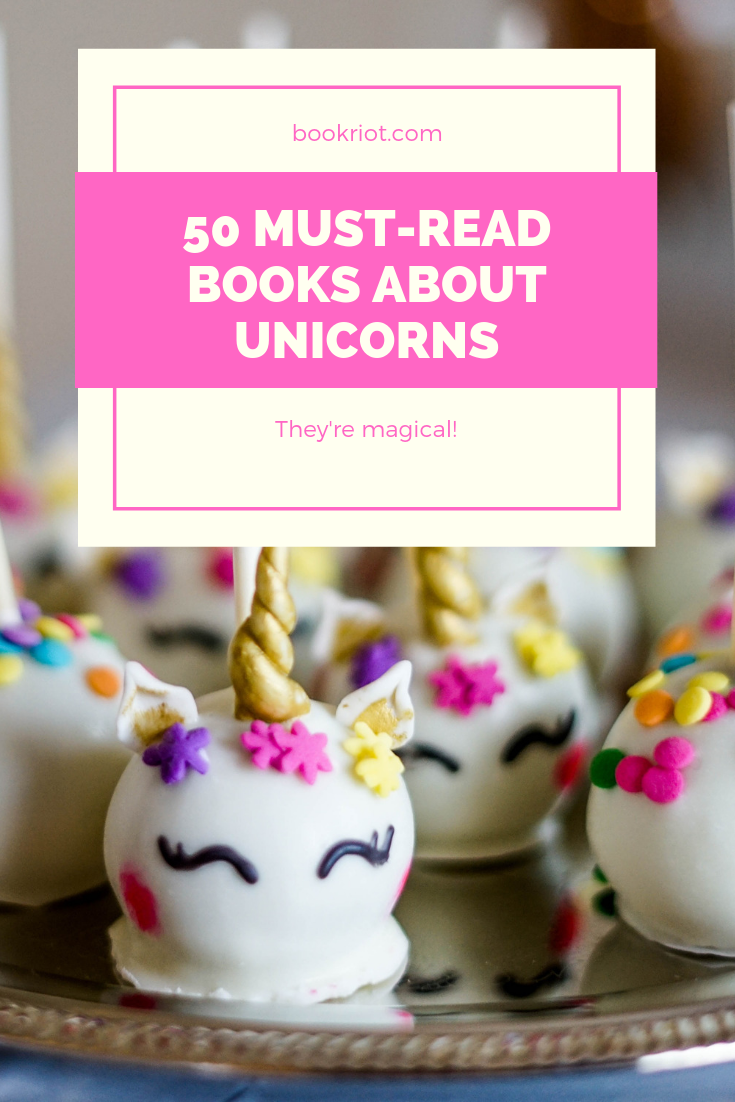 Picture Books About Unicorns
"When a little boy throws a coin in a well asking for a pet unicorn, he has no idea what kind of trouble he's in for. Unbeknownst to him, unicorns make the absolutely worst pets: they shed, they poke holes in your ceiling, and they make a big mess."
"Have you ever seen a unicorn? Though rare, they're out there. In China, if you're very lucky, you might see the Kilin, a unicorn considered to bring great fortune. Mist and Rain Fader unicorns are said to love the waterfalls of South America. And, rumor has it that unicorns have even been glimpsed in New York's Central Park."
"Growing up in the ocean, Kelp has always assumed that he was a narwhal like the rest of his family. Sure, he's always been a little bit different—his tusk isn't as long, he's not as good of a swimmer, and he really doesn't enjoy the cuisine. Then one night, an extra strong current sweeps Kelp to the surface, where he spots a mysterious creature that looks just like him!"
"Lily the unicorn loves making new friends and going on adventures! So when Lily meets her new pal, Roger the penguin, she plans all sorts of fun for them. But Roger is afraid of trying new things. What if he tries and fails?"
"Demon has just returned from a trip to Asgard when a brand-new set of disasters fall into his lap. Not only does he have a groggy volcano monster to deal with, but something seems to be wrong with the unicorns, too. Demon's only clue is a mysterious note saying "Unicorn Emergency!" left on his bed."
"Ever since Unicorn moved into the neighborhood, Goat has been feeling out of sorts. Goat thought his bike was cool-until he saw that Unicorn could fly to school! Goat made marshmallow squares that almost came out right, but Unicorn made it rain cupcakes! Unicorn is such a show-off, how can Goat compete?"
Twelve Dancing Unicorns by Alissa Heyman, illustrated by Justin Gerard
"Once upon a time, a king owned twelve enchanting unicorns that he locked up with golden chains. But every morning, he'd find the beautiful creatures peacefully asleep in their corral—with their chains shattered. Puzzled, he promised a reward to anyone who could reveal the unicorns' secret. With the help of a magic cloak, a little girl sets out to discover the truth . . . and help the special unicorn that she loves the most."
"Thelma dreams of being a glamorous unicorn. Then in a rare pink and glitter-filled moment of fate, Thelma's wish comes true."
"When the moon gets stuck between two hills, the unicorn tries to free it with help from a griffin and an alchemist."
Uni the Unicorn by Amy Krouse Rosenthal, illustrated by Brigette Barrager
"Uni the unicorn is told there's no such thing as little girls! But no matter what the grown-up unicorns say, Uni believes that little girls are REAL."
"Star, a baby unicorn and one of the last eight unicorns on earth, must find a way to help save her friends from the evil dragons."
"Long ago unicorns lived in a haven of sun-dappled glades and flower-filled dells. But as civilization spread over the ages — with its fierce knights, its chugging trains, its thick smogs — unicorns had to find a new sanctuary. But where?"
"When a serpent poisons the lake where all the animals drink, only the unicorn has the power to save them."
Nobody Rides the Unicorn by Adrian Mitchell, illustrated by Stephen Lambert
"When the magic of Zoe's soft, sweet singing draws a beautiful unicorn to her, everyone is delighted. But then Zoe finds that her unicorn is in terrible danger."
Morgan Morning by Stephen Cosgrove, illustrated by Robin James
"When the young horse, Morgan, is swept over a waterfall and breaks his leg, he is rescued by a magical unicorn, who changes Morgan into a unicorn."
When Unicorns Poop by Lexie Castle, illustrated by Christian Cornia
"Did you know that when a unicorn poops, rainbows arch across the sky? And when they toot, shiny bubbles float all around! What happens when a unicorn sneezes or spits or cries?"
"Classic unicorn illustrations are paired with excerpts from poems, stories, and songs that reflect our fascination with the mysterious and beautiful unicorn and its enchanted, mythical world."
"This story is about a little girl who keeps hearing, "Never let a unicorn scribble!" But in her heart believes that people just don't understand how beautiful scribbling can be. She keeps trying to teach her unicorn to scribble but soon realizes this is more difficult then she anticipated."
Sarah's Unicorn by Bruce Coville and Katherine Coville
"Although she tries to keep her friendship with Oakhorn a secret, Sarah's wicked aunt finds out and is determined to rob the unicorn of his magic."
"As night falls in the enchanted forest, the unicorns and their friends gather to get ready for bed. Say goodnight to all the types of unicorns — the pearly-whites, the foals, the oldens, the fluffies, the jet-blacks, the cuties, and more — as well as the wonderful beings who attend them, from rainbows and fairies to baby dragons and, of course, the full moon."
Middle Grade Books About Unicorns
"A fabulous collection of unicorn stories and poems, with both medieval and modern settings, weaves the author's imaginative perspective intotraditional unicorn lore about the fabled beast's healing powers and quintessential goodness."
"Claire Martinson still worries about her older sister Sophie, who battled a mysterious illness last year. But things are back to normal as they move into Windermere Manor . . . until the sisters climb a strange ladder in a fireplace and enter the magical land of Arden."
"Some things Pip and Tomas will find when dealing with unicorns: Show-offs, stampedes, mystery, a unicorn who's afraid of everything
Some things Pip and Tomas will not find when dealing with unicorns: peace and quiet"
"It all started when Phoebe skipped a rock across a pond and accidentally hit a unicorn in the face. Improbably, this led to Phoebe being granted one wish, and she used it to make the unicorn, Marigold Heavenly Nostrils, her obligational best friend."
"Louie the Unicorn is a star! At least, he will be once he polishes his act at performing arts school. With a song in his heart, a spring in his step, and an unwaveringly sunny outlook, he's about to take the big city by storm."
"Is there no rest for the travel worn and weary? Not if you are Nathaniel Fludd, world's youngest beastologist-in-training. All Nate really wants is to track down his missing parents, but when a unicorn falls mysteriously ill, Nate's Aunt Phil makes it clear where beastologists' duties lie: with the beasts who need them."
"When challenge-loving April leads the girls on a hike up the TALLEST mountain they've ever seen, things don't go quite as planned. For one, they didn't expect to trespass into the lands of the ancient Cloud People, and did anyone happen to read those ominous signs some unknown person posted at the bottom of the mountain? Also, unicorns."
"As Arianna recovers from a bad accident and loss of memory, she slowly recalls things about her past and learns that her "horse" Chase can speak thoughts to her, as can her dog. When Chase is threatened, Arianna tries to run away with Chase and Lincoln – only to find herself transported into the world of Balinor, where she must reclaim her birthright."
A Glory of Unicorns edited by Bruce Coville, illustrated by Alix Berenzy
"An award-winning author compiles twelve stories from popular fantasy writers to demonstrate the importance of magic in everyday life and show how unicorns are a prime source of this power."
"On a wintry night Cara and her grandmother are pursued into St. Christopher's church by an unknown man. Clutching her grandmother's mysterious amulet, Cara escapes into Luster, the Land of the Unicorns. Soon she is traveling across a beautiful but dangerous world to bring her grandmother's message to the oldest unicorn of all."
"For years people have claimed to see a mysterious white deer in the woods around Chinaberry Creek. It always gets away. One evening, Eric Harper thinks he spots it. But a deer doesn't have a coat that shimmers like a pearl. And a deer certainly isn't born with an ivory horn curling from its forehead."
Young Adult Books About Unicorns
Zombies Vs. Unicorns edited by Holly Black and Justine Larbalestier
"It's a question as old as time itself: which is better, the zombie or the unicorn? In this anthology, strong arguments are made for both sides in the form of short stories. Half of the stories portray the strengths–for good and evil–of unicorns and half show the good (and really, really bad-ass) side of zombies."
"Fifteen-year-old Charles Wallace and the unicorn Gaudior undertake a perilous journey through time in a desperate attempt to stop the destruction of the world by the mad dictator Madog Branzillo."
"When her eccentric friend Dr. Reit invents an amazing transport into other worlds, Sheila McCarthy accidentally falls through the portal into the kingdom of Arren. There, Sheila finds herself part of a band of warrior-women. Astride unicorns, they gallop toward a dazzling city made of marble. But will they arrive in time to stop the evil king and his wicked wizard henchman from carrying out their deadly plans?"
"Jan, the prince of the unicorns, is high-spirited, reckless-and the despair of his mighty father, Korr. Reluctantly, Korr allows Jan to accompany the other initiate warriors on a pilgrimage. Soon Jan's curiosity leads him, along with his friend Dagg, and their mentor, the female warrior Tek, into the greatest dangers-deadly gryphons, sly pans, wyverns, pards, and renegade unicorns."
Rampant by Diana Peterfreund
"Real unicorns are venomous, man-eating monsters with huge fangs and razor-sharp horns. Fortunately, they've been extinct for a hundred and fifty years. Or not. Astrid had always scoffed at her eccentric mother's stories about killer unicorns. But when one of the monsters attacks her boyfriend—thereby ruining any chance of him taking her to the prom—Astrid finds herself headed to Rome to train as a unicorn hunter at the ancient cloisters the hunters have used for centuries."
"Yoko Nakajima, a typical, obedient Japanese high school student, has a fairly ordinary life–that is until Keiki, a unicorn in the guise of a young blond-haired boy, tells her that she is his master and must return to their kingdom, but when the boy mysteriously vanishes, Yoko is left alone on a quest for survival and self-discovery."
"The unicorn lived in a lilac wood, and she lived all alone. So she ventured out from the safety of the enchanted forest on a quest for others of her kind. Joined along the way by the bumbling magician Schmendrick and the indomitable Molly Grue, the unicorn learns all about the joys and sorrows of life and love before meeting her destiny in the castle of a despondent monarch—and confronting the creature that would drive her kind to extinction…"
"Richard, a lonely boy, enlists the help of the popular Heather in his quest to save a unicorn with magical powers from the hunters who descend upon Five Mile Wood."
"Nobody knew where it had come from, or what it wanted. Not even Jaive, the sorceress, could fathom the mystery of the fabled beast. But Tanaquil, Jaive's completely unmagical daughter, understood it at once. She knew why the unicorn was there: It had come for her. It needed her."
Adult Books About Unicorns
"Having magical powers makes you less than human, a resource to be exploited. Half-unicorn Gary Cobalt is sick of slavery, captivity, and his horn being ground down to power faster-than-light travel. When he's finally free, all he wants is to run away in his ancestors' stone ship. Instead, Captain Jenny Perata steals the ship out from under him, so she can make an urgent delivery. But Jenny held him captive for a decade, and then Gary murdered her best friend… who was also the wife of her co-pilot, Cowboy Jim. What could possibly go right?"
"Hearthwitch Maggie Brown meets minstrel Colin Songsmith and a unicorn named Moonshine while saving both her sister and the kingdom."
"Three old space mining prospectors in their beat-up space ship discover a small pod floating in space. Inside is a tiny girl child, with funny little hooves, a wealth of silver hair growing on her body, and a lump in the middle of her forehead which, as time elapses, grows into a horn."
Ariel by Steven R. Boyett
"Five years ago the lights went out, cars stopped in the streets, and magical creatures began roaming the towns and countrysides of Earth. Pete Garey, a young loner who survived the Change and the madness that followed, spent two years wandering and scavenging the near-deserted cities and towns alone — until the day he encountered an injured unicorn."
"In a new anthology, the author of The Last Unicorn and other authors–including Charles de Lint, Nancy Willard, Tad Williams, Elizabeth Ann Scarborough, Eric Lustbader, and Katharine Kerr–contribute short stories about this legendary animal."
Unicorns I edited by Jack Dann and Gardner R. Dozois
"Sixteen magical tales about the most wondrous of all creatures."
"Magic has never been a part of Reandn's life. Until the people under his care start dying. Until the threat extends to his family-and then turns on him. Someone, somewhere, is trying to draw magic back into Keland, and they don't care what-or who-is destroyed in the process. But Reandn does."
"A tomboy misfit and born musician, thirteen-year-old Josephine "Joey" Rivera encounters a mysterious young man named Indigo who changes her life, playing ghostly, haunting music that she follows down an ordinary street into the magical world of Shei'rah."
"Where did the unicorn come from and how was it accepted for so long as a part of the animal kingdom? Chris Lavers argues that although the unicorn of our imagination isn't real, traces of its character can be found in existing species."
"Kellen's life changes almost faster than he can understand or accept. Rescued by a unicorn, healed by a female Wild Mage who knows more about Kellen than anyone outside the City should, meeting Elven royalty and Elven warriors, and plunged into a world where the magical beings he has learned about as abstract concepts are flesh and blood creatures-Kellen both revels in and fears his new freedom."
By signing up you agree to our Terms of Service
We have 5 copies of
The Library Book by Susan Orlean
to give away!
Go here to enter for a chance to win
, or just click the image below. Good luck!