The Best Comics We Read January–March 2019
We asked our contributors to share the best comic book, graphic novel, or webcomic that they read so far this year and here they are ready to meet your TBR!  There is nonfiction, memoir, a bake-loving hockey player, monsters, witches, mysteries, and more! And we'd love to hear the highlight of your 2019 comic reading so far in the comments.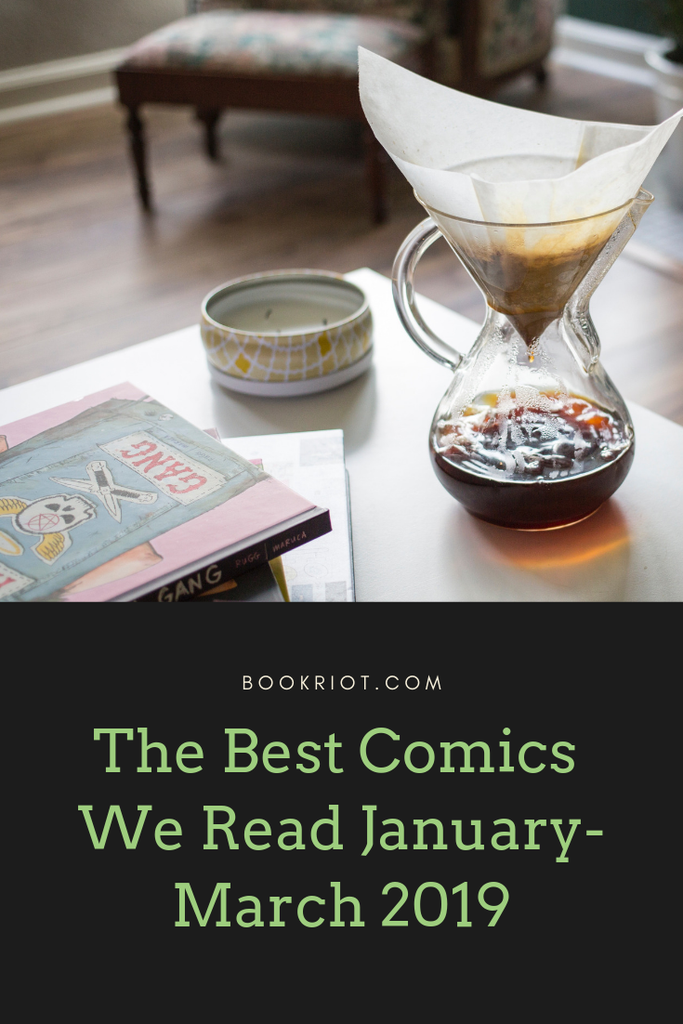 Black Hammer by Jeff Lemire, Illustrator Dean Ormston
They were superheroes that regularly saved the world…but then found themselves in a timeless farming village without knowing why. Each superhero struggles with their new circumstances. There's nothing I like more than brooding superheroes and a delicious mystery.
—Elisa Shoenberger
I grew up a five-minute walk from the Brooklyn side of the bridge, and I've always felt a certain possessiveness over it. So imagine my delight when Tomasi and DuVall absolutely nailed the fascinating story of its creation, from the mysterious disease afflicting the work crews to the scam artists who snuck faulty wiring into the bridge (fun fact: it's still in there!) to the political maneuverings that nearly put an end to the whole project—all laid out clearly and engagingly enough for readers of any age to follow. Tomasi's portrayal of eccentric designer John Roebling is brilliant, as is how ably DuVall renders his son Washington's struggles to carry on as chief engineer—and retain his sanity—after John's frankly bizarre death. But my favorite part is how Washington's wife Emily is given equal weight as one of the titular Roeblings whose vision and strength of character accomplished what had previously been thought impossible, even in the repressive 1880s.
—Jess Plummer
Picking Building Stories up from the library, it looked more like a board game than a book. And it isn't exactly a book, at least not one book. It's a big cardboard box with 14 printed works made of various sizes and materials inside. There is no clear beginning, middle, or ending. The 14 pieces are not meant to be read in any specific order. The stories all center around a woman living on the third floor of a walk-up apartment in Chicago. The building and its other inhabitants also feature prominently in the various stories. I often find myself reading through graphic novels and comics too fast by ignoring the pictures and just reading the words. The unique format of this work definitely made me slow down and enjoy the emotional experience of wading into the main character's life and home.
—Alison Doherty
Most neurotypical readers and writers do not understand autism at a glance. I have a family member with autism, and there are days when I know I don't understand it. But I want to learn. Camouflage focuses on women who are or aren't diagnosed, and how their lives can be different. The beautiful art contributes to these narratives, and educating the reader. There is still so much to learn, but Camouflage is a great resource for that.

—Priya Sridhar
Who wouldn't love a darling, hilarious, emotional story about a young hockey player who loves to bake? I mean, this kid has an emotional relationship with the oven in the Hockey Frat House. He's also a gay former figure skater who gets to come of age in an environment that is wildly non-toxic, and that's always great to see. Seriously—laugh, cry, scream into the ether about it being the only volume out.
—Jessica Pryde
I loved this queer weirdo feelings comic. With an opening line like "I have lived with Ashley and Jolene since we all got kicked out of astronaut school for being too good-looking to be sent to space," how can you not fall in love? Girl Town quickly establishes a world that's one step out of sync with our own, while still seeming eerily familiar. Each story is brief and off-putting, but the emotions always rang true. A coworker put this in my hands and said "I read this and I thought of you," and I can't think of a much higher compliment than to be associated with this bizarre and affecting book about complicated and vital relationships between women.
—Danika Ellis
I read this stunning composition-book ink-illustration masterpiece for the first time early this year, and I'm so glad I finally got to it. Young Karen Reyes wants to be a monster. In this diary, she writes about the harsh world around her, a Chicago all in purples and blacks. Thinking of herself as an amateur detective, she sets out to solve the murder of upstairs neighbor and Holocaust survivor Anka Silverberg, all while trying to reconcile her inner with her external world. A gorgeous, surrealist, hauntingly illustrated graphic novel featuring a young gay protagonist is everything I needed, and I'm looking forwarded to the upcoming sequel.
—Leah Rachel von Essen
Seventeen-year-old Nancy Drew gets drawn back to her hometown by a mysterious message about her mother. Hopefully she can reconnect with her old friends and solve the mystery before whoever is trying to kill her actually succeeds. I'll be honest, I was never much of a fan of the Nancy Drew books, but I am fully on board with this modern take. The cliffhanger at the end has me anxiously awaiting the next volume.
—Rachel Brittain
A found family of space architects/archeologists, a slow burn lesbian romance, a prep school nightmare, and an adventure story—pretty much everything about On A Sunbeam is perfection. Originally a webcomic, this hefty tome (over 500 pages) reads fast; it only took me two nights to finish it. The art is gorgeous and takes risks—there's an entire chapter of images alone—yet it's also a style that's easy to sink into and get lost. I really wish I could explore space with these ladies.
—Margaret Kingsbury
This approachable and surprisingly comprehensive comic is a great place to start for anyone who wants to learn more about what it means to be trans or queer. The illustrations are cute as hell, and the information is laid out really well. With tips on coming out, exploring your own gender, and healthy relationships, this would be a perfect gift or conversation starter for anyone questioning their identity. It's also great for allies that want to be supportive of the queer community!
—Susie Dumond
Debbie Tung's comics about the introvert life are so sweet and funny (and true!). The whole book is in shades of blue, wrapping you up in a warm blanket while you read. I have never felt so seen.
—Ashley Holstrom
Roller Girl by VIctoria Jamieson (read by full cast)
Astrid is 12 and may be facing the most difficult year of her life. For years she and her best friend were inseparable. Now Astrid has signed up for roller derby camp and she finds herself among older girls and in a sport she knows next to nothing about. To make matters worse, her best friend decided to go to dance camp instead. Can Astrid make a name for herself amid all of these new challenges? Will she ever get the hang of all of these rules? Is she doomed to be nothing more than an "As-turd"? Jamieson's Newbery Honor comic is performed by a full cast in this accessible graphic novel that reminds us all that we're only as great as we see ourselves.
—Matthew C. Winner
Spell On Wheels by Kate Leth, Megan Levens, Marissa Louise, Jen Bartel, Nate Piekos
Andy, Jolene, and Claire are three witch roommates. When an ex breaks into their house and steals a spell that could have deadly consequences, the three witches must go on a road trip to retrieve stolen artifacts, exact revenge, and figure out exactly what is going on! Spell On Wheels is a super fun comic that reminded me a lot of Charmed! It's full of magic and female friendship!
—Adiba Jaigirdar
Born in Vietnam, Bui immigrated to the United States as a child. In this graphic memoir, she recounts her family's escape after the fall of South Vietnam and the challenges of starting over in a new place. As she becomes a mother herself, Bui discovers new depths in her family's experience, and understands the weight of home and family and identity. The spare and lovely art perfectly reflects the beautiful prose.
—Heather Bottoms
This One Summer by Mariko Tamaki and Jillian Tamaki
Rose can always count on Windy to be at her family's annual trip to the beach, but there's not much else she can count on this year. Her parents are arguing—that is, when they even bother to talk to each other—and things with the boy at the convenience store are, well, weird. But the world keeps turning and maybe the people around Rose are in for an even more chaotic ride than she is this summer. I once described this dramatic, coming-of-age/loss-of-innocence novel as Lana Del Rey meets the Backstreet Boys. It's got Rose's aching summertime sadness right alongside Windy's peppy we've got it goin' on attitude. The question is, what will win out by the end of summer?
—Abby Hargreaves
This Woman's Work by Julie Delporte, Helge Dascher (Translator), Aleshia Jensen (Translator)
These delicate watercolor reflections are loosely tied around a trip to Helsinki to soak in the influence of Moomins creator Tove Jansson. This might sound hopelessly twee, but This Woman's Work is anything but. It reaches a piercing intensity as Delporte works through her ideas about women's art, women's creative lives, and women's vulnerability. The book is about a Finnish children's author, but it's also about the horrifyingly common presence of sexual assault in the lives of women and girls.
—Christine Ro
By signing up you agree to our Terms of Service
Have a listen to our new literary fiction podcast,
Novel Gazing!