50 Must-Read Baking Books
I've always loved cooking and baking. There's a picture on my fridge of 6-year-old me standing on a chair in my grandma's kitchen, cutting out cookies. But lately, I've become obsessed. Last year I marathoned every available episode of The Great British Baking Show, then checked out almost every baking book available at my library.
Whether you're a beginner, a burgeoning professional, or somewhere in between, check out these baking books. I've included books heavier on information, pure cookbooks, and books that specialize in certain types of baked good as well as generalized tomes.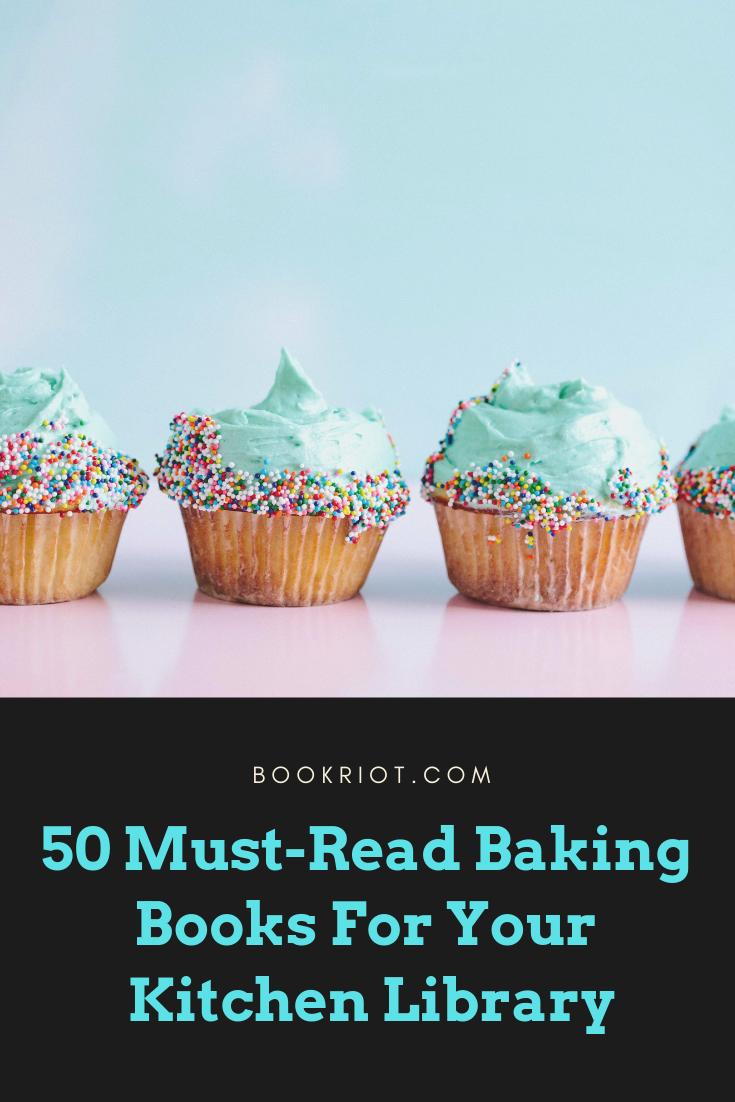 "Set aside your bland all-purpose flour to celebrate the compelling flavors of a wide array of nut- and grain-based alternative flours that are packed with flavor and are good for you, too."
"Join Anne for this delicious coast-to-coast journey and savor our nation's history of cake baking. … you will learn the stories behind your favorite cakes and how to bake them."
"Kate McDermott, who learned to make pie from her Iowa grandmother, has taught the time-honored craft of pie-making to thousands of people. Here she shares her secrets to great crusts (including gluten-free options), fabulous fillings, and to living a good life."
"As a professionally trained chef and avid home baker, she uses her experience to guide readers through the science and art of sourdough. With step-by-step master recipe guides, readers learn how to create and care for their own starters, plus they get more than 60 unique recipes to bake a variety of breads that suit their every need."
BakeWise by Shirley O. Corriher
"BakeWise is for everyone. Some will read it for the adventure of problem solving with Shirley. Beginners can cook from it and know exactly what they are doing and why. Experienced bakers find out why the techniques they use work and also uncover amazing French pastries out of the past."
"Legendary baker Rose Levy Beranbaum is back with her most extensive "bible" yet… From simple everyday crowd-pleasers to show-stopping stunners to bakery-style pastries developed for the home kitchen, every recipe proves that delicious perfection is within reach for any baker."
"Lively step-by-step photos teach bakers-in-training how to knead dough, make biscuits, decorate cookies, and produce a perfect pie, along with essential skills like following directions and accurately measuring ingredients."
"A stunning instructional from beloved Los Angeles baker Margarita Manzke, who teaches the key doughs, batters, recipes, and clever ways for creating wow-factor and bakery-quality results at home."
"Jerrelle leads you on a sensual baking journey using the five senses, retelling and reinventing food memories while using ingredients that make her feel more in control and more connected to the world and the person she has become. Whole flours, less refined sugar and vegan alternatives make it easier to celebrate those sweet moments that made her who she is today."
Bouchon Bakery by Thomas Keller and Sebastien Rouxel
"The tastes of childhood have always been a touchstone for Thomas Keller, and in this dazzling amalgam of American and French baked goods, you'll find recipes for the beloved TKOs and Oh Ohs and all the French classics he fell in love with as a young chef apprenticing in Paris."
"Flour, yeast, water, and salt―even with the simplest of ingredients, making homemade bread can be a daunting task if you've never done it before. From total scratch to your first batch, Bread Baking for Beginners offers simple, user-friendly tutorials and recipes to mix, knead, and enjoy freshly baked loaves at home."
"Chetna's Indian influences will transform your baking from the familiar to the exotic, from the ordinary to the extraordinary. Discover rare but precious traditional bakes from India, as well as new spice-infused recipes."
"This decadent and delicious collection of prime cheesecake recipes written by baker extraordinaire Geary provides baking inspiration, from plain cheesecakes to others that are intensely rich."
"A collection of 100 quintessential German recipes for sweets and breads from the creator of The Wednesday Chef blog and author of the memoir, My Berlin Kitchen, including stories from the author's experience of living and baking in Berlin."
"Take your cookies to new heights with Wendy Kou's supersized approach to baking. Each cookie—about the size of your head—is not only fun to make, but tastes delicious and is perfect to savor or share."
"Up your cookie game to out-of-this-world incredible with DisplacedHousewife founder Rebecca Firth's amazing, all-new gourmet recipes. Whether you're looking for a cookie that can be mixed and baked in under an hour or something a little more complex, these desserts will dazzle your taste buds like never before."
"Filled with her favorite recipes for pies, cakes, cookies, and puddings, as well as a chapter on diabetic-friendly recipes, moving personal stories from her career and life, this is the most personal cookbook LaBelle has written."
"An inviting, down-to-earth, full-color baking book filled with 130 recipes for irresistible must-bake favorites, from cakes to cookies to brownies to muffins to breads, from the … star of Food Network's hit series Ace of Cakes."
"Expert baking is not at all unattainable, nor is it as inflexible as most people assume. The key to freedom is to understand the principles behind how ingredients interact and how classic methods work."
"Every day 1,500 Bostonians can't resist buying sweet, simple treats such as Homemade Pop-Tarts, from an alumna of Harvard with a degree in economics. From Brioche au Chocolat and Lemon Raspberry Cake to perfect croissants, Flour Bakery-owner Joanne Chang's repertoire of baked goods is deep and satisfying. "
"From Portland's most acclaimed and beloved baker comes this must-have baking guide, featuring recipes for world-class breads and pizzas and a variety of schedules suited for the home baker."
"A stunning collection of hassle-free recipes for baking cakes, cookies, tarts, puddings, muffins, bread, and more, from the editors behind the leading food website Food52. Exquisitely photographed and with ample variations and "baking confidence" tips, this is the new go-to collection for anyone who wants to incorporate something sweet into their every day."
"Through soufflé basics, a lesson on beating egg whites, and a review of sauce bases, Patent develops the home cook's skills and confidence in creating a wide array of hot and cold, savory and sweet, molded and unmolded show-off dishes following basic French culinary techniques."
"Written by the school's experienced teaching team of master patissiers and adapted for the home chef, this fully illustrated cookbook provides all of the fundamental techniques and recipes that form the building blocks of the illustrious French dessert tradition, explained step by step in text and images."
"America's Test Kitchen has tackled classic baked goods including pizza dough and yeast breads that look and taste like the real deal. The bulk of this book is devoted to baked goods, from everyday recipes like pancakes, waffles, and muffins to cookies and bars, pies and tarts, yeast breads, pizza, quick breads, and cakes."
"Crumb is about flavour, first and foremost – a celebration of the simple joy of baking. Ruby's recipes delight in new tastes and combinations, as well as the rediscovery of old favourites, to create food that is exciting without ceremony or pretence."
"Baking for Two has reengineered your favorite baking recipes to achieve the same delicious results in perfectly sized portions. …you'll create foolproof, scaled-down versions of your favorite sweet and savory baked goods."
"You don't need to be a top pastry chef to make baked goods from scratch. Easy Baking from Scratch offers the easiest recipes, time-saving tips, and quick tutorials so that anyone can bake homemade treats."
"Bake your way through the much-loved BBC series with this beautiful, fully photographic cookbook of 120 original recipes, including those from both the judges and the bakers. This book is for every baker – whether you want to whip up a quick batch of easy biscuits at the very last minute or you want to spend your time making a breathtaking showstopper, there are recipes and decoration options for creating both."
"Top patisserie chef Lorraine Pascal shares her foolproof recipes and tips for successful, confident baking. Whether you're a kitchen adventurer or a baking novice, it's time to turn on the oven and discover the modern delights of baking.
"Whether you want light cakes, squidgy brownies, perfect pastry, stress-free macarons or mountainous meringues, this book features a mini-masterclass for each one."
"Grandbaby Cakes pairs charming stories of Big Mama's kitchen with recipes ranging from classic standbys to exciting adventures—helpfully marked by degree of difficulty—that will inspire your own family for years to come. Adams creates sophisticated flavor combinations based on Big Mama's gorgeous centerpiece cakes, giving each recipe something familiar mixed with something new."
"The son of a baker, Paul Hollywood is passionate about busting the myths that surround baking, sharing his finely honed skills, and showing that with the right guidance, anybody can achieve success time after time."
"From Yolanda Gampp, host of the massively popular, award-winning YouTube sensation "How to Cake It," comes an inspiring "cakebook" with irresistible new recipes and visual instructions for creating spectacular novelty cakes for all skill levels."
"A seasoned cooking instructor and self-described "joyful vegan," author Colleen Patrick-Goudreau lays to rest the myth that vegan baking is an inferior alternative to non-vegan baking, putting it in its rightful place as a legitimate contender in the baking arena. More than just a collection of recipes, this informative cookbook is a valuable resource for any baker."
"Featuring more than 60 made-from-scratch recipes, this guide provides instruction to re-create the award-winning cakes from the Kiss My Bundt bakery in Los Angeles."
"Cheeky Treats is a cookbook like no other, packed with fantastic flavours, wonderfully creative bakes, and fun and beautiful photography that captures Liam's personality and flair."
"This definitive collection from the undisputed queen of cakes brings together all of Mary Berry's most mouth-watering baking recipes in a beautifully packaged edition."
Mastering Pizza by Marc Vetri and David Joachim
"A revolutionary guide to making delicious pizza at home, offering a variety of base doughs so that your pizza will turn out perfect no matter what kind of oven or equipment you have."
"French dessert is a study in components, and Cheryl breaks each recipe down, providing information on classic techniques while imbuing each recipe with a new twist."
"One kosher dough at a time, she offers the basics for challah, babka, bagels, hamantaschen, rugelach, pita, and matzah. Never one to shy away from innovation, Sarna sends her readers off on a bake-your-own adventure with twists on these classics."
"Jim shares his one-of-a-kind method for baking rustic, deep-flavored bread in your own oven."
"Macarons, the stuff of bakers' candy-coated dreams, have taken the world by storm and are demystified here for the home baker. With dozens of flavor combinations, recipes are structured with three basic shell methods—French, Swiss, and Italian—plus one never-before-seen Easiest French Macaron Method."
"The revised Fourth Edition offers complete instruction in every facet of the bakers craft, offering more than 750 recipes including 150 from Le Cordon Bleu for everything from cakes, pies, pastries, and cookies to artisan breads."
Puff by Martha Holmberg
"With quality pre-made puff pastry available at local supermarkets, it's a breeze to make the dozens of impressive recipes in this cookbook. Instructions for making puff pastry from scratch will ensure French boulangerie results. The author gives sage advice on techniques for getting the most out of the dough."
"Bake exquisite cookies, bars, and doughs perfectly every time with Sally's Cookie Addiction. A world of baking wonder awaits you and all the lucky people you'll share these treats with."
"Part recipe book, part family history, this sweet-as-can-be cookbook is a heartfelt tribute to women who ruled the home and the kitchen with their wisdom, hearts, and cooking."
"Chef Yamashita shares a delightful collection of recipes for his signature sponge, chiffon and mousse cakes, so you can make these creations your own. With an additional section on special cakes that are gluten-free or eggless, everyone can join in the party!"
"From heirloom recipes to current variations, the Ultimate Pound Cakes: Classic Recipe Collection of over 85 recipes will give you a treasure trove to choose from for years to come."
"Blue-ribbon recipes inspired by baking pamphlets from the 1920s to the 1960s are rendered with irresistible charm for modern tastes in this sweet package."
By signing up you agree to our Terms of Service
We've got new perks over at Book Riot Insiders, including the Epic Group Read! Sign up for your free trial today!