50 Of the Best Kindle Unlimited Books You Can Read In 2019
Last year we covered the best Kindle Unlimited Books in 2018. Now that we're cruising along in 2019, it's time to bring you an updated list of the Best Kindle Unlimited Books for 2019. We've got multiple genres covered and lots to choose from.
New to Kindle Unlimited? Check out our simple-to-follow guide that outlines exactly how Kindle Unlimited works. You'll find tons of useful info. For example, did you know that Kindle Unlimited includes audiobooks? We've narrowed down your options there to 30 of the best audiobooks available on Kindle Unlimited. We've also compared Kindle Unlimited and Audible.
We've even compared Prime Reading vs Kindle Unlimited. BUT WAIT, THERE'S MORE! We've even got you covered with a free 30-day trial so you can make up your own dang mind! We are extremely helpful! Once you're there, we hope you'll enjoy this list of some of the best Kindle Unlimited books for 2019.
Descriptions have been pulled from Amazon.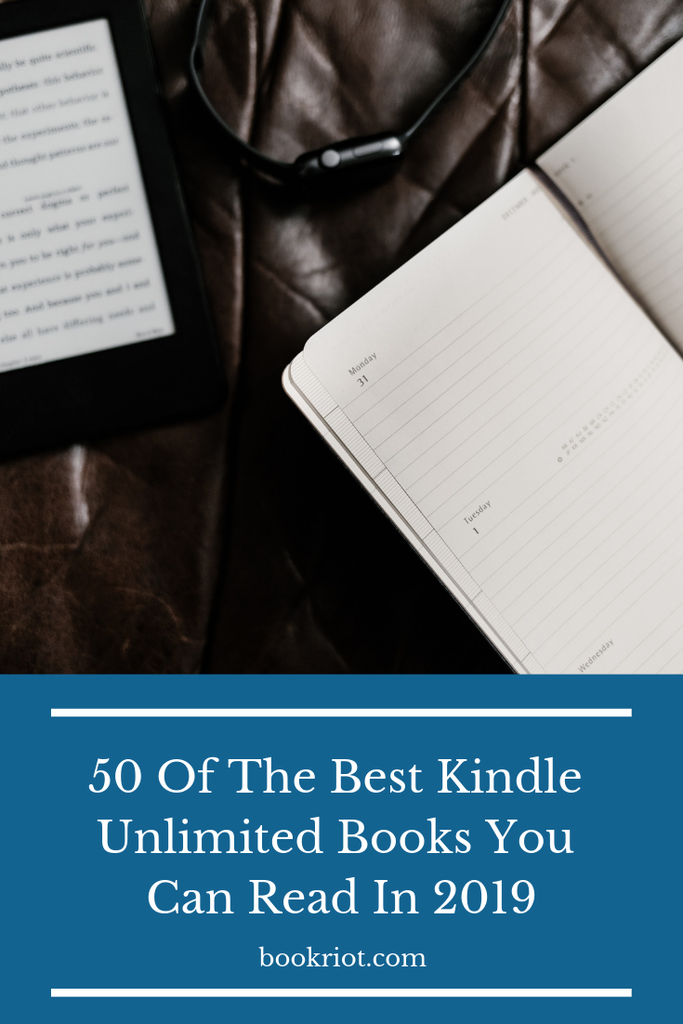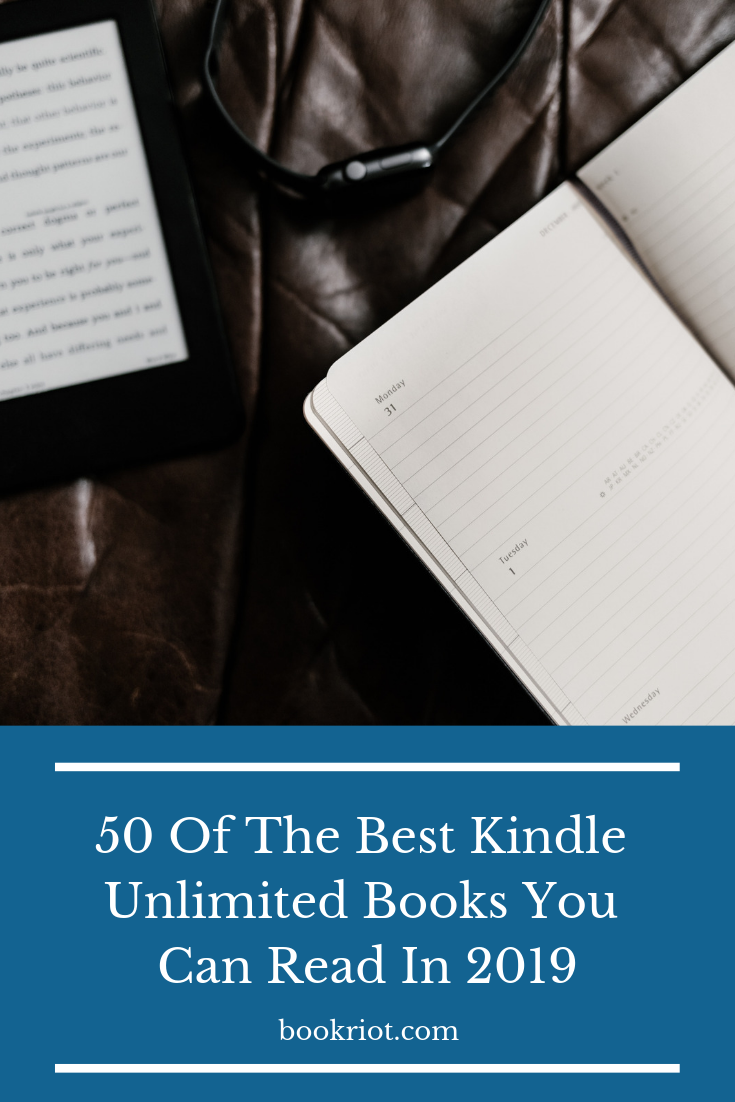 Best Kindle Unlimited Books 2019: Biography and Memoir
"After he began experiencing horrible headaches, insomnia, and strange speech issues, [Matt] realized something was very wrong. Four months into dealing with these issues, he finally went to the hospital; the doctors confirmed the worst; he had grade three astrocytoma.  Matt was diagnosed with brain cancer at 39 years old.
Luckily, he had someone to help him through every terrible moment. Matt's own father-in-law Larry had been diagnosed with pancreatic cancer three years earlier. The two men found support in each other and their combined family as they worked to find normalcy in an abnormal situation.
Matt's memoir chronicles the journey that his entire family and support group took together which got him to a place of clarity, understanding and appreciation.
"We each have a story, and we are not our story. So many of us get trapped by thinking we are less than others or unlovable or that we should not be taking up space altogether. This book will remind you that you are here for a reason. Quinn tells about the nitty-gritty of his journey of healing work to recover from childhood trauma and multiple addictions, and his full acceptance of being transgender."
Reporter Diana Marcum is in crisis. A long-buried personal sadness is enfolding her—and her career is stalled—when she stumbles upon an unusual group of immigrants living in rural California. She follows them on their annual return to the remote Azorean Islands in the Atlantic Ocean, where bulls run down village streets, volcanoes are active, and the people celebrate festas to ease their saudade, a longing so deep that the Portuguese word for it can't be fully translated. Years later, California is in a terrible drought, the wildfires seem to never end, and Diana finds herself still dreaming of those islands and the chuva—a rain so soft you don't notice when it begins or ends. With her troublesome Labrador retriever, Murphy, in tow, Diana returns to the islands of her dreams only to discover that there are still things she longs for—and one of them may be a most unexpected love."
"A native of England, Claire Crisp had it all—a strong marriage, three healthy children, and her own home in Bristol. Then came the H1N1 flu pandemic of 2009. It took only vaccine—one seemingly innocuous vaccine to Mathilda, the baby of the family—to change their lives forever. Diagnosed at age three as the world's youngest child with narcolepsy, the joyful and energetic Mathilda rapidly dissolved into someone unrecognizable."
"Visakha's deeply personal account of the emotional upheaval caused by her doubting her own cherished convictions, by her discovery that the alarmingly unreasonable – bhakti – could gradually become alarmingly reasonable. Visakha portrays her own and others' experiences in India, Europe, and the United States as they grapple with knowledge and a culture that is at once utterly foreign yet also resonant with their hearts. And she reflects on the profound, life-altering questions that we all sometimes ask. Written by a fellow seeker who maintains a healthy dose of skepticism, this is the heartwarming, funny, colorful, bizarre, surprising, informative, and upending true story that will help questioner-skeptics see life from another perspective, one likely different from their own."
"The Size of Everything is Cole's moving story and so much more. Equal parts heartbreaking and hilarious, it's a love letter to her surviving siblings, a how-not-to-parent manual, a testament to the power of positivity, and proof that where you come from doesn't have to determine where you can go. Above all, The Size of Everything offers a powerful message of hope to anyone who believes that impossibly rocky beginnings can't have a happy ending."
Best Kindle Unlimited Books 2019: Business and Money
"Dr. Covey's 7 Habits book is one of the most inspiring and impactful books ever written. Now you can enjoy and learn critical lessons about the habits of successful people that will enrich your life's experience. And, it's in an inforgraphics format that makes it easy for you to learn and apply Dr. Covey's habits of successful people."
"In Unlimited Memory, you'll learn how the world's best memory masters get themselves to concentrate at will, anytime they want. When you can easily focus and concentrate on the task at hand, and store and recall useful information, you can easily double your productivity and eliminate wasted time, stress and mistakes at work."
"As he explained in his #1 New York Times Bestseller, Principles: Life & Work, Dalio believes that most everything happens over and over again through time so that by studying their patterns one can understand the cause-effect relationships behind them and develop principles for dealing with them well. In this 3-part research series, he does that for big debt crises and shares his template in the hopes reducing the chances of big debt crises happening and helping them be better managed in the future."
"What if you could wake up tomorrow and any—or EVERY—area of your life was beginning to transform? What would you change? The Miracle Morning is already transforming the lives of tens of thousands of people around the world by showing them how to wake up each day with more ENERGY, MOTIVATION, and FOCUS to take your life to the next level. It's been right here in front of us all along, but this book has finally brought it to life."
"Are you over-extended, over-distracted, and overwhelmed? Do you work at a breakneck pace all day, only to find that you haven't accomplished the most important things on your agenda when you leave the office? The world has changed and the way we work has to change, too. With wisdom from 20 leading creative minds, Manage Your Day-to-Day will give you a toolkit for tackling the new challenges of a 24/7, always-on workplace."
Best Kindle Unlimited Books 2019: Graphic Novels
"These casually drawn, perfectly on-point comics by the hugely popular young Brooklyn-based artist Sarah Andersen are for the rest of us. They document the wasting of entire beautiful weekends on the internet, the unbearable agony of holding hands on the street with a gorgeous guy, and dreaming all day of getting home and back into pajamas. In other words, the horrors and awkwardnesses of young modern life. Oh and they are totally not autobiographical. At all."
"How to Be a Super Kid is an inspiring book that offers tangible ways to help kids (and adults) to develop grit, a positive growth mindset, and healthy habits. This book is written by a kid for any kid who has ever dreamed of becoming a superhero and being the best person they were created to be. From super kid routines to overcoming fears, you can positively impact your own life and others by using your gifts and talents and making small changes to your mindset and daily routines. This book offers simple steps towards making healthy life-long habits that carry on into adulthood."
Nelson Beats The Odds written by Ronnie Sidney II, illustrated by Traci Wagoner and Kurt Keller
"Nelson use to think school was all about playing around and talking with his friends. When Nelson learns that he has been placed in Special Education, he fears being teased. Consequently, he keeps his learning disability and ADHD diagnosis a secret. With the encouragement of his parents and assistance from Mrs. T., his Special Education teacher, Nelson pushes the boundaries and discovers his potential."
Best Kindle Unlimited Books 2019: Romance
"Meredith Sullivan has three goals: Win the Beckett Scholarship to study abroad. Move to Paris for a year. Leave boy-next-door Drew Sutton (and her ridiculous heart) behind. There's only one problem: Pete Russell. Yes, he speaks French like a native, but he's boorish and snarky with a penchant for unflattering nicknames. So when Pete shows up on her flight to Paris, Meredith starts to wonder if that scholarship covers a year in Antarctica instead. But as the autumn leaves begin to fall in the City of Light, Meredith learns a thousand things about Pete she never knew. And to her surprise, she's suddenly torn between the future she'd always imagined with Drew and a new path with the kindred spirit she never saw coming. Because sometimes, what you don't know about a person has already changed your life."
"They say your first kiss should be earned. Mine was stolen by a devil in a masquerade mask under the black Chicago sky. They say the vows you take on your wedding day are sacred. Mine were broken before we left church. They say your heart only beats for one man. Mine split and bled for two rivals who fought for it until the bitter end. I was promised to Angelo Bandini, the heir to one of the most powerful families in the Chicago Outfit. Then taken by Senator Wolfe Keaton, who held my father's sins over his head to force me into marriage. They say that all great love stories have a happy ending. I, Francesca Rossi, found myself erasing and rewriting mine until the very last chapter. One kiss. Two men. Three lives. Entwined together. And somewhere between these two men, I had to find my forever."
"Alexis Woods knows who she is — or at least, she thought she did. She's number 17, point guard, MVP, all-star, co-captain of the Lady Raiders NCAA Division I women's basketball team. But there's a darkness growing inside of her, a darkness that started the night her beloved died in her arms, and if she doesn't turn things around soon, the darkness just might swallow her whole. Graham Griffin knows a thing or two about darkness. That's been her zip code ever since the car accident that took her boyfriend's life — the car accident she caused. When she meets Alex, she sees a reflection of her own sorrow. And she can't help but want to fix it."
"A perfect stranger just kissed away the worst day of my life. Emphasis on perfect. Hunter Forsythe is so far out of my league I can't even buy tickets. And now he's insta-date to my stuck up sister's wedding?! Brace for everything to go hilariously wrong. But my mysterious new hero is no flipping joke. Rich as sin. Knockout eyes. A snarlypants single dad. Muscle, muscle everywhere. Too good for the quiet baker girl no one ever noticed."
"After the devastating loss of her husband in Iraq, Morgan Dane returns to Scarlet Falls, seeking the comfort of her hometown. Now, surrounded by family, she's finally found peace and a promising career opportunity—until her babysitter is killed and her neighbor asks her to defend his son, Nick, who stands accused of the murder."
"Twenty-eight-year-old Oryn Patterson isn't like other people. Being an extremely shy, social introvert is only part of the problem. Oryn has dissociative identity disorder. Oryn shares his life and headspace with five distinctively different alters. Reed, a protective, very straight jock. Cohen, a flamboyantly gay nineteen-year-old who is a social butterfly. Cove, a self-destructive terror, whose past haunts him. Theo, an asexual man of little emotion, whose focus is on maintaining order. And Rain, a five-year-old child whose only concern is Batman. Vaughn Sinclair is stuck in a rut. When his job doesn't offer the same thrill it once did, he decides it's time to mix-up his stagnant, boring routine. Little does he know, the man he meets during an impromptu decision to return to college is anything but ordinary. Vaughn's heart defies logic, and he finds himself falling in love with this strange new man. But how can you love someone who isn't always themself? It may not be easy, but Vaughn is determined to try."
"Nothing prepares Jaya, a New York journalist, for the heartbreak of her third miscarriage and the slow unraveling of her marriage in its wake. Desperate to assuage her deep anguish, she decides to go to India to uncover answers to her family's past. Intoxicated by the sights, smells, and sounds she experiences, Jaya becomes an eager student of the culture. But it is Ravi—her grandmother's former servant and trusted confidant—who reveals the resilience, struggles, secret love, and tragic fall of Jaya's pioneering grandmother during the British occupation. Through her courageous grandmother's arrestingly romantic and heart-wrenching story, Jaya discovers the legacy bequeathed to her and a strength that, until now, she never knew was possible."

Best Kindle Unlimited Books 2019: Mystery, Thriller, and Suspense
"A girl emerges from the woods, starved, ill, and alone…and collapses. Suzanne Blakemore hurtles along the Blue Ridge Parkway, away from her overscheduled and completely normal life, and encounters the girl. As Suzanne rushes her to the hospital, she never imagines how the encounter will change her—a change she both fears and desperately needs. Suzanne has the perfect house, a successful husband, and a thriving family. But beneath the veneer of an ideal life, her daughter is rebelling, her son is withdrawing, her husband is oblivious to it all, and Suzanne is increasingly unsure of her place in the world. After her discovery of the ethereal sixteen-year-old who has never experienced civilization, Suzanne is compelled to invite Iris into her family's life and all its apparent privileges."
"In 1944, British bomber pilot Hugo Langley parachuted from his stricken plane into the verdant fields of German-occupied Tuscany. Badly wounded, he found refuge in a ruined monastery and in the arms of Sofia Bartoli. But the love that kindled between them was shaken by an irreversible betrayal. Nearly thirty years later, Hugo's estranged daughter, Joanna, has returned home to the English countryside to arrange her father's funeral. Among his personal effects is an unopened letter addressed to Sofia. In it is a startling revelation. Still dealing with the emotional wounds of her own personal trauma, Joanna embarks on a healing journey to Tuscany to understand her father's history—and maybe come to understand herself as well. Joanna soon discovers that some would prefer the past be left undisturbed, but she has come too far to let go of her father's secrets now…"
"When Ella Longfield overhears two attractive young men flirting with teenage girls on a train, she thinks nothing of it—until she realises they are fresh out of prison and her maternal instinct is put on high alert. But just as she's decided to call for help, something stops her. The next day, she wakes up to the news that one of the girls—beautiful, green-eyed Anna Ballard—has disappeared. A year later, Anna is still missing. Ella is wracked with guilt over what she failed to do, and she's not the only one who can't forget. Someone is sending her threatening letters—letters that make her fear for her life. Then an anniversary appeal reveals that Anna's friends and family might have something to hide. Anna's best friend, Sarah, hasn't been telling the whole truth about what really happened that night—and her parents have been keeping secrets of their own. Someone knows where Anna is—and they're not telling. But they are watching Ella."
"August 1945. As Stefano, an Italian POW, heads toward home across war-ravaged Germany, he encounters a young child beside his dead mother. Unable to leave him to an unknown fate, Stefano takes the boy with him, finding refuge in a seemingly abandoned house in a secluded woodland. But the house is far from vacant. Stefano wakes at the arrival of its owner, Erich, a former German soldier, who invites the travelers to stay until they can find safe passage home. Stefano cautiously agrees, intrigued by the disarming German, his reclusive neighbor Rosalind, and her traumatized husband, Georg. Stefano is also drawn to Monique, the girl in a photograph on Rosalind's wall, who went missing during the war. But when he discovers letters written by Monique, a darker truth emerges. This place of refuge could be one of reckoning, and the secrets of the past might prevent the travelers from ever getting home."
"Responding to orders from on high, the Atlanta Police Department is forced to hire its first black officers, including war veterans Lucius Boggs and Tommy Smith. The newly minted policemen are met with deep hostility by their white peers; they aren't allowed to arrest white suspects, drive squad cars, or set foot in the police headquarters. When a woman who was last seen in a car driven by a white man turns up dead, Boggs and Smith suspect white cops are behind it. Their investigation sets them up against a brutal cop, Dunlow, who has long run the neighborhood as his own, and his partner, Rakestraw, a young progressive who may or may not be willing to make allies across color lines. Among shady moonshiners, duplicitous madams, crooked lawmen, and the constant restrictions of Jim Crow, Boggs and Smith will risk their new jobs, and their lives, while navigating a dangerous world—a world on the cusp of great change. A vivid, smart, intricately plotted crime saga that explores the timely issues of race, law enforcement, and the uneven scales of justice."
"Imagining the best way to destroy a person's happiness is Crystal Love's favorite game. Devious and unpolished, the plus-sized loan analyst couldn't be more out of place in her new town of Santa Barbara, where the beautifully manicured women never age and the ocean views stretch farther than the million-dollar lawns. And yet her eye for the power dynamics at play in this tony community is dead accurate. Kathi Wright, on the other hand, has made it her life's work to fit in with the plastic people who surround her. But when her husband—a wealthy bank president—dies suddenly, she's left with nothing. Then the FBI shows up, asking questions she can't answer and freezing assets she once took for granted."
"In the wake of a fever that decimated the earth's population—killing women and children and making childbirth deadly for the mother and infant—the midwife must pick her way through the bones of the world she once knew to find her place in this dangerous new one. Gone are the pillars of civilization. All that remains is power—and the strong who possess it. A few women like her survived, though they are scarce. Even fewer are safe from the clans of men, who, driven by fear, seek to control those remaining. To preserve her freedom, she dons men's clothing, goes by false names, and avoids as many people as possible. But as the world continues to grapple with its terrible circumstances, she'll discover a role greater than chasing a pale imitation of independence. After all, if humanity is to be reborn, someone must be its guide."
Best Kindle Unlimited Books 2019: Literary Fiction
"Germany, 1942. Franciscan friar Anton Starzmann is stripped of his place in the world when his school is seized by the Nazis. He relocates to a small German hamlet to wed Elisabeth Herter, a widow who seeks a marriage—in name only—to a man who can help raise her three children. Anton seeks something too—atonement for failing to protect his young students from the wrath of the Nazis. But neither he nor Elisabeth expects their lives to be shaken once again by the inescapable rumble of war. As Anton struggles to adapt to the roles of husband and father, he learns of the Red Orchestra, an underground network of resisters plotting to assassinate Hitler. Despite Elisabeth's reservations, Anton joins this army of shadows. But when the SS discovers his schemes, Anton will embark on a final act of defiance that may cost him his life—even if it means saying goodbye to the family he has come to love more than he ever believed possible."
"The Namesake takes the Ganguli family from their tradition-bound life in Calcutta through their fraught transformation into Americans. On the heels of their arranged wedding, Ashoke and Ashima Ganguli settle together in Cambridge, Massachusetts. An engineer by training, Ashoke adapts far less warily than his wife, who resists all things American and pines for her family. When their son is born, the task of naming him betrays the vexed results of bringing old ways to the new world. Named for a Russian writer by his Indian parents in memory of a catastrophe years before, Gogol Ganguli knows only that he suffers the burden of his heritage as well as his odd, antic name. Lahiri brings great empathy to Gogol as he stumbles along the first-generation path, strewn with conflicting loyalties, comic detours, and wrenching love affairs. With penetrating insight, she reveals not only the defining power of the names and expectations bestowed upon us by our parents, but also the means by which we slowly, sometimes painfully, come to define ourselves."
"Sabahat, a beautiful young Muslim woman, is known in her family for her intelligence, drive, and stubbornness. She believes there is more in store for her life than a good marriage and convinces her parents to let her pursue her education, rare for young Turkish women in the 1920s. But no one—least of all Sabahat herself—expects that in the course of her studies she will fall for a handsome Armenian student named Aram. After precious moments alone together, their love begins to blossom. Try as she might to simplify her life and move on, Sabahat has no choice but to follow her heart's desire. But Aram is Christian, and neither family approves."
A Castle in Romagna written by Igor Štiks, translated by Russell Scott Valentino and Tomislav Kuzmanovic
"In 1995, at the height of the Bosnian conflict, a young refugee visits the old Mardi Castle in the north of Italy. There, instead of only experiencing the beautiful fortress and Renaissance frescoes, he becomes enthralled with the story of the tragic fate of poet Enzo Strecci, who spent his last days awaiting death in the castle's dungeon. A Franciscan guide, Niccolò, a refugee as well, will illuminate the past in remarkable ways for the curious tourist. The fascinating and moving tale reaches back not only to Strecci's life—four centuries earlier—and the doomed passion for a woman, politics, and poetry that became his downfall, but also to Niccolò's own life, love story, and fateful escape from the brutal conflict between Stalin and Tito."
"YA Leon Trout, the ghost of a decapitated shipbuilder, narrates the humorous, ironic and sometimes carping decline of the human race, as seen through the eyes and minds of the survivors of a doomed cruise to the Galapagos Islands. Vonnegut's cast of unlikely Adams and Eves setting out in a Noah's ark includes Mary Hepburn, an American biology teacher and recent widow; Zenji Hiroguchi, a Japanese computer genius (who does not make it to the ship, although his language-translating and quotation-spouting computer does); his wife, Hisako, carrying radiated genes from the atomic bombs; James Wait, who has made a fortune marrying elderly women; and Captain Aolph von Kleist. Also included: six orphaned girls of the Kana-bono cannibal tribe, who will become the founding mothers of the fisherfolk after bacteria render all other women infertile. Serious fans of Vonnegut's wry and ribald prose will welcome this tale of the devolution of superbrained humans into gentle swimmers with small brains, but others may find this Darwinian survival tale too packed with ecological and sociological details that trap the story line in a series of literary devices, albeit very clever ones."
Best Kindle Unlimited Books 2019: Young Adult
"When eighteen-year-old Cori signed up for a mission trip to Indonesia she was mostly thinking about escaping her complicated love life, making new friends, and having fun on the beach. She never expected a civil war to flare up on the nearby island of Ambon. She never expected violence to find them. And she never expected that seven teenagers would be forced to flee into the hazardous refuge of the mountains on their own. Now, haunted by blood and fire, Cori and her teammates must rely on each other to survive."
"Seventeen-year-old Scout Ramsey's life is a mess. With a dead father and a junkie mom, she can't imagine things can get worse. Then her mother tries to sell her for a bag of meth. After her mom's arrest, Scout's forced to switch schools in the middle of senior year. Scared and alone, she pours her heart into her journal and dreams of the day she turns eighteen. For Wyatt Campbell, senior year is predictable purgatory. Then the new girl steals his seat in history class, and suddenly, school's not so bad. They bond through their love of music, and Wyatt finds himself falling hard for the journal-loving girl with the sad blue eyes. Wyatt's heard the rumors. He knows Scout's had it rough. He's determined to be the one thing in her life that's easy. In this captivating teen novel, Sydney Logan weaves a touching story that tackles the heartbreak of addiction, the power of forgiveness, and the wonders of first love."
"Taylor Collier has never faced her past—the distant past or the recent past. As a result, she's spiraled into a life fueled by alcohol and drugs. After her worried mother and best friend confront her, Taylor is given a choice—rehab or therapy. And so, intent on only a single session with Dr. Modos Marks, she enters his waiting room, planning to get in and get out. After all, she has successfully kept her most terrifying secret for fifteen years, so getting through one session with a shrink should be a piece of cake. But she's not prepared for what the doctor has in store for her. Session after session, he peels away the layers of her life, revealing that all is not as it seems—and unraveling a series of surprises that will leave both Taylor and the reader breathless."
"Set in the 1990s, three young teens will discover their family secrets are connected in a sick and twisted way. Desperate to search for a way out, they each will find unlikely influences: David finds a street smart hustler, Sam a college counselor, and Daniel a grandfather who hates "colored folk." In this realistic fiction book and captivating drama of teen friends trying to find their way through adolescents, experience the impact just one person can have on a child's life. It's a thought-provoking story of love, tragedy and triumph, and good read you will never forget."
"Life for young women in India is full of challenges. The ruthlessness of peer pressure and bullying, the expectations from within and outside the family, and the bitter-sweet roller coaster of romance and marriage are just some of the forces moulding young ladies of the nation. Add to this the balancing act between a traditional and modern India, and you get powerful and moving tales of everyday Indian women."
"After a lifetime of abuse, the Vanderbilt siblings flee their home, finally free to pursue new dreams while running from yesterday's nightmares. Once bed-ridden Jesse navigates the Chicago streets, concealing his identity and planning revenge. A chance encounter in the rain introduces a girl who offers Jesse a glimpse of a sunnier future, but how will he weather the growing storm inside himself? Separated from her Post-it note prince, Talia hides at a safe house for survivors of domestic violence while her father turns the city upside-down to find her. Surrounded by women fighting their own demons, Talia faces her past at every turn."
Best Kindle Unlimited Books 2019: Science Fiction and Fantasy
The End is Nigh By Tananarive Due, Ken Liu, Seanan McGuire, and others
"Famine. Death. War. Pestilence. These are the harbingers of the biblical apocalypse, of the End of the World. In science fiction, the end is triggered by less figurative means: nuclear holocaust, biological warfare/pandemic, ecological disaster, or cosmological cataclysm. But before any catastrophe, there are people who see it coming. During, there are heroes who fight against it. And after, there are the survivors who persevere and try to rebuild. THE APOCALYPSE TRIPTYCH will tell their stories."
"Eighteen-year-old Robert Weekes is a practitioner of empirical philosophy—an arcane, female-dominated branch of science used to summon the wind, shape clouds of smoke, heal the injured, and even fly. Though he dreams of fighting in the Great War as the first male in the elite US Sigilry Corps Rescue and Evacuation Service—a team of flying medics—Robert is resigned to mixing batches of philosophical chemicals and keeping the books for the family business in rural Montana, where his mother, a former soldier and vigilante, aids the locals."
"As the smallest dragon in the Heartstriker clan, Julius survives by a simple code: keep quiet, don't cause trouble, and stay out of the way of bigger dragons. But this meek behavior doesn't fly in a family of ambitious magical predators, and his mother, Bethesda the Heartstriker, has finally reached the end of her patience. Now, sealed in human form and banished to the DFZ–a vertical metropolis built on the ruins of Old Detroit–Julius has one month to prove he can be a ruthless dragon or kiss his true shape goodbye forever. But in a city of modern mages and vengeful spirits where dragons are considered monsters to be exterminated, he's going to need some serious help to survive this test. He only hopes humans are more trustworthy than dragons…"
"The Dragon Singers of old summoned typhoons and routed armies, liberating mankind from the orcs before fading into legend. Now, with the world again teetering on the brink of a cataclysm, the power of music stirs in Kaiya, a gangly misfit with the perfect voice. Without a master to guide her, she must rely on the lessons of a foreign paladin, an enigmatic doctor, a flippant elf lord, and an evil sorcerer to rediscover lost magic. Yet doing so means taking dire risks… Because invoking a Dragon Song can kill you."
"Tricked into a world of banished gods, demons, goblins, sprites and magic, Richter must learn to meet the perils of The Land and begin to forge his own kingdom. Actions have consequences across The Land, with powerful creatures and factions now hell-bent on Richter's destruction. Can Richter forge allegiances to survive this harsh and unforgiving world or will he fall to the dark denizens of this ancient and unforgiving realm?"
"Queen Nouei is a god facing annihilation. To rewrite history and change her prospects, she reincarnates as Bridget Blade. Bridget is a reincarnated god but doesn't know it. All she wants is to be a loving wife, friend, and mathematician. But as much as she wants to be normal, her impulses compel her to make strange and rash choices. Jeremy is her husband. For years, he's indulged her whims, protected her from harm, and shielded her from the responsibilities of the world. But it's not been all a burden for him. In return for his devotion, she's laid her powers at his disposal. Everything changes when Jeremy and Bridget embark on a scientific investigation of a divine phenomenon. Bridget's impulsiveness leads to a strange encounter that will force Jeremy to choose between his love for her or his duty to the masses."
"Being in the Witness Protection Program is hard enough, even without the sense that your memories aren't all your own. And when Jin Amaris narrowly avoids death—the third time is, apparently, the charm—she is handed the keys to the mystery of who she was…or is. The real question is whether she'll unravel that mystery before death catches up with her again."
Best Kindle Unlimited Books 2019: Politics and Social Sciences
"Through the voices of vegans of color, Veganism in an Oppressive World will revolutionize the way you see our movement. A must read for new vegans and seasoned nonhuman animal activists alike, this community-led effort provides in-depth, first-hand accounts and analyses of what is needed to broaden the scope of veganism beyond its current status as a fringe or "single-issue" movement while ensuring that justice for nonhumans remains its central focus. This collection of academic essays, personal reflections and poetry critically examines the state of the mainstream nonhuman animal rights movement while imparting crucial perspectives on how to build a movement that is inclusive, consistent, and effective."
"From a jailhouse visit to Black Panther Party cofounder Huey Newton to witnessing First Lady of California Nancy Reagan pretend to pick flowers for the benefit of news cameras, Didion captures the paranoia and absurdity of the era with her signature blend of irony and insight. She takes readers to the "giddily splendid" Getty Museum in Los Angeles, the cool mountains of Bogotá, and the Jordanian Desert, where Bishop James Pike went to walk in Jesus's footsteps—and died not far from his rented Ford Cortina. She anatomizes the culture of shopping malls—"toy garden cities in which no one lives but everyone consumes"—and exposes the contradictions and compromises of the women's movement. In the iconic title essay, she documents her uneasy state of mind during the years leading up to and following the Manson murders—a terrifying crime that, in her memory, surprised no one."
Jessica Compton's family of four would have no income if she didn't donate plasma twice a week at her local donation center in Tennessee. Modonna Harris and her teenage daughter, Brianna, in Chicago, often have no food but spoiled milk on weekends. After two decades of brilliant research on American poverty, Kathryn Edin noticed something she hadn't seen before — households surviving on virtually no cash income. Edin teamed with Luke Shaefer, an expert on calculating incomes of the poor, to discover that the number of American families living on $2.00 per person, per day, has skyrocketed to one and a half million households, including about three million children. Where do these families live? How did they get so desperately poor? Through this book's eye-opening analysis and many compelling profiles, moving and startling answers emerge. $2.00 a Day delivers new evidence and new ideas to our national debate on income inequality."
"Although we usually think of technology as something unique to modern times, our ancestors began to create the first technologies millions of years ago in the form of prehistoric tools and weapons. Over time, eight key technologies gradually freed us from the limitations of our animal origins. The fabrication of weapons, the mastery of fire, and the technologies of clothing and shelter radically restructured the human body, enabling us to walk upright, shed our body hair, and migrate out of tropical Africa. But the same forces that allowed us to integrate technology into every aspect of our daily lives have also brought us to the brink of planetary catastrophe. Unbound explains both how we got here and how human society must be transformed again to achieve a sustainable future."
By signing up you agree to our Terms of Service
We've got new perks over at Book Riot Insiders, including the Epic Group Read! Sign up for your free trial today!