LGBTQ
2019 YA Books Starring Queer Girls
This content contains affiliate links. When you buy through these links, we may earn an affiliate commission.
I remember the days when you could count on hand the number of YA books about queer girls that released in any given year. Well friends, I am thrilled to say that I ran out of fingers when tallying up the number of 2019 YA books about queer girls. What a time to be alive! We've got a lot of contemporary novels in the list, but also a good number of sci-fi and fantasy releases, plus two graphic novels! And it even looks as though most of these are #ownvoices! I'm also thrilled to see a number of POC authors on this list, but I hope going forward we see a lot more!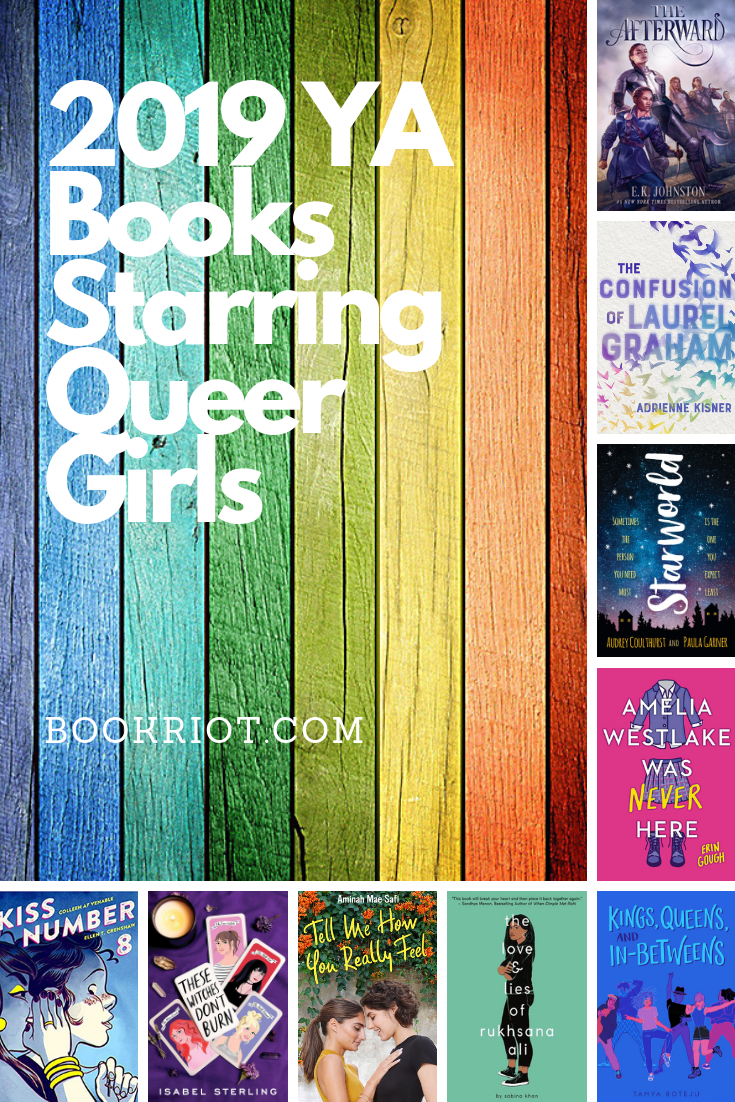 This is probably not a complete list; I've not been able to read every 2019 release, and sometimes book descriptions don't reveal a protagonist's orientation. If there's any that I've missed, comment and let us know so everyone can enjoy all the YA books about queer girls!
Unable to come out to her conservative Muslim parents, Rukhsana Ali keeps that part of her identity hidden. And that means keeping her girlfriend, Ariana, a secret from them too. Luckily, only a few more months stand between her carefully monitored life at home and a fresh start at Caltech in the fall. But when Rukhsana's mom catches her and Ariana together, her future begins to collapse around her.
Devastated and confused, Rukhsana's parents whisk her off to stay with their extended family in Bangladesh, where she is met with a culture of arranged marriages, religious tradition, and intolerance. Fortunately, Rukhsana finds allies along the way, and, through reading her grandmother's old diary, finds the courage to stand up for her beliefs, take control of her future, and fight for her love.
Out January 29, 2019!
It's been a year since the mysterious godsgem cured Cadrium's king and ushered in what promised to be a new golden age. The heroes who brought home the gem are renowned in story and song, but for two fellows on the quest, peace and prosperity don't come easily.
Apprentice Knight Kalanthe Ironheart wasn't meant for heroism so early in life, and while she has no intention of giving up the notoriety she's earned, reputation doesn't pay her bills. Kalanthe may be forced to betray not her kingdom or her friends, but her own heart as she seeks a stable future for herself and those she loves.
Olsa Rhetsdaughter was never meant for heroism at all. Beggar and thief, she lived hand to mouth on the streets until fortune—or fate—pulled her into Kalanthe's orbit. And now she's reluctant to leave it. Even more alarmingly, her fame has made her profession difficult, and a choice between poverty and the noose isn't much of a choice at all.
Both girls think their paths are laid out, but the godsgem isn't quite done with them and that new golden age isn't a sure thing yet.
In a tale both sweepingly epic and intensely personal, Kalanthe and Olsa fight to maintain their newfound independence and to find their way back to each other.
Out February 19, 2019!
At the Medio School for Girls, distinguished young women are trained for one of two roles in their polarized society. Depending on her specialization, a graduate will one day run a husband's household or raise his children. Both paths promise a life of comfort and luxury, far from the frequent political uprisings of the lower class.
Daniela Vargas is the school's top student, but her pedigree is a lie. She must keep the truth hidden or be sent back to the fringes of society.
And school couldn't prepare her for the difficult choices she must make after graduation, especially when she is asked to spy for a resistance group desperately fighting to bring equality to Medio.
Will Dani cling to the privilege her parents fought to win for her, or will she give up everything she's strived for in pursuit of a free Medio—and a chance at a forbidden love?
Clover Martinez has always been a survivor, which is the reason she isn't among the dead when aliens invade and destroy Earth as she knows it.
Clover is convinced she's the only one left until she hears a voice on the radio urging her to go to the former Area 51. When she arrives, she's greeted by a band of misfits who call themselves The Last Teenagers on Earth.
Only they aren't the ragtag group of heroes Clover was expecting. The seven strangers seem more interested in pretending the world didn't end than fighting back, and Clover starts to wonder if she was better off alone. But when she finds a hidden spaceship within the walls of the compound, she doesn't know what to believe…or who to trust.
Out March 5, 2019!
Sophomore year has just begun, and Angie is miserable. Her girlfriend, KC, has moved away; her good friend, Jake, is keeping his distance; and the resident bully has ramped up an increasingly vicious and targeted campaign to humiliate her. An over-the-top statue dedication planned for her sister, who died in Iraq, is almost too much to bear, and it doesn't help that her mother has placed a symbolic empty urn on their mantel. At the ceremony, a soldier hands Angie a final letter from her sister, including a list of places she wanted the two of them to visit when she got home from the war. With her mother threatening to send Angie to a "treatment center" and the situation at school becoming violent, Angie enlists the help of her estranged childhood friend, Jamboree. Along with a few other outsiders, they pack into an RV and head across the state on the road trip Angie's sister did not live to take. It might be just what Angie needs to find a way to let her sister go, and find herself in the process.
Out March 5, 2019!
Kiss Number 8 by Colleen AF Venable and Colleen T. Crenshaw
Mads is pretty happy with her life. She goes to church with her family, and minor league baseball games with her dad. She goofs off with her best friend Cat, and has thus far managed to avoid getting kissed by Adam, the boy next door. It's everything she hoped high school would be…until all of a sudden, it's not.
Her dad is hiding something big—so big it could tear her family apart. And that's just the beginning of her problems: Mads is starting to figure out that she doesn't want to kiss Adam…because the only person she wants to kiss is Cat.
Out March 12, 2019!
Fresh out of high school, Babe Vogel should be thrilled to have the whole summer at her fingertips. She loves living in her lighthouse home in the sleepy Maine beach town of Oar's Rest and being a barista at the Busy Bean, but she's totally freaking out about how her life will change when her two best friends go to college in the fall. And when a reckless kiss causes all three of them to break up, she may lose them a lot sooner. On top of that, her ex-girlfriend is back in town, bringing with her a slew of memories, both good and bad.
And then there's Levi Keller, the cute artist who's spending all his free time at the coffee shop where she works. Levi's from out of town, and even though Babe knows better than to fall for a tourist who will leave when summer ends, she can't stop herself from wanting to know him. Can Babe keep her distance, or will she break the one rule she's always had—to never fall for a summer boy?
Out March 19, 2019!
Once & Future by Cori McCarthy and Amy Rose Capetta
When Ari crash-lands on Old Earth and pulls a magic sword from its ancient resting place, she is revealed to be the newest reincarnation of King Arthur. Then she meets Merlin, who has aged backward over the centuries into a teenager, and together they must break the curse that keeps Arthur coming back. Their quest? Defeat the cruel, oppressive government and bring peace and equality to all humankind.
No pressure.
Out March 26, 2019!
Starworld by Audrey Coulthurst and Paula Garner
Sam Jones and Zoe Miller have one thing in common: they both want an escape from reality. Loner Sam flies under the radar at school and walks on eggshells at home to manage her mom's obsessive-compulsive disorder, wondering how she can ever leave to pursue her dream of studying aerospace engineering. Popular, people-pleasing Zoe puts up walls so no one can see her true self: the girl who was abandoned as an infant, whose adoptive mother has cancer, and whose disabled brother is being sent away to live in a facility. When an unexpected encounter results in the girls' exchanging phone numbers, they forge a connection through text messages that expands into a private universe they call Starworld. In Starworld, they find hilarious adventures, kindness and understanding, and the magic of being seen for who they really are. But when Sam's feelings for Zoe turn into something more, will the universe they've built survive the inevitable explosion?
Out April 16, 2019!
Before: Jess has always struggled with the fire inside her. But when she meets Vivi, everything changes. As they fall for each other, Vivi helps Jess deal with her anger and pain and encourages her to embrace her artistic talent. And suddenly Jess's future is a blank canvas, filled with possibilities.
After: When Vivi unexpectedly dies, Jess's perfect world is erased. As she spirals out of control, Jess pushes away everyone around her and throws out her plans for art school. Because art is Vivi and Vivi is gone forever. Right when Jess feels at her lowest, she makes a surprising friend who just might be able to show her a new way to channel her rage, passion, and creativity. But will Jess ever be able to forge a new path for herself without Vivi?
A beautiful exploration of first love and first loss, this novel effortlessly weaves together past and present to tell a profound story about how you can become whole again when it seems like you've lost the most important part of yourself.
Out April 16, 2019!
Perpetually awkward Nima Kumara-Clark is bored with her insular community of Bridgeton, in love with her straight girlfriend, and trying to move past her mother's unexpected departure. After a bewildering encounter at a local festival, Nima finds herself suddenly immersed in the drag scene on the other side of town.
Macho drag kings, magical queens, new love interests, and surprising allies propel Nima both painfully and hilariously closer to a self she never knew she could be—one that can confidently express and accept love. But she'll have to learn to accept lost love to get there.
From debut author Tanya Boteju comes a poignant, laugh-out-loud tale of acceptance, self-expression, and the colorful worlds that await when we're brave enough to look.
Out May 7, 2019!
Laura Dean, the most popular girl in high school, was Frederica Riley's dream girl: charming, confident, and SO cute. There's just one problem: Laura Dean is maybe not the greatest girlfriend.
Reeling from her latest break up, Freddy's best friend, Doodle, introduces her to the Seek-Her, a mysterious medium, who leaves Freddy some cryptic parting words: break up with her. But Laura Dean keeps coming back, and as their relationship spirals further out of her control, Freddy has to wonder if it's really Laura Dean that's the problem. Maybe it's Freddy, who is rapidly losing her friends, including Doodle, who needs her now more than ever. Fortunately for Freddy, there are new friends, and the insight of advice columnists like Anna Vice to help her through being a teenager in love.
Mariko Tamaki and Rosemary Valero-O'Connell bring to life a sweet and spirited tale of young love that asks us to consider what happens when we ditch the toxic relationships we crave to embrace the healthy ones we need.
Out May 7, 2019!
Millie Quint is devastated when she discovers that her sort-of-best friend/sort-of-girlfriend has been kissing someone else. Heartbroken and ready for a change of pace, Millie decides to apply for scholarships to boarding schools…the farther from Houston the better.
Soon, Millie is accepted into one of the world's most exclusive schools, located in the rolling highlands of Scotland. Here, the country is dreamy and green; the school is covered in ivy, and the students think her American-ness is adorable.
The only problem: Mille's roommate Flora is a total princess.
She's also an actual princess. Of Scotland.
At first, the girls can't stand each other, but before Millie knows it, she has another sort-of-best-friend/sort-of-girlfriend. Princess Flora could be a new chapter in her love life, but Millie knows the chances of happily-ever-afters are slim…after all, real life isn't a fairy tale…or is it?
Out May 7, 2019!
Newly escaped from the stifling boredom of a small town, college freshman Laura is ready to make the most of her first year at Silas University. But when her roommate, Betty, vanishes and a sarcastic, nocturnal philosophy student named Carmilla moves into Betty's side of the room, Laura decides to play detective. Turns out Betty isn't the first girl to go missing ? she's just the first girl not to come back. All over campus, girls have been vanishing, and they are completely changed when (or if) they return. Even more disturbing are the strange dreams they recount: smothering darkness, and a strange pale figure haunting their rooms. Dreams that Laura is starting to have herself. As Laura closes in on the answers, tensions rise with Carmilla. Is this just a roommate relationship that isn't working out, or does Carmilla know more than she's letting on about the disappearances? What will Laura do if it turns out her roommate isn't just selfish and insensitive, but completely inhuman? And what will she do with the feelings she's starting to have for Carmilla?
Out May 7, 2019!
Danny didn't know what she was looking for when she and her mother spread out a map of the United States and Danny put her finger down on Tempest, California. What she finds are the Grays: a group of friends who throw around terms like queer and witch like they're ordinary and everyday, though they feel like an earthquake to Danny. But Danny didn't just find the Grays. They cast a spell that calls her halfway across the country, because she has something they need: she can bring back Imogen, the most powerful of the Grays, missing since the summer night she wandered into the woods alone. But before Danny can find Imogen, she finds a dead boy with a redwood branch through his heart. Something is very wrong amid the trees and fog of the Lost Coast, and whatever it is, it can kill. Lush, eerie, and imaginative, Amy Rose Capetta's tale overflows with the perils and power of discovery—and what it means to find your home, yourself, and your way forward.
Out May 14, 2019!
Harriet Price is the perfect student: smart, dutiful, over-achieving. Will Everhart is a troublemaker who's never met an injustice she didn't fight. When their swim coach's inappropriate behavior is swept under the rug, the unlikely duo reluctantly team up to expose his misdeeds, pulling provocative pranks and creating the instantly legendary Amelia Westlake—an imaginary student who helps right the many wrongs of their privileged institution. But as tensions burn throughout their school—who is Amelia Westlake?—and between Harriet and Will, how long can they keep their secret? How far will they go to make a difference? And when will they realize they're falling for each other?
Out May 21, 2019!
Hannah's a witch, but not the kind you're thinking of. She's the real deal, an Elemental with the power to control fire, earth, water, and air. But even though she lives in Salem, Massachusetts, her magic is a secret she has to keep to herself. If she's ever caught using it in front of a Reg (read: non-witch), she could lose it. For good. So, Hannah spends most of her time avoiding her ex-girlfriend (and fellow Elemental Witch) Veronica, hanging out with her best friend, and working at the Fly by Night Cauldron selling candles and crystals to tourists, goths, and local Wiccans.
But dealing with her ex is the least of Hannah's concerns when a terrifying blood ritual interrupts the end-of-school-year bonfire. Evidence of dark magic begins to appear all over Salem, and Hannah's sure it's the work of a deadly Blood Witch. The issue is, her coven is less than convinced, forcing Hannah to team up with the last person she wants to see: Veronica.
While the pair attempt to smoke out the Blood Witch at a house party, Hannah meets Morgan, a cute new ballerina in town. But trying to date amid a supernatural crisis is easier said than done, and Hannah will have to test the limits of her power if she's going to save her coven and get the girl, especially when the attacks on Salem's witches become deadlier by the day.
Isabel Sterling's delightful, suspenseful debut is equal parts sweet romance and thrilling mystery. With everything she loves on the line, Hannah must confront this murderous villain before her coven—and any chance she has with the new girl—is destroyed.
Out May 28, 2019!
Seventeen-year-old Laurel Graham has a singular, all-consuming ambition in this life: become the most renown nature photographer and birder in the world. The first step to birding domination is to win the junior nature photographer contest run by prominent Fauna magazine. Winning runs in her blood—her beloved activist and nature-loving grandmother placed when she was a girl.
One day Gran drags Laurel out on a birding expedition where the pair hear a mysterious call that even Gran can't identify. The pair vow to find out what it is together, but soon after, Gran is involved in a horrible car accident.
Now that Gran is in a coma, so much of Laurel's world is rocked. Her gran's house is being sold, developers are coming in to destroy the nature sanctuary she treasures, and she still can't seem to identify the mystery bird.
Laurel's confusion isn't just a group of warblers—it's about what means the most to her, and what she's willing to do to fight to save it. Maybe—just maybe—if she can find the mystery bird, it will save her gran, the conservatory land, and herself.
Out June 4, 2019!
Sana Khan is a cheerleader and a straight A student. She's the classic (somewhat obnoxious) overachiever determined to win.
Rachel Recht is a wannabe director who's obsessed with movies and ready to make her own masterpiece. As she's casting her senior film project, she knows she's found the perfect lead—Sana.
There's only one problem. Rachel hates Sana. Rachel was the first girl Sana ever asked out, but Rachel thought it was a cruel prank and has detested Sana ever since.
Told in alternative viewpoints and inspired by classic romantic comedies, this engaging and edgy YA novel follows two strong-willed young women falling for each other despite themselves.
Out June 11, 2019!
The long-awaited sequel to the acclaimed YA fantasy Of Fire and Stars!
Princesses Denna and Mare are in love and together at last—only to face a new set of dangers.
Mare just wants to settle down with the girl she loves, which would be easier if Denna weren't gifted with forbidden and volatile fire magic. Denna must learn to control her powers, which means traveling in secret to the kingdom of Zumorda, where she can seek training without fear of persecution. Determined to help, Mare has agreed to serve as an ambassador as a cover for their journey.
But just as Mare and Denna arrive in Zumorda, an attack on a border town changes everything. Mare's diplomatic mission is now urgent: she must quickly broker an alliance with the Queen of Zumorda to protect her homeland. However, the queen has no interest in allying with other kingdoms—it's Denna's untamed but powerful magic that catches her eye. The queen offers to teach Denna herself, and both girls know it would be dangerous to refuse.
As Denna's powers grow stronger, Mare does her best to be the ambassador her kingdom needs. Her knowledge of Zumorda and its people grow, and so too do her suspicions about the queen's intentions.
As rising tensions and unexpected betrayals put Mare and Denna in jeopardy and dangerous enemies emerge on all sides, can they protect their love and save their kingdoms?
Out August 13, 2019!