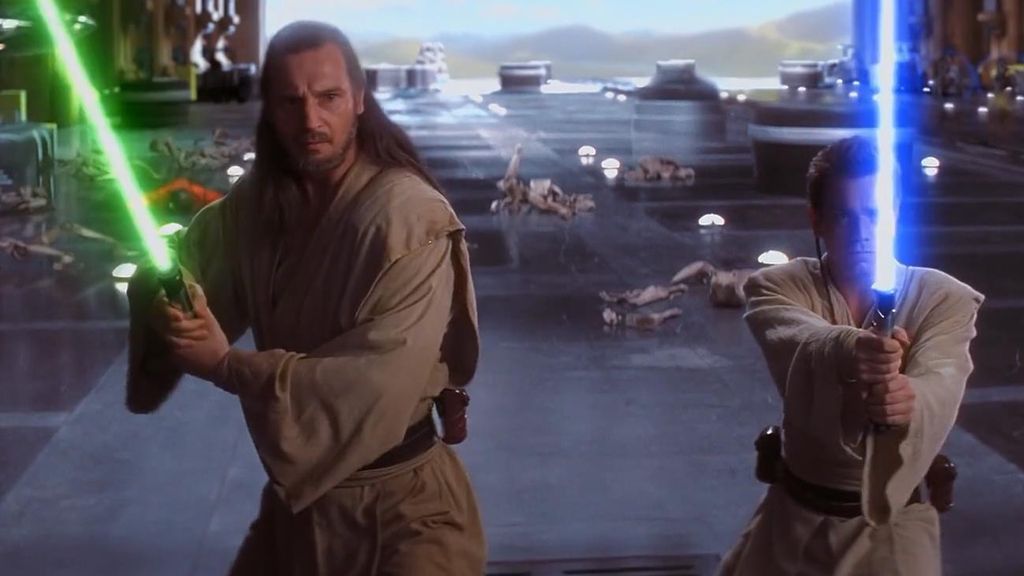 This content contains affiliate links. When you buy through these links, we may earn an affiliate commission.
If you follow Star Wars news, you may already know that there were a couple of big book announcements recently. In 2019 we'll be getting two new books from veteran Star Wars authors centered around characters and events from the prequel trilogy. The books will feature Obi-Wan Kenobi, Qui-Gon Jinn, and Padmé Amidala, and, honestly, sound completely amazing.
Master and Apprentice by Claudia Gray (Del Rey, February 26, 2019)
Obi-Wan: before he was Anakin's master, he was Qui-Gon's padawan. We only get a brief look at the padawan / master relationship between Obi-Wan Kenobi and Qui-Gon Jinn in Phantom Menace before Qui-Gon meets his untimely end and Obi-Wan takes on his own apprentice. But what were the years before that like? While we don't have a lot of information yet about this book, it's seems like a safe bet that we're about to find out. Eight-year old me who was totally obsessed with the Jedi Apprentice series about Obi-Wan and Qui-Gon Jinn's adventures as master and apprentice is doing the biggest victory dance right now.
Claudia Gray has written a number of books and stories in the Star Wars universe, including Leia, Princess of Alderaan, Lost Stars, Bloodline, as well as a short story about Qui-Gon which was featured in the 40th anniversary anthology, From A Certain Point of View.
Queen's Shadow by E. K. Johnston (Disney Lucasfilm Press, March 5, 2019)
This book tells the in-between years after Padmé finishes her time as queen and becomes a senator but before the events of Attack of the Clones. It's all about her taking on this new political position and discovering her role in the galaxy.
Look, I know people have a lot of mixed (or not so mixed) feeling about the prequels, but if you think six-year old me wasn't head over heels for Padmé AKA Queen Amidala AKA the coolest fourteen-year old ever then you are very much mistaken. So the fact that she is finally getting her much-deserved and long overdue book is nothing but good news in my opinion. I mean, let's be real, regardless of what you think of the prequels, badass politician Padmé is without a doubt one of the best parts.
E. K. Johnston wrote Ahsoka, the book on Ahsoka Tano, Anakin Skywalker's padawan. She also co-wrote the short story "By Whatever Sun" for From a Certain Point of View.
Clearly these authors know what they're doing with the Star Wars universe, and I have no doubt both novels are going to be a really interesting look at some unseen moments. Honestly, I don't know which I'm more excited for!
And since Star Wars publishing is setting its eyes toward the prequels now, here are some other stories I'd love to see them explore:
Padmé's early life leading up to how she became queen. We know she become involved in diplomacy at a very, very young age (even before she became queen at 14). I feel like there might be a really wonderful MG or YA novel in there. (Plus, just give me all the Padmé books, okay?)
Boba Fett's journey to becoming a bounty hunter. We all know Fett is a fan favorite, so it's kind of surprising this one hasn't already been written TBH.
For some more bookish Star Wars goodness: this Star Wars heroine quiz, all our favorite Star Wars stuff, these Star Wars comics, and some epic Star Wars tattoos.
Are you excited for these new Star Wars books? What other characters or events from the Star Wars universe would you like to see novelized?