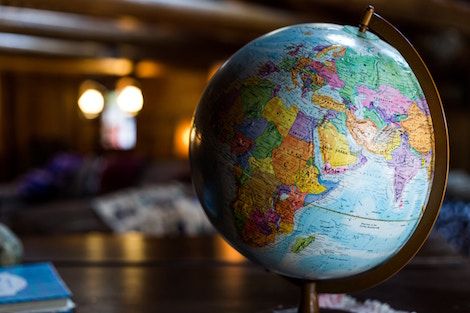 In Translation
Announcing the 2019 Man Booker International Prize Shortlist
This content contains affiliate links. When you buy through these links, we may earn an affiliate commission.
The Man Booker International Prize honoring the finest works of translated fiction from around the world released its shortlist yesterday, narrowing down the list from 13 books to six.
The winner of the 2019 prize will be announced on May 21, with the £50,000 prize being divided equally between the author and the translator of the winning book. Next year, the prize will be known as the International Booker Prize, as the sponsorship from the Man Group comes to an end and the prize's new sponsor Crankstart begins funding.
We're delighted to announce our #MBI2019 shortlist. Read more here: https://t.co/avnrfn3v4I#FinestFiction pic.twitter.com/HyR3vHUCzE

— The Booker Prizes (@TheBookerPrizes) April 9, 2019
The list spans five languages—Arabic, French, German, Polish, and Spanish—and is dominated by independent publishers. "The list includes Olga Tokarczuk, who won the prize in 2018 for Flights [translated by Jennifer Croft], with her other translator into English, Antonia Lloyd-Jones; Jokha Alharthi, the first writer from the Arabian Gulf to be longlisted for the prize, alongside Marilyn Booth; and Alia Trabucco Zerán, who makes the list with her debut novel translated by Sophie Hughes. The list also includes The Years by Annie Ernaux and translated by Alison L. Strayer, which has already won prizes including Prix Renaudot in France and Premio Strega in Italy."
Bettany Hughes, chair of the 2019 Man Booker International Prize judging panel, commented on the list, saying: "Wisdom in all its forms is here. Unexpected and unpredictable narratives compelled us to choose this vigorous shortlist. Subversive and intellectually ambitious with welcome flashes of wit, each book nourishes creative conversation. We were struck by the lucidity and supple strength of all the translations."
2019 Man Booker International Prize Shortlist
Celestial Bodies by Jokha Alharthi (Arabic/Omani), translated by Marilyn Booth (Sandstone Press Ltd)
The Years by Annie Ernaux (French/French), translated by Alison L. Strayer (Fitzcarraldo Editions)
The Pine Islands by Marion Poschmann (German/German), translated by Jen Calleja (Profile Books, Serpent's Tail)
Drive Your Plow Over The Bones Of The Dead by Olga Tokarczuk (Polish/Polish), translated by Antonia Lloyd-Jones (Fitzcarraldo Editions)
The Shape of the Ruins by Juan Gabriel Vásquez (Spanish/Colombian), translated by Anne McLean (Quercus, MacLehose Press)
The Remainder by Alia Trabucco Zeran (Spanish/Chilean and Italian), translated by Sophie Hughes (And Other Stories)
Curious about the great books that didn't make the shortlist? Check out the complete 2019 Man Booker International Prize Longlist.