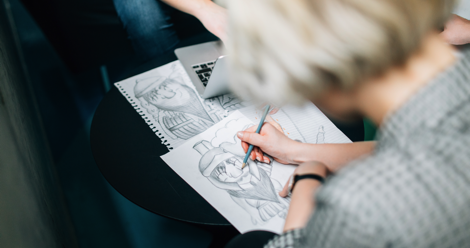 2019 Hourly Comic Day: A Roundup
Ah, the first day of February! A day when many comic artists look at their social media feeds and exclaim "Oh crap, Hourly Comic Day is TODAY?!" As the name might suggest, Hourly Comic Day is when people post a comic following their day, hour by hour. Some artists choose to take notes on another day and draw them up on 1st, others post quick panels throughout the day, and some choose to wait until the end of the day to post a collection of their hourly comics. For 2019 Hourly Comic Day, I've rounded up a small smattering of posts from the day. These come from published pros, independent artists, longtime participants, and creatives posting their art for the first time publicly.
For me, the wonderful thing about Hourly Comic Day isn't how interesting or polished the comics are, but rather that folks choose to participate in a giant group art project and share a bit of their lives with the world. Most of our day-to-day lives are full of mundane moments and boring tasks that we don't really talk about. Personally, I think there is something truly comforting and beautiful about someone creating a tiny piece of art centered around those mundane moments. Isn't it wonderful to know it's not just your cat that meows like crazy in the middle of the night? Or how so many of us derive pleasure from the simple act of boiling water and making a hot drink in the morning? To everyone who participated in the 2019 Hourly Comic Day, thanks for letting us into your day. I loved it.
I'm going… to do my best…#hourlycomicday pic.twitter.com/7apfNZaPYy

— 🌱 Heather (@heatherfranzen) February 1, 2019
https://www.instagram.com/p/BtWXRHCgOX-/?utm_source=ig_web_copy_link
9am and cats again #hourlycomicday2019 #hourlycomicday #breakfast pic.twitter.com/DZsYSQSx2v

— Lorraine Ansell (@lol_ansell) February 1, 2019
On comic #3 of #HourlyComicsDay, I finally remembered to write 2019 instead of 2018. pic.twitter.com/JKPXX8VE3L

— shing yin khor (@sawdustbear) February 1, 2019
11AM #hourlycomicday pic.twitter.com/59VxVppXKl

— Laura Bishop (@emeraldreverie) February 1, 2019
— Cassie Zwart (@lunchbagmonster) February 1, 2019
https://www.instagram.com/p/BtWa_dGFVOV/?utm_source=ig_web_copy_link
A mystery #HourlyComicDay pic.twitter.com/2Yc43TVrsK

— Sarah Hopkins 💖💜💙 (@sarahmhop) February 1, 2019
#hourlycomicday 1pm to 2pm pic.twitter.com/Z6qS8M7wOd

— JOY SAN (@sexytuna) February 1, 2019
i was a little productive #hourlycomicday pic.twitter.com/nfLuSCOo4a

— amie sanchez @ 🅱️LM 🅰️C🅰️🅱️ (@ameetoe) February 2, 2019
2-4pm. Welcome to my brain. #HourlyComicDay #hourlycomicday2019 pic.twitter.com/JaE2ZlWnc7

— Raina Telgemeier (@goraina) February 2, 2019
Have you ever written a word so many times it stops looking like a real word? #hourlycomicday #hourlycomicday2019 pic.twitter.com/iVsidtOnH1

— Morrighan Corbel (@MorrighanCorbel) February 1, 2019
a very good book #HourlyComicsDay pic.twitter.com/FuiQz6QOkZ

— 🦐 exhuasted crustacean 🦐 (@hellaorion) February 1, 2019
https://twitter.com/jeperbees/status/1091563425145196545
Bless my very patient friends #hourlycomicday pic.twitter.com/azLkETD366

— Melanie Gill Man (@melgillman) February 2, 2019
This is probably why I'm so good at dnd honestly #hourlycomicday pic.twitter.com/LPqy3KY2xG

— Sarah Hopkins 💖💜💙 (@sarahmhop) February 2, 2019
8pm! River dale with Mom + a dumb joke about shrimp pic.twitter.com/MpE9LEXq7K

— Vron 🌻 (@anuanew) February 2, 2019
It was the chocolate kind pic.twitter.com/0j48R4Rkep

— Hugbox 🌿 (@jessizabarsky) February 2, 2019
wahhh one more! im getting sleepy xD#hourlycomicday #hourlycomicday2019 #cooking pic.twitter.com/n6iGW9mhXJ

— ✧・゚:* cuppα kσnα *:・゚✧ (@ckkona_art) February 2, 2019
..and that's it for my #hourlycomicday2019!! There wasn't anything special afterward. I just came back home and resumed work🤷🏻‍♀️ Thanks for keeping track of my comics, y'all!#hourlycomicday #hourlycomic #hourlies2019 #hourlycomics #cartoon #drawing #animation #sketch #doodle pic.twitter.com/mLVYal80k5

— HYE LYNN PARK (@lynnimation) February 2, 2019
I took a break from watching HxH, have another piece for #hourlycomicday 🛁✨ pic.twitter.com/qSQHwsfDQY

— Bee 🐝 is still thinkng abt SHE-RA!!! 💖 (@miraidaisy) February 2, 2019
??????????? #hourlycomicday #hourlycomicday2019 pic.twitter.com/tpKi5BgBP6

— julie (@julietherobot) February 2, 2019
— Aiken (@aikenbacons) February 2, 2019
#hourlycomicday2019 #hourlycomicday part 5: last comic before bed! pic.twitter.com/2u8pUUsTLz

— Elle Skinner (@elle_skinner) February 2, 2019
help #hourlycomicday #comics pic.twitter.com/zmGhRXMu3x

— lim 😤 🎮 FF7R ☄ + ACNH 🌴 (@limpachu) February 2, 2019
https://www.instagram.com/p/BtWc6Cwgg8M/?utm_source=ig_web_copy_link
Last one before #hourlycomicday ends! Goodnight y'all – I highly recommend clicking on the hashtag and checking out all the other artists in the Twittersphere with BOMB art.

Shoutout to @TillieWalden for the inspiration 💙 pic.twitter.com/9qmxBTWu6V

— Laura Gao ✌️ (@heylauragao) February 2, 2019
And finally, my own belated and very heartfelt contribution: