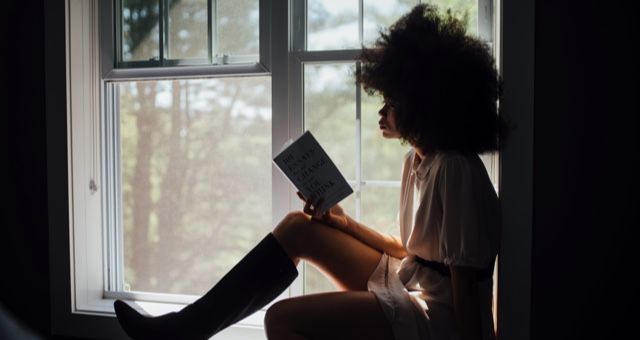 This content contains affiliate links. When you buy through these links, we may earn an affiliate commission.
Memoir is one of my favorite genres for comic book creators to explore, and I read more graphic memoirs in 2019 than in any other year. I enjoy the way graphic memoirs layer meaning through both prose and visuals, which adds another dimension to the story.
These are my five favorite graphic memoirs from 2019. And hey, if you're trying to reach a goal of a certain number of books finished this year, these are super fast reads to get you there!
Five 2019 Graphic Memoirs
Maia Kobabe never envisioned eirself writing a memoir, but sometimes the things we least want to investigate are exactly the places we need to go for our art. The thing Kobabe always found eirself avoiding was eir's gender. E was born female but never felt comfortable with that gender, even as a child. But neither did e feel comfortable with being a male. Instead, e felt nonbinary, a word e didn't discover until much later, and despite having an open-minded and accepting family, e still didn't have the support and modeling e needed to be able to see that what felt completely natural to e was and could be a legitimate way of being human in the world. I really enjoyed reading this for multiple reasons. Kobabe's voice is so honest and endearing and natural, and we have many nerdoms in common. As a cishet mother, the memoir helped me realize that I need to provide my daughter Marian more examples of ways gender can be expressed.
Trigger warning for miscarriage and traumatic birth experience.
I'm all about the pregnancy and parenting memoirs that also contain SCIENCE! Lucy Knisley is a prolific comics creator probably best known for Relish, her food memoir. Kid Gloves relates her struggle to conceive, her miscarriages, and her traumatic, near-death experience giving birth to a healthy child. While this sounds like it would be a sob fest—and it is a little—Knisley's charismatic voice and friendly art style infuses a note of joy to the memoir that makes it engaging and fun and not too traumatic to read. Between each chapter is a science section that explains what was happening to Knisley's body, and that would've been great to know at the time. The science in her book helped me realize why I started having blind spells a few days before giving birth! (Preeclampsia.) I wish I'd read this before giving birth. Even if you're not interested in having children, it's an excellent look at how life is created, and the personal trauma and joy that accompanies it.
This graphic memoir is receiving lots of justified nods on Best Of 2019 lists. It's packed with layers of story which is mirrored by the collage-style art. The frame to the memoir are the questions Jacob's 6-year-old Indian/Jewish child asks her that are nearly impossible to answer: "Who taught Michael Jackson to dance?" "Is it bad to be brown?" "Can Indians be racist?" These questions lead Jacob on many paths: the depths of parental anxiety about raising a child of color in Trump's America; remembering her childhood as an Indian immigrant in a mostly white midwestern town; an analysis of her own racial biases; and so much more. The art layers black and white drawings of people onto realistic, full-color settings, almost like paper dolls moved from place to place to see how they look and how they can adapt in each setting. Despite the density of the subject matter, I read this memoir in a single sitting.
After Lynda Barry won one of the 2019 MacArthur Fellows grants, I decided to check out this, her most recent comic book. It is amazing. Part teaching memoir, part philosophy of art and comics, part comic exercises for instruction, this is a densely packed comic book that took me a week to get through, and I wasn't even attempting any of the exercises. I've since tried a few, but I've really latched on to making random monsters so that's mostly what I draw while doodling with my daughter. Even though I have no desire to ever create comics myself, I loved reading Barry's insights into both comics and teaching. As a teacher and a writer, I found both her reflections and the exercises immensely helpful and inspiring. I can't wait to read her other books!
They Called Us Enemy By George Takei, Justin Eisinger, and Steven Scott, Illustrated By Harmony Becker
Like many of us who went through the United States public education system, I knew vaguely about Japanese internment camps; mainly, that they existed and that they were bad. I had in my mind a single camp in California, where a few Japanese American families were imprisoned. Wow, was I wrong. George Takei's memoir of growing up in a Japanese internment camp is a much needed personal insight into the horror, hypocrisy, and injustice of the "camps," which incarcerated more than 100,000 Japanese American families. This is a must-read for everyone.
---
Looking for more recommendations? Check out these lists: