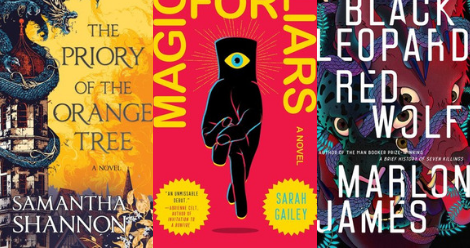 This content contains affiliate links. When you buy through these links, we may earn an affiliate commission.
So long 2018, and hello 2019! If you're hoping to add some magic and mystical mayhem to your 2019 reading list, these books should definitely be at the top of your TBR. Magical adventures, alternate Earths with otherworldly beings, historical fantasy full of jinn, and private eyes with powers. This list has it all. Basically, what I'm saying is you're definitely not going to want to miss these upcoming 2019 fantasy books.

Black Leopard, Red Wolf by Marlon James (February 5, 2019, from Riverhead Books)
The award-winning author of A Brief History of Seven Killings is back with a fantasy book—the first in a new trilogy. Tracker has been tasked with tracking down a missing boy because of his incredible talent for following scents. Breaking his own rule, he teams up with a band of others, including a shapeshifter, all of whom carry secrets of their own. But as they try to track down the boy, deadly attacks and obstacles begin to make Tracker wonder: who is this boy really, and why are people so intent to keep Tracker from finding him?
This novel, set in the same alternate Cairo as first appeared in P. Djèlí Clark's short fiction, reveals a world where humans live and work alongside otherworldly beings. It's the job of the Ministry of Alchemy, Enchantments and Supernatural Entities to deal with any problems that might come up between the two. Agent Hamed al-Nasr and his new partner Agent Onsi are called out to subdue a possessed tram car—but what follows proves much more difficult than just some simple exorcism.
The Priory of the Orange Tree by Samantha Shannon (February 26, 2019, from Bloomsbury Publishing)
The House of Berethnet may have ruled Inys for a thousand years, but if Queen Sabran doesn't conceive a daughter soon, her realm will fall to destruction. Ead Duryan has risen to lady-in-waiting, but is an outsider at court. Her true allegiance lies with a secret society of mages, and she uses her forbidden powers to protect the queen. Tané lives across the sea, trained all her life to be a dragonrider. But the East and West refuse to parley, and forces of chaos are rising to threaten the tenuous peace.
The Bird King by G. Willow Wilson (March 12, 2019, from Grove Press)
This lovely new historical fantasy by the author of Alif the Unseen takes us back to the fall of the last Muslim emirate in Iberia, with royal concubine Fatima and mapmaker Hassan running away from the Spanish Inquisition. Forced to flee Granada, they escape the clutches of the inquisitors with the help of a jinn named Vikhram. Without any plans of where to go or how to survive in the wild, they have only one thought: escape. Hassan's supernatural mapmaking abilities and the unexpected help of a Catholic monk they accidentally kidnap along the way get them out to sea. But their intended destination—the court of the Bird King—may be no more than an ancient fairy tale.
Middlegame by Seanan McGuire (May 7, 2019, from Tor)
A new fantasy book from the author of the Wayward Children series. Twins Roger and Doger aren't exactly human—but they aren't exactly gods either. They're something in between, though they don't know it yet. Which is where Reed comes in. Reed created Roger and Doger through the alchemical arts. His plan? Raise them to godhood and claim their power for himself. Let's just hope things don't go according to plan.
Magic for Liars by Sarah Gailey (June 4, 2019, from Tor)
Ivy Gamble was perfectly happy with her life as a private eye. She has an almost sustainable career, an empty apartment, and a bit of a drinking problem, sure, but life is good. She doesn't want to end up like estranged sister, Tabitha, a magically gifted professor. But when Ivy is brought on to investigate a murder at Tabitha's academy she's sucked into the life she might've had and caught up in the answer to a mystery just out of reach. This book sounds like Jessica Jones meets The Magicians in the best way. I'm totally on board.
And I love Sarah Gailey's River of Teeth duology, so I'm very excited to see them venturing into the world of contemporary fantasy.
The Deep by Rivers Solomon (June, 2019, from Saga Press)
Inspired by the Hugo-nominated experimental rap song by clipping. (and featuring Daveed Diggs of Hamilton fame), The Deep tells the story of an underwater community descended from pregnant African women thrown overboard from slave ships. It deals heavily with trauma and collective memory. Considering the amazing song it's based on, the excellent concept, and the fact that it's being penned by the author of An Unkindness of Ghosts, I have high hopes for this one.
Apparently, clipping. is going to release more songs to coincide with the publication of the book. And now if you'll excuse me, I have this song stuck in my head and need to go listen to it on repeat.
If you just can't wait for these amazing books to come out to get your fantasy on, check out these 23 great fantasy series for adults and fantasy series from around the world.