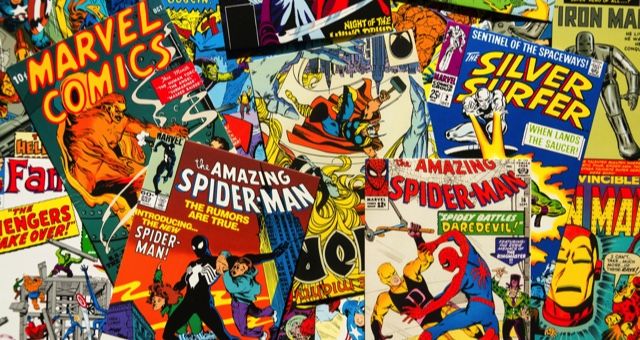 This content contains affiliate links. When you buy through these links, we may earn an affiliate commission.
New comics? By novelists you love? Yes, you read that right! One of my favorite things is recognizing an author I know and love on a book cover—especially when it's a different genre than what I've seen them write before. And nothing showcases that moment better than when a novelist you love dives into the world of comics. That moment of going: ohh, well now I have to read that comic! And these seven comics by novelists you love are the perfect excuse to dive into some new characters and storylines. Read up!
With T'Challa missing, Princess Shuri is being looked to not only to save her brother, but also to take up the mantle of Black Panther—something she has no interest in doing. Not again. She'd rather be working in her lab to bring her brother home. She'll have to find some way to keep Wakanda safe in the meantime, though. Good thing she's got lots of super friends on her side, like Storm, Rocket Raccoon, Groot, and fellow genius, Iron Man!
I'm pretty sure I would've fallen in love with any series about Shuri, but with Nnedi Okorafor, the brilliant author behind Akata Witch, the Binti series, and Who Fears Death, leading the charge with the tech genius princess in her first solo run, it's a match made in Africanfuturist heaven.
The author of the much-beloved Wayward Children series is bringing her take to Spider-Gwen in this interdimensional adventure. Gwen Stacy's friends—her spider-friends—are in trouble, but when she gets stuck in a dimension where Peter Parker is still alive and an alternate version of herself has turned a bit, well, evil, things get even more complicated. And if Gwen can't figure out some way to save the Gwen Goblin from herself, then she may never be able to get back to her friends before it's too late. Alternate dimensions, multiple Gwen Stacys, all the spider-friends…I mean, what's not to love? And for any Into the Spider-Verse fans out there, this comic gave me some similar vibes in all the best ways.
Calling all Captain America fans! If you've been waiting to see what Ta-Nehisi Coates would tackle next after his run of Black Panther: A Nation Under Our Feet, the answer comes in the shape of our favorite star-spangled man. With a nation that no longer trusts Captain America and a new enemy on the rise, where will Steve Rogers turn for help as an unsanctioned super hero? Coates is everywhere these days with his seminal books, We Were Eight Years in Power and Between the World and Me, and his upcoming debut novel, The Water Dancer. Essays, novels, comics—what can't this guy do?
Operatic by Kyo Maclear and Byron Eggenschwiler
This middle grade graphic novel by the author of Stray Love, The Letter Opener, and Birds Art Life: A Year of Observation, as well as numerous picture books, follows Charlie, a girl trying to find her voice and the perfect song for her end of the year music class assignment. They've learned about a different style of music each day, from hip hop to disco, but when Charlie discovers the world of opera and the ultimate diva, Maria Callas, she may just have the answer to the perfect assignment and how to bring a little more confidence into her own life.
Pumpkinheads By Rainbow Rowell and Faith Erin Hicks (August 27, 2019, from First Second)
Rainbow Rowell, author of Fangirl, Carry On, and the upcoming sequel, Wayward Son, is back at the comics game (along with the current run of Runaways) with this graphic novel about two teens during their last summer working together on a pumpkin patch. Josiah's ready to mope the night away, but Deja has bigger and better plans. They're going to see all the sights, taste all the snacks, and go out with a bang before Halloween comes around and they finish up their last season before graduating high school. This year is going to be an adventure to remember.
Invisible Kingdom by G. Willow Wilson and Christian Ward (October 22, 2019, from Berger Books)
Two unlikely women—a hardened freighter pilot and a religious acolyte—come together to uncover a conspiracy the leaders of the solar system's most popular religion and a mega-corporation. But as they find themselves on the run from both sides, are they willing to test their own loyalties, possibly plunging the system into anarchy in the process? The Hugo Award–winning author of Alif the Unseen and The Bird King is bringing us what sounds like a truly spectacular new sci-fi comic in the veins of Star Wars and Saga. And she's no stranger to comics. As one of the creators behind the most recent run of Ms. Marvel featuring Kamala Khan, she definitely knows a thing or two about creating a successful comic book. And I, for one, am highly looking forward to seeing her do it again.
Magnificent Ms. Marvel Saladin Ahmed and Minkyu Jung (October 29, 2019, from Marvel)
Life is never simple in Jersey City—especially for a girl with superpowers. And with aliens attacking, bad guys taking a little too much interest in her family, and some devastating losses, Ms. Marvel's embiggened hands are about to be very full. I adored Wilson's run of Ms. Marvel and can't wait to see Ahmed's take on her. Of course, it's not Ahmed's first experience with comics either, with Black Bolt and Abbott under his belt. Besides his novel, Throne of the Crescent Moon, he's written some awesome, award-winning short fiction, which has been collected in his book, Engraved on the Eye, and in Canto Bight.
---
Some other comic lists you might want to check out: 2019 LGBTQ comics and graphic novels, the DC Ink and DC Zoom comics announced so far, and these webcomics for newcomers.