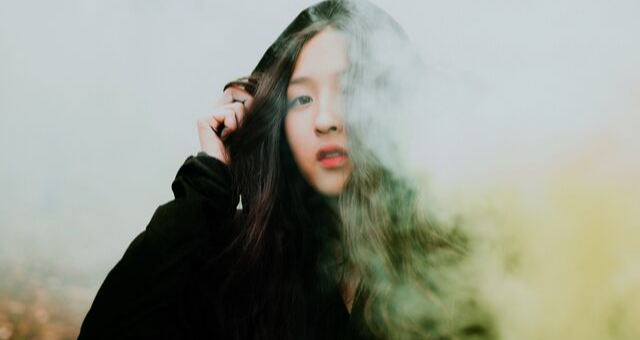 Lists
20 Witchy Books From 2019
This content contains affiliate links. When you buy through these links, we may earn an affiliate commission.
Gather up, witches! Have we got some books for you. Whether you're a seasoned practitioner of the craft or merely a fictional witch enthusiast like myself, these 20 books about the life and magical times of witches are sure to charm you—in a nonmagical way, at any rate. These witchy books from 2019 cover all your magical faves from spellcasting teens to murder investigations at modern magic schools and everything in between. So grab your favorite brew and pull up a chair. We've got a great selection of 2019 books about witches for you!
What's better than a babysitter's club? A babysitter's coven. Obviously. Of course, 17-year-old Esme doesn't know she's a witch. But then the baby she's sitting gets kidnapped and the new girl starts messing around with spells and it turns out the football coach is supposed to tutor her in the ancient ways of the babysitters? Life is weird, basically.
Ivy isn't a witch. But her sister is. Ever since they were little, Tabitha has been magically gifted, and now she's one of the esteemed professors at a private academy for young people learning the magic arts. Unfortunately for both of them, a murder investigation brings them back together, forcing Ivy back into the world she both envies and abhors. But as she loses herself in the case and the magical theory surrounding it, she uncovers truths about herself and her sister she never expected—and never really wanted to know.
Hannah's a teenage witch living in Salem—stereotype much? But Hannah's life is anything but stereotypical. Her ex-girlfriend is also her former best friend from the coven, her other best friend is a a Reg who knows nothing about magic, and the cute new girl thinks she's still hung up on her ex. Which she's not. Mostly. And with a possible Blood Witch and Witch Hunter on the loose, leaving a trail of bodies around town, things are about to get even more interesting. Especially since her ex is the only one who believes her. And if they want to put a stop to all the murders, they'll have to work together to keep their town, their friends, and their coven safe.
The witch trials in Salem ended years ago, but while most of the town tries to move on and forget, one girl refuses to let go of the past. Violet lost both her parents in the trials. Her mother, Tituba, was accused of witchcraft by girls she regarded as sisters. Now she learns that both her parents were sold to a man who took them north. And the man who sold them, Reverend Parris, didn't even bother to tell her. But when she meets Tammy Younger and Elizabeth Prince, two girls also seeking vengeance after the chaos and torment of the witch trials, they decide to sign their own names to the devil's book. But will the magic they're practicing bring them peace in the wake of all they've lost? Or will the darkness consume them?
When Z Chilworth wakes up after dying in a car crash, they have to adjust quickly to life as a zombie. Especially since their witch powers are on the fritz and their body is rapidly decaying. Double yikes. And after an errant werewolf attack puts Salem, Oregon soundly in the anti-monster camp, Z and their new werewolf friend Aysel have to find some way to survive high school while living in a town that doesn't even want them.
Amanda Yates Garcia was first initiated as a witch at 13, but her journey in witchcraft didn't really begin until she began reclaiming her body and power after finding her way out of sex work, poverty, and misogyny. Garcia describes her experiences and her path back to witchcraft and self-discovery in this book. Part memoir, part manifesto, all feminist magic.
Paris, 1789. The twisted streets of the city are full of beggars, thieves, revolutionaries, and magicians, like Camille Durbonne, who must rely on petty magic to get by. But la magie ordinaire doesn't always last. And when Camille's magicked coins begin to lose shape and her brother steals away with the rest of their money, she must find another means of keeping herself and her sister alive. The courts of Louis XVI and Marie Antoinette hold glittering possibility—but also unimaginable danger. And when Camille uses forbidden magic to transform herself into a baroness to win money off the wealthy aristocracy, she discovers just how dangerous both her magic and the courts can be. Because when revolution erupts, she'll have to choose between safety and liberty, love and loyalty, before Paris is burned to the ground.
In Tempest, California, Danny finds not only a new home but also new friends. The Grays, a group of queer teen witches, embrace her at once. But it wasn't just coincidence that brought Danny to Tempest. The Grays cast a spell to bring her here, halfway across the country, believing she has something they need. Something has been wrong with the most powerful of their group, Imogen, ever since she wandered into the woods one night—and they think Danny can help. But there is something larger and more sinister going on in Tempest, and it may take all of them together to set things right.
In a magical, snow covered forest, Nora Walker—a girl rumored to be a witch—discovers a boy who disappeared from the Camp for Wayward Boys weeks ago. Oliver Huntsman should be dead, buried in the snowbanks. Instead, he's alive with no memory of anything since he went missing. Nora's connection to the woods tells her something more is going on with this mysterious boy, and even as she falls more and more for him, she knows she has to learn the truth about what brought him to the woods all those weeks ago and how he survived there in the time since. But Oliver is hiding secrets of his own. Secrets that make the woods uneasy. Secrets he'll do anything to keep.
After a string of magic-tinged murders in the Midgard city of London, Odin sends a young Loki to Earth to investigate. The key suspect? Amora, Asgard's former sorceress-in-training and Loki's friend—before she was banished for her role in the destruction of a one of Asgard's most prized possessions. As one of the only people who has ever seen him as more than just a disaster waiting to happen, Loki hopes to clear her name. But his journey to Earth becomes far more than a simple murder investigation as he begins on a journey toward finding himself and discovering the true source of his power.
Witches are hunted and burned by the Church. That's the way it's always been. It's also why Louise le Blanc had to flee her coven and her hometown two years ago. But when a stunt gone wrong forces her to marry Reid Diggory, a witch hunter for the Church, she finds herself forced to choose between her growing feelings and the magic she is powerless to live without.
Ruby Chernyavsky had been hearing stories about her family's magic for as long as she can remember. Forced to flee their home in Russia for America to escape the fearful men who wanted to destroy them, very little of that magic remains. But it still appears in one small remnant. When a Chernyavsky girl comes of age, she has a vision of who she will be when she dies. An inevitable, inescapable destiny. But then Ruby's great aunt dies—and her death doesn't match her vision. Suddenly Ruby and her cousins have hope for things they never thought they could hope for before: time, love, a normal life. But as they dig into their family's past, it become clear that even hope comes with a cost.
Arrah is the daughter of two powerful magic-wielders, yet with each passing year it seems less likely that her powers will ever appear. She longs for magic, but swears she will never become one of the desperate charlatans who trades years for traded powers. That all changes, though, when children—including her friend, Kofi—go missing. And it may all be connected to a strange, supernatural creature her grandmother saw in a vision. A creature who may just be one of the demons thought to have been wiped out in the war with the orisha. Now, Arrah will sacrifice anything—including the years of her life—to save her friend and find out the truth about herself and her powers.
Elisabeth was taught one all-important lesson as a foundling in one of Austermeer's Great Libraries: sorcerers are evil. But she's also grown up around the tools of sorcery, like the powerful grimoires that will turn to monsters of ink and leather if provoked. She's determined to become a warden to protect others from such dangerous artifacts. Then, an act of sabotage unleashes the library's most powerful grimoire—and in trying to stop it, Elisabeth is implicated in the crime. Arrested and ushered away to the capital to face her punishment, Elisabeth must turn to the only one who can possibly help: her sworn enemy, the sorcerer Nathaniel Thorn. The more she learns about Nathaniel, though, the more she questions everything she's been taught—about the libraries, about magic, and about herself.
The acclaimed writer behind Running with Scissors and Magical Thinking returns with a new look at his life and the magic that was entwined throughout it. Burroughs had always know he was different, that he knew things he shouldn't have known and could manifest things just by thinking them. The only person he ever told was his mother, who reassured him that he was descended from a long line of witches. It was something the two of them shared—at least until his mother left him and suddenly he was on his own to figure out these strange powers he could wield. Coincidence? No such thing as far as Burroughs is concerned. But coming to terms with this magic that gives him power versus the many areas of life in which he is utterly powerless? That's much trickier.
In the aftermath of the Second World War, Barrie Anne Blythe and her aunt Charlotte hide their gifts and pretend not to hear the whispers of their neighbors. That's the price of living in a small coastal town without revealing their dangerous family secret. But an abandoned baby with a hint of powers like their own and the surprising return of Barrie Anne's long-lost husband threaten to upend everything they've been working so hard to protect. As people grow more and more suspicious, the two women have to decide how far they're willing to go to protect themselves—and a child they are beginning to think of as their own—from all the dangers around them.
Juliet Diaz, a third-generation Witch, guides you through embracing your Magick and unleashing your authentic self in this self-help guide for witches and those that want to be more like them. Throughout its magical pages, Witchery serves as a Witch 101 masterclass in how to connect with the power of your inner witch; create spells, potions, and rituals; make your own altar; connect with your ancestors; and live your life to its magical fullest.
The third and final book in The Bone Witch trilogy reunites us with Tea, a bone witch with the power to raise the dead. But her mission to raise an army of undead against the royals is threatened by her obsession with conjuring a shadowglass to give immortality to the one she loves most. And Tea's heartglass grows darker with each new betrayal until she is left with blood on her hands. And finally, she must answer for all she's done.
The neighbors all lamented when the house on the end of the street burned down. Poor Rita and Bevan, they said, as they mourned the neighbors they'd lost to the flames. But only Mae and Rossa, Rita's niece and nephew, know the truth. Only they know about the owl in the wall and the dark powers that swirled around that house. When people long for power it can bring the world to its knees around them. And because they were the only ones who survived it, only Mae and Rossa know that, in this case, that thirst for power burned the house down along with it.
The vine witches of Château Renard have been helping create the world-renowned wine of Chanceaux Valley for centuries. But now, the vineyard has fallen into the hands of a stranger. A handsome stranger. One Elena Boureanu intends to meet after recovering from the curse that confined her to the marshes and weakened her magic—especially when she realizes the vineyard is covered in hexes. Unfortunately, vigneron Jean-Paul Martel believes in science, not magic. Elena will have to hide her true identity if she wants to return to the vineyard and help. But the evil that cursed her is still a threat, and Elena will have to discover who stole seven years of her life if she wants to keep herself—and the vineyard she loves—safe.
---
Add even more to your witchy reading list with these 19 comics about witches, all 100 of these must-read books about witches, a list of Wiccan fiction for everyday witches, and 25 YA books about witches.