Wisdom for the Winter Season
When is winter here? We say to each other, year after year, "it's too soon for winter," grinning at the thought of bearing the cold.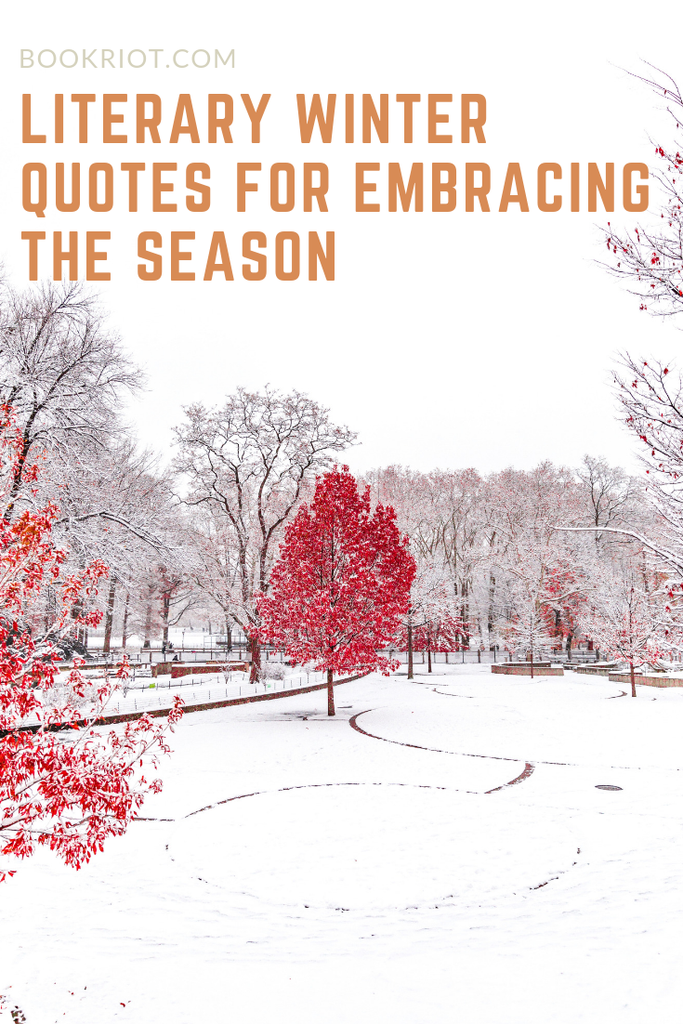 When winter begins is arbitrary. It may be that winter begins with the first snowfall or winter begins immediately after Thanksgiving. Winter is here when in a final whoosh of cold November wind all the red leaves are blown from the trees and the days remain grey.
As readers and writers, we go to the great books for wisdom. As I thought of winter and how writers present this season of cold perseverance, I drifted upon some indelible images of winter: the beauty of snow on bare trees or the hint of bacchanalia after closing the long curtains against the winter storms as imagined by Thomas DeQuincy, author of Confessions of an English Opium Eater.  
Winter brings the inevitable meditations of mortality and melancholy – somewhat tempered by hopes of the spring season'winter's color remains blue.
"The snow doesn't give a soft white damn Whom it touches." —E.E. Cummings
******
"The way a crow

Shook down on me
The dust of snow
From a hemlock tree
Has given my heart
A change of mood
And saved some part
Of a day I had rued"  —Robert Frost
********
"Wisdom comes with winters." —Oscar Wilde
********
"Spring, summer, and fall fill us with hope; winter alone reminds us of the human condition."  —Mignon McLaughlin
**********
"There's a certain Slant of light,
Winter Afternoons—
That oppresses, like the Heft
Of Cathedral Tunes—
Heavenly Hurt, it gives us—
We can find no scar,
But internal difference,
Where the Meanings, are—
None may teach it—Any—
'Tis the Seal Despair—
An imperial affliction
Sent us of the Air—
When it comes, the Landscape listens—
Shadows—hold their breath—
When it goes, 'tis like the Distance
On the look of Death—"   —Emily Dickinson (258)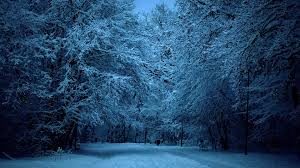 "Winter solitude—
in a world of one colour
the sound of the wind."  —Matsuo Basho
*********
"Snow was falling,
So much like stars
filling the dark trees
that one could easily imagine
its reason for being was nothing more
than prettiness." —Mary Oliver
"Melancholy were the sounds on a winter's night."
—Virginia Woolf, Jacob's Room
*********
"Are the days of winter sunshine just as sad for you, too? When it is misty, in the evenings, and I am out walking by myself, it seems to me that the rain is falling through my heart and causing it to crumble into ruins." —Gustave Flaubert, November
*******
"Spring passes and one remembers one's innocence.
Summer passes and one remembers one's exuberance.
Autumn passes and one remembers one's reverence.
Winter passes and one remembers one's perseverance." —Yoko Ono
*********
"It was one of those March days when the sun shines hot and the wind blows cold: when it is summer in the light, and winter in the shade." —Charles Dickens, Great Expectations
*******
"Surely everyone is aware of the divine pleasures which attend a wintry fireside; candles at four o'clock, warm hearth rugs, tea, a fair tea-maker, shutters closed, curtains flowing in ample draperies to the floor, whilst the wind and rain are raging audibly without." —Thomas De Quincy, Confessions of an English Opium Eater
******
"Well, I know now. I know a little more how much a simple thing like a snowfall can mean to a person." —Sylvia Plath, The Unabridged Journals of Sylvia Plath
********
"Winter is not a season, it's an occupation."  —Sinclair Lewis
*******
"No animal, according to the rules of animal-etiquette, is ever expected to do anything strenuous, or heroic, or even moderately active during the off-season of winter." —Kenneth Grahame, The Wind in the Willows
*******
"Winter then in its early and clear stages, was a purifying engine that ran unhindered over city and country, alerting the stars to sparkle violently and shower their silver light into the arms of bare upreaching trees. And what it did to Northern forests can hardly be described, considering that it iced the branches of the sycamores of Chrystie Street and swept them back and forth until they rang like ranks of bells." —Mark Halprin, Winter's Tale
*********
"If we had no winter, the spring would not be so pleasant: if we did not sometimes taste of adversity, prosperity would not be so welcome." —Anne Bradstreet, The Works of Anne Bradstreet
*******
"If winter comes, can spring be far behind?" —Percy Bysshe Shelley, Ode to the West Wind
"In the depth of winter, I finally learned that within me there lay an invincible summer." —Albert Camus
Also In This Story Stream
We're giving away the
10 best mystery/thrillers of 2019
so far!
Go here to enter.