The Best Music Books of 2018: List List #330
The List List is sponsored by CEO of the Girl Scouts, Sylvia Acevedo's Path to the Stars, a memoir for middle graders.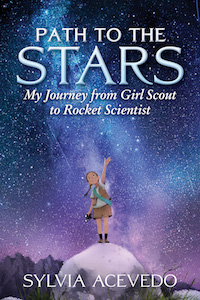 A meningitis outbreak in their underprivileged neighborhood left Sylvia Acevedo's family forever altered. As she struggled in the aftermath of loss, young Sylvia's life transformed when she joined the Brownies. The Girl Scouts taught her how to take control of her world and nourished her love of numbers and science. With new confidence, Sylvia navigated shifting cultural expectations at school and at home, forging her own trail to become one of the first Latinx to graduate with a master's in engineering from Stanford University and become a rocket scientist at NASA's Jet Propulsion Laboratory.
---
at Elle UK, The Best Feminist Books To Gift This Christmas
at Paste, Five Of The Best Young Adult Novels Of December 2018
at The New York Times, 15 Books To Read By Black Female American Writers
at Nerdist, 10 Great Graphic Novels That Make Great Gifts For Kids
at Parade, 10 Books Written By Women We Can't Wait To Read In 2019
at Good Housekeeping, Amazon's Best-Selling Books of 2018
at Entertainment Weekly, The 10 Best Debut Novels of 2018
at Off The Shelf, 6 Marvelous Reads For "The Marvelous Mrs. Maisel" Fans
at Buzzfeed, 9 YA Authors On Why "Twilight" Is So Important
at Bustle, 5 Holiday Ghost Stories That Are Actually Surprisingly Creepy
at Pitchfork, The Best Music Books of 2018
at The Verge, 10 New Science Fiction And Fantasy Books To Check Out This December
Follow Book Riot on Instagram
for books. Obviously.