Featured Book Trailer: DEATH BY THE RIVER by Alexandrea Weis and Lucas Astor
This week's featured book trailer is sponsored by Vesuvian Books.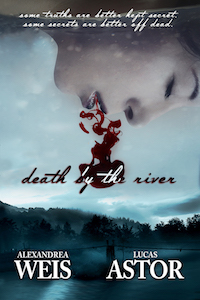 Beau Devereaux is the only child of a powerful family. Handsome. Charming. Intelligent. The "prince" of St. Benedict is the ultimate catch. He is also a psychopath. A dirty family secret buried for years, Beau's evil grows unchecked. In the shadows of the ruined St. Francis Abbey, he commits unspeakable acts. Senior year, Beau sets his sights on his girlfriend's twin sister, Leslie. Everything he wants but cannot have, she will be his ultimate prize. As the victim toll mounts, it becomes clear someone must stop Beau Devereaux. And that someone will pay with their life.
We're giving away a custom book stamp for your personal library. Go
here to enter for a chance to win
, or just click the image below. Good luck!