18 of the Best Witchy Books to Read This Fall: List List #322
The List List is sponsored by Oxford University Press.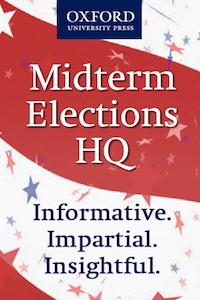 Voting is one of the most important actions you can exercise as a citizen. Be prepared for the upcoming midterm elections with selections from across a spectrum of books, articles, and other media from Oxford University Press. For example, learn about protecting our first amendment rights in HATE. Or investigate how Facebook might be affecting our democracy in Antisocial Media. Written by leading experts in their field, our content will help you feel well-versed on just about any issue that may be on the ballot in November. Learn more at our Midterm Elections HQ and build a ballot-ready bookshelf to be a more informed voter.
---
at Bustle, 5 Books About Mass Incarceration To Read, According To The National Book Foundation
at Newsweek, Best 8 Books to Read in October
at Paste, The Best Comic Book Covers of September 2018
at Cosmopolitan, The 12 Novels Every Woman Should Read Before Turning 30
at Off the Shelf, 6 Must-Read Memoirs by Famous Musicians
at Vanity Fair, 11 Nonfiction Books to Read This Fall
at Buzzfeed, 23 Book Jokes You're Gonna Laugh At Even If You Haven't Read In a While
at Esquire, The 10 Best Gift Ideas for Book Lovers
at Time, 13 New Books Everyone Will Be Talking About This Fall
at Playbill, 8 Women Writers Who Blazed a Trail on Broadway
at Syfy, 18 of the Best Witchy Books to Read This Fall
at Goodreads, 13 Ways Book Lovers Make More Time for Reading
We've got new perks over at Book Riot Insiders, including the Epic Group Read! Sign up for your free trial today!