6 Terrific Books for Getting Girls Into Tech: List List #321
The List List is sponsored by Vampires Like it Hot by Lynsay Sands.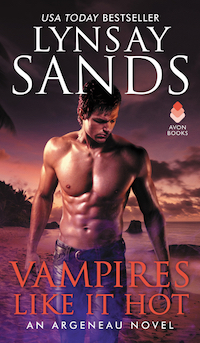 Vampires are real. Jess would've never believed it until she saw them with her own eyes. She knows she has to get off the island, and her gallant rescuer has offered to help. There's something about Raffaele that's unlike any man she has ever met, and his touch sends pleasure through her that is beyond all imagining. But when Jess discovers who he really is, will she risk life as she knows it for a chance of forever by his side?
---
at Bustle, 15 Rules For Borrowing Books So You Don't Lose Your Friends In The Process
at Good Housekeeping, 16 Best Pregnancy and Baby Books for Those First 40 Weeks (and Beyond)
at Off the Shelf, 6 Fantastic Books New in Paperback This September
at Popsugar, 10 Inspirational Books to Jump-Start Your Best Fall Ever
at Buzzfeed, 9 Books That Capture What It's Like To Live With Mental Illness
at Time, The 10 Most Magical Books to Read If You Love Harry Potter
at Vulture, 10 Fall Novelists Share Their Most Anticipated Fall Books
at Signature, 12 Books Celebrating Contemporary Queer Writers of Color
at Huffington Post, 19 Children's Books To Read In Honor Of Hispanic Heritage Month
at Cosmopolitan, 10 Reasons Why Your Next Read Should Be A YA Book
at Wired, 6 Terrific Books for Getting Girls Into Tech
at Refinery29, 10 New Wellness Books That'll Make You Feel Good
---
We have 10 copies of
A Gentleman in Moscow
by Amor Towles to give away to Book Riot readers!
Go here to enter for a chance to win
, or just click the image below. Good luck!