34 of Your Favorite Political Biographies
This giveaway asking you to share your favorite political biography is sponsored by Elizabeth Warren: Her Fight. Her Work. Her Life by Antonia Felix.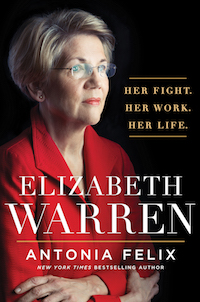 Elizabeth Warren's rise as one of America's most powerful women is a stirring lesson in persistence. From her fierce support of the middle class to her unapologetic response to political bullies, Warren is known as a passionate yet plain-speaking champion of equity and fairness. In the wake of one fellow senator's effort to silence her in 2016, three words became a rallying cry across the country:
Nevertheless, she persisted . . .
In this breakthrough biography, bestselling author Antonia Felix reveals how Warren brought her expertise to Washington to become an icon of progressive politics in a deeply divided nation.
---
How do we bookish people get in the midterms mood? We read political biographies! Whether they're of statesmen from yore or contemporary D.C. players, political biographies are fascinating. Great ones illuminate a whole time and place, as well as the subject's sphere of influence. So we asked you to provide a political biography recommendation as part of your entry for the above giveaway, and here are some of the most popular suggestions!
The Marquis by Laura Auricchio
Notorious RBG by Erin Carmon and Shana Knizhnik
Reagan by H. W. Brands
Condoleezza Rice by Elisabeth Bumiller
John Adams by David McCullough
The Secretary: A Journey With Hillary Clinton From Beirut to the Heart of American Power by Kim Ghattas
Franklin D. Roosevelt by Robert Dallek
Senator Hattie Caraway: An Arkansas Legacy by Nancy Hendricks
Lincoln and the Abolitionists by Fred Kaplan
Michelle Obama: A Life by Peter Slevin
Hoover by Kenneth Whyte
The Woman Behind the New Deal by Kristin Downey
The Bully Pulpit by Doris Kearns Goodwin
Jeremy Thorpe by Michael Bloch
The Three Lives of James Madison by Noah Feldman
Sisters in Law: How Sandra Day O'Connor and Ruth Bader Ginsburg Went to the Supreme Court and Changed the World Linda Hirshman
The Firebrand and the First Lady by Patricia Bell-Scott
Disraeli by Robert Blake
Six Encounters with Lincoln by Elizabeth Brown Pryor
Benjamin Franklin by Walter Isaacson
Master of the Senate by Robert A. Caro
Roy Jenkins by John Campbell
Richard Nixon by John A. Farrell
Amazing Grace by Eric Metaxas
The Revolution of Robert Kennedy by John R. Bohrer
Churchill by Roy Jenkins
Emmeline Pankhurst by June Purvis
Founding Martyr by Christian Di Spigna
One Man Against the World by Tim Weiner
Harold Wilson by Ben Pimlott
Alexander Hamilton by Ron Chernow
What It Takes by Richard Ben Cramer
Margaret Thatcher by Charles Moore
Angela Merkel by Stefan Kornelius
By signing up you agree to our Terms of Service
We have 10 copies of
A Gentleman in Moscow
by Amor Towles to give away to Book Riot readers!
Go here to enter for a chance to win
, or just click the image below. Good luck!