30+ Historical Survival Stories You Recommend
This giveaway asking for historical survival stories is sponsored by The Last Hours by Minette Walter.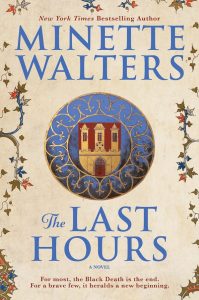 When the Black Death enters England in 1348, no one knows what manner of sickness it is. Fear grips the people as they come to believe that the plague is a punishment for wickedness.
But Lady Anne of Develish has her own ideas. With her brutal husband absent from the manor when news of this pestilence reaches her, she looks for more sensible ways to protect her people than daily confessions of sin. She decides to bring her serfs inside the safety of the moat that surrounds her manor house, then refuses entry to anyone else, even her husband.
The people of Develish are alive. But for how long?
---
Whether it's a nonfiction account or a novel, historical survival stories are super compelling. So we wanted to know which ones we should check out! Got a good book about someone who outlasts a tumultuous period of history? Any great reads about someone who makes it out of a real-life natural disaster or pandemic? Those were our questions for this giveaway, and below are just some of your answers!
Year of Wonders by Geraldine Brooks
All the Light We Cannot See by Anthony Doerr
438 Days: An Extraordinary True Story of Survival at Sea by Jonathan Franklin
Island of the Lost: Shipwrecked at the Edge of the World by Joan Druett
The Taster by V. S. Alexander
Unbroken by Laura Hillenbrand
The Nightingale by Kristin Hannah
The Perfect Storm by Sebastian Junger
Ada Blackjack: A True Story of Survival in the Arctic by Jennifer Niven
A Long Walk to Water by Linda Sue Park
Alive: The Story of the Andes Survivors by Piers Paul Read
Into the Abyss by Carol Shaben
Blizzard: A Story of Dakota Territory by Cindy Rinaman Marsch
The Forgotten Highlander: An Incredible WWII Story of Survival in the Pacific by Alistair Urquhart
Stranded by Melinda Braun
Homegoing by Yaa Gyasi
Tales of the Mountain Men by Lamar Underwood
A Tale of Two Cities by Charles Dickens
The Revenant: A Novel of Revenge by Michael Punke
The Survivors by Kate Furnivall
In The Heart Of The Sea by Nathanial Philbrick
Adrift: Seventy-Six Days Lost At Sea by Steven Callahan
Gates of Fire by Stephen Pressfield
Beneath A Scarlet Sky by Mark Sullivan
Dead Wake by Erik Larson
Fire In Beulah by Rilla Askew
The Lives They Left Behind by Darby Penney and Peter Stastny
Nothing to Envy by Barbara Demick
Skeletons on the Zahara: A True Story of Survival by Dean King
Tamar by Mal Peet
Miracle in the Andes by Nando Parrado
Between a Rock and a Hard Place by Aron Ralston
In Harm's Way: The Sinking of the USS Indianapolis and the Extraordinary Story of Its Survivors by Doug Stanton
By signing up you agree to our Terms of Service
We have 10 copies of
A Gentleman in Moscow
by Amor Towles to give away to Book Riot readers!
Go here to enter for a chance to win
, or just click the image below. Good luck!