8 Books to Help Ease Back-to-School Jitters: List List #315
The List List is sponsored by The Last Hours by Minette Walters.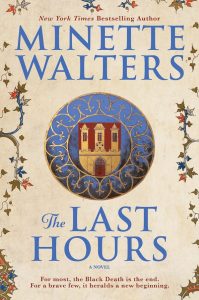 When the Black Death enters England in 1348, no one knows what manner of sickness it is. Fear grips the people as they come to believe that the plague is a punishment for wickedness.
But Lady Anne of Develish has her own ideas. With her brutal husband absent from the manor when news of this pestilence reaches her, she looks for more sensible ways to protect her people than daily confessions of sin. She decides to bring her serfs inside the safety of the moat that surrounds her manor house, then refuses entry to anyone else, even her husband.
The people of Develish are alive. But for how long?
---
at Parade, 30 Books You Should Read Before You Turn 30
at the Guardian, Top 10 Novels About Riots
at Condé Nast Traveler, 9 Best Coffee Table Books for Travelers
at the Washington Post, Three Novels About Korean History
at Fatherly, 8 Great Kids Books About Dogs
at Bustle, 17 Books About Food and Romance
at the Los Angeles Times, 7 Books to Help Keep You Cool This Summer
at Off the Shelf, Border Books: 7 Important Immigration Stories From Central America
at Essence, 9 Must-Read Books For Your Summer Reading List
at Chicago Parent, 8 Books to Help Ease Back-to-School Jitters
at Vogue, The 17 Best Books to Pack for Your Summer Vacation
at Paste, 10 of the Best Young Adult Books of August 2018
We have 5 copies of
My Sister, the Serial Killer
by Oyinkan Braithwaite to give away to Book Riot readers!
Go here
to enter for a chance to win, or just click the image below. Good luck!