10 Books About the Plague
This list of books about the Plague is sponsored by THE LAST HOURS by Minette Walter.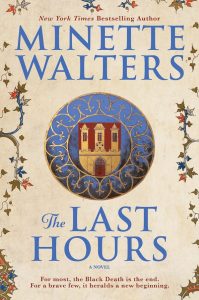 When the Black Death enters England in 1348, no one knows what manner of sickness it is. Fear grips the people as they come to believe that the plague is a punishment for wickedness.
But Lady Anne of Develish has her own ideas. With her brutal husband absent from the manor when news of this pestilence reaches her, she looks for more sensible ways to protect her people than daily confessions of sin. She decides to bring her serfs inside the safety of the moat that surrounds her manor house, then refuses entry to anyone else, even her husband.
The people of Develish are alive. But for how long?
---
There are so many books on the Plague (or black death, as some writers refer to it). I've included both fiction and nonfiction here, so if you really want to steep yourself in academic history or want to read a fun (if depressing) reinterpretation of the Canterbury Tales, it is all here. There is so much work done on the Plague, it was nearly impossible to narrow it down! This is just a starting place (and remember, dig through the references in the nonfiction for more good reads)!
Cultures of Plague: Medical Thought At the End of the Renaissance by Samuel K. Cohn, Jr.
This is a little more academic in nature, but gives a lot of context and rigor to discussions of the Plague. It focuses on the ways in which medical care and the medical profession writ large were transformed by the Plague.
The Black Death Transformed: Disease and Culture in Early Renaissance Europe by Samuel K. Cohn, Jr.
If you want a thorough and complex academic work, complete with statistics, this one is for you. Little is left unstudied here.
In The Wake of the Plague by Norman Cantor
This is still an academic nonfiction text, but a lot more accessible (and short!) if those Cohn books are overwhelming (or just not your cup of tea). This was the first book on the Plague I read and I still think it's a nice intro.
Years of Wonder: A Novel of the Plague by pulitzer prize winning Geraldine Brooks
Brooks is best known for her novel March, but she also wrote a novel set during the plague. Set in an English town outside London, Years of Wonder focuses on Anna as her community deals with death, superstition, and paranoia, all while she falls in love.
The Doomsday Book by Connie Willis
If you've read my posts before, you know I am a sucker for a good time travel book. This one is no exception. Time Travel technology allows Oxford historians of the future to travel back in time for research. Sometimes, this takes them to dangerous places. One historian gets stranded a short while before the plague hits the village she is staying in and her colleagues have to work to save her! It's  about the plague, modern science, and time travel, all in one fun package!
A Company of Liars by Karen Maitland
A Company of Liars is a very fun reimagining of the Canterbury Tales (which I love!)  The characters tell stories in much the same way, but they are running from the plague. This one has a lot of fun stories, as well as some mystery.
The Decameron by Giovanni Boccaccio, Translated by J. M. Rigg
The Decameron is a whole lot more than a story set during the plague, but the plague is the frame used by this renaissance writer to explore meaning and love. It's a great classic, if that's the kind of thing you are looking for.
A Journal of the Plague Year by Dufoe
A Journal of the Plague Year is fiction masked as a journal. A doctor working with the sick in London during the plague documents his (fictional) experiences. It's an interesting read.
The Plague Tales by Ann Benson
The Plague Tales takes the experiences of the bubonic plague and places them in modern society. What if the plague came back to haunt us now? Though it's fiction, the premise is terrifying! But it's a great read, especially if you want something a little more modern.
The World Without End by Ken Follett
The World Without End isn't solely about the plague (or about any one thing, really) but it's a sweeping tale that deals with the fallout from both the 100 years war and the plague.
By signing up you agree to our Terms of Service
We have 5 copies of 
the
Forbidden Hearts series
by Alisha Rai to give away to Book Riot readers!
Go here to enter for a chance to win
, or just click the image below. Good luck!