The Best Books You've Never Heard Of
This is the place where we put aside our anxiety about keeping up with the books that everyone else is reading, and celebrate books that haven't gotten their fair share of attention. Our arbitrary cut-off point is books that have fewer than 100 ratings on Goodreads. If you're curious about which book you've read that meet this criteria, click on your Read shelf on Goodreads and select sort by "Num ratings" on the white bottom bar. You can then sort by ascending or descending. Here are the titles that we found!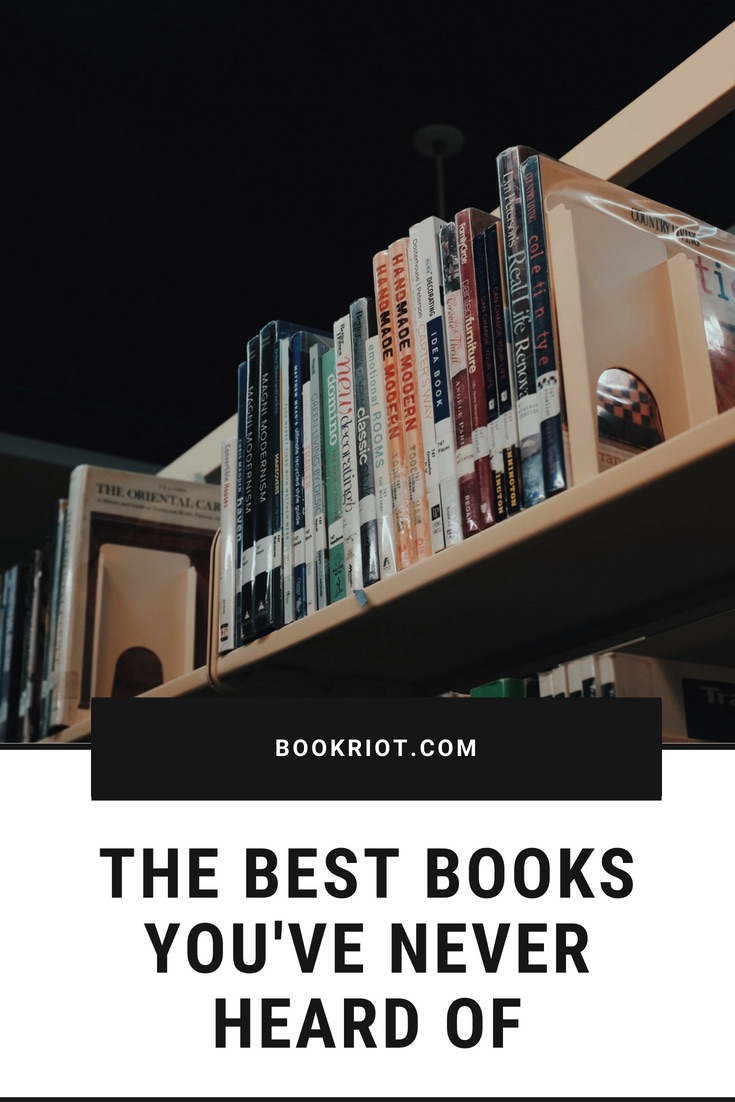 This is a stunning collection of poetry by a bisexual Filipina Canadian poet. Themes include fleeting moments of urban connection, bisexual dating & crushes, drug/alcohol use & addiction, music, depression, and the humanity of people dehumanized by society. Often sad, raw, but occasionally very funny, with beautiful unique imagery. One of my favorite excerpts from "For an Hour or Always": "I love them old. I love them new. / I love them mean. / I love them talking and talking./ I love them destructed and / pinned with little needles,/ smokestacks of inconstancy./ Nailed to the wall and stuck on / with glue. / I love them dancing, dancing." —Casey Stepaniuk
This book was SO AHEAD OF ITS TIME. I think of it every time I go to a pride festival or see a commercial featuring a queer couple or see a store with a rainbow flag in the window. The research is mostly based on the '90s, when corporations first began targeting the queer market and viewing them as profitable. It explores the concept of the "gay dollar," how the LGBTQ movement is complicit in the capitalist system, the funding of social movements, and more. It's absolutely fascinating. I think I referenced it in, like, every paper I wrote for grad school. I really wish Chasin would publish an updated edition! —Susie Dumond
A collection of letters primarily to trans women by trans women, To My Trans Sisters is like a social justice sleepover. Reading it as a cis woman gave me so much more perspective and a greater understanding of the trans community. Craggs emphasizes a diverse take on being trans as she collects stories and advice from more than seventy individuals, including those identifying outside the binary. Whether you're trans, questioning, cis, or identify some other way, the words of wisdom, strength, and confidence will ring through you months after you finish the book. —Abby Hargreaves
This made me scream with joy. I mean, what's not to love about a book that folds out into a pop-up library, complete with shelves, and tiny books that you can fold together and actually read. If you love beautiful bookish things, this is an absolute dream. —Daisy Johnson
This is one of the most beautiful books I own. Assembled from the works of "Faerie Magazine," this is a really lovely collection of articles about all things faerie. The book includes articles on the Cottingley Fairy Hoax, on the art of Arthur Rackham and Charles Vess, on the work of photographers like Katerina Plotnikova. There are features about fairy houses, and humans who do art such as miniature furniture and fairy dresses, wings, food. There are guidelines on how to host a faerie-inspired tea party, a list of edible flowers, and recipes for candied violets and lavender shortbread cookies. The book also features a lot of lore, from profiling the famous faerie figures throughout folklore and fairytale, to listing faerie-associated creatures and flowers, to telling stories about faerie rings and courts. This is a wonderful book for anyone who loves vivid, flower-filled visuals, fairy tales, fantasy, and faeries. —Leah Rachel von Essen
Published in 1918, this romantic comedy set in Greenwich Village is delightful, modern, and SO, SO FUNNY. Picture an early 20th-century American Notting Hill. All the characters are quirky nonconformists determined to avoid conventionality at all costs. Ambrose is a droll and charming poet living the dream in his tiny apartment off Washington Square, until an orphan named Sonya adopts him. While dealing with this tiny drill sergeant who's constantly demanding he toe the line ("When I'm one minute late to school I feel as if I had wasted my whole life!"), he falls in love with Camilla, a budding fashion designer. However, the last thing Camilla wants to do is settle down, get married, and have kids, especially when that kid is Sonya. Will Ambrose and Camilla commit to each other without abandoning the freedom of their Bohemian lifestyle? I honestly wasn't sure until the very end. This is probably my most favorite forgotten classic. —Tasha Brandstatter
This utterly charming graphic novel was just published in May 2018, and more people need to read it! Young Frances is a collection of comics that Lin first published under the name Pope Hats. Frances is a law clerk in her 20s. She's doing great at her job despite her ambivalence, even if she isn't quite as social as her best friend and roommate, aspiring actress Vickie. But as Frances becomes more enmeshed in office politics and begins working for her firm's infamous senior partner, she has to decide what path she wants to take—just as Vickie lands a starring role on a lawyer TV drama and moves to LA. Being in your mid-20s is a confusing whirlwind, and Lin captures the highs and lows of that plus living in a major city with both humor and honesty. The peripheral characters—especially Frances's paranoid and overworked colleagues—feel just as real as Frances and Vickie. —Kathleen Keenan
If you loved Rachel Hartman's Serafina duology and/or the companion Tess of the Road, then you need this book. First published in 1996, Hartman's minicomic follows the summer young Amy turns ten and begins reading Belondweg, the story of a mythical queen who saved her country. Amy thinks she needs the same kind of adventure, but finds her own life offers plenty of intrigue. Hartman's Gorred is here in fine detail already, with a dragon scholar and a plethora of neighbors and family members all living out their lives in front of Amy. It is out of print, so it is a little hard to get ahold of, but there are a few copies floating around the secondhand book internet. Fingers crossed someone picks this darling up for redistribution now that Hartman is now firmly established as a beloved author of Gorred. —Aimee Miles
These elegant, lilting poems bring to mind Alfred Lord Tennyson and Christina Rossetti, yet despite their earlier precedents, there's something very modern and subversive about them. Divided into seasons, the poems explore fairy tales and madness. These poems beg to be read aloud, as in the first poem of the collection, "Spring Song": "Slowly the willow has turned to silver, / slowly, slowly over the town, / a shadow has crept – the hint of the season, / the green-gauze hem of Spring's wild gown." Theodora Goss has recently been nominated for all kinds of awards with her first full-length novel, The Strange Case of the Alchemist's Daughter. But her earlier work is just as rewarding. —Margaret Kingsbury
Before Yoon Ha Lee wrote Ninefox Gambit, he authored a lovely collection of fairy tale short stories. These tiny, precise stories are magical and surreal, each one a perfect little bite of a story. I loved the gender fluidity of the tales as well. —Margaret Kingsbury
This is a memoir made up of linked essays addressing Avery's grief over her mother's death, as well as her own struggle to treat her severe arthritis—and later, cancer. This treatment comes with a dramatic restriction of her diet. After I read The Last Nude, I was determined to read anything she ever wrote. Though this is a very different book, it has only confirmed that inclination. Avery manages to effortlessly weave together these disparate topics, and although the individual essays are available separately, I think this works best when they are read together. —Danika Ellis
This is a short story collection set partly in the U.S. and partly in Mexico. This is lush, dark storytelling with a bit of a chill to it—if you liked Her Body and Other Parties, this is well worth picking up. There is undercurrent of queerness in these stories as well, and I'll leave you with an excerpt that sold me on it: "I reach into Andrew's coffin. My fingers touched his. I appraised them. They felt chilly, stiff, and anti-climactic, like omens of my future attempts at compulsory heterosexuality." —Danika Ellis
By signing up you agree to our Terms of Service
Enter to win
$250 to spend at Barnes and Noble!