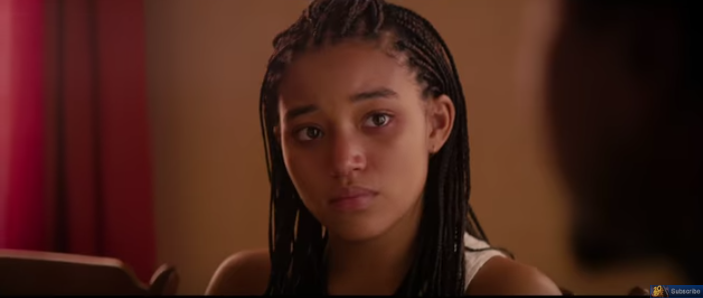 Watch the Full Trailer for THE HATE U GIVE
The Hate U Give fans finally got a chance to see the full movie trailer last night during the BET awards. The trailer for the book adaptation starts with the main character Starr Carter (Amandla Stenburg) and Khalil (Algee Smith) driving at night listening to Tupac in their sea of bliss.
"We've been together our whole lives Starr," Khalil says, "we got time."
Through to few scenes, the audience gets a taste of the two worlds Starr lives in: Garden Heights, the "poor" neighborhood where her family lives, and her predominately white school where her and her brother attend.
Starr and Khalil are seen getting pulled over by an officer, their hands on the dashboard. When Khalil is outside the vehicle he leans in to check in on Starr and reaches for his hair brush.
"Gun!" the officer yells before pulling the trigger and setting the plot into motion.
Garden Heights is shown erupting in riots and their community marching the streets and demanding justice.
Starr goes from crying beside Khalil's body and reaching for his cold hand in his casket , to holding a bullhorn, standing on top of a car with her fist held high in the midst of a rally.  
"I'm a black girl from Mississippi who sometimes didn't have lights," said The Hate U Give author Angie Thomas "Sometimes my family was on welfare. I'm straight from the hood, no ifs, ands, or buts about it.  The trailer just dropped for a movie based on a book I wrote. Nothing is impossible."
The Hate U Give features an all-star cast from Regina Hall to Common and Issa Rae. The film is set to release October 19.  See the full trailer below.