38 of Your Favorite Page-Turning Reads About Proving Innocence
This Riot Recommendation for page-turning reads about proving innocence is sponsored by Don't Believe It by Charlie Donlea.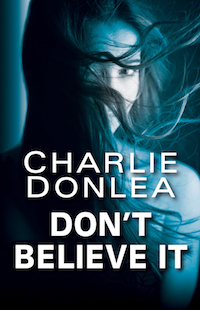 Bestselling author Charlie Donlea explores the dark side of crime docudramas like "Making a Murderer" and "The Jinx" as a TV producer strives to clear a woman convicted of murdering her boyfriend.
---
False convictions are an incredibly frustrating flaw in our justice system. But they do make for compelling reading in fiction. And cathartic reading, too, when the innocent person is ultimately vindicated. So we asked you to comment with your picks for those page-turning reads about proving innocence. Here's a sampling of your responses in fiction and nonfiction:
Just Mercy by Bryan Stevenson
Fever in the Dark by Ellen Hart
Murder as a Fine Art by David Morrell
The Central Park Five by Sarah Burns
Triptych by Karin Slaughter
Burial Rites by Hannah Kent
A Death in Live Oak by James Grippando
Harry Potter and the Prisoner of Azkaban by J. K. Rowling
A Twist in Time by Julie McElwain
The Verdict by Nick Stone
Tulia by Nate Blakeslee
Rita Hayworth and Shawshank Redeption by Stephen King
House Rules by Jodi Picoult
Down the River Unto the Sea by Walter Mosley
To Kill a Mockingbird by Harper Lee
Hush-Hush by Laura Lippman
Twelve Angry Men by Reginald Rose
An Expendable Man by Margaret Edds
Alias Grace by Margaret Atwood
A Study in Charlotte by Brittany Cavallaro
The Life We Bury by Allen Eskens
A Most Peculiar Malaysian Murder by Shamini Flint
Blind Injustice by Mark Godsey
Exit to Freedom by Calvin Johnson
The Crucible by Arthur Miller
I Hunt Killers by Barry Lyga
The Liar's Girl by Catherine Ryan Howard
Grotesque by Natsuo Kirino
Getting Life by Michael Morton
Bloodsworth by Tim Junkin
Lie to Me by J. T. Ellison
Allegedly by Tiffany D. Jackson
Mississippi Blood by Greg Iles
Death Comes to Pemberley by P. D. James
Convicting the Innocent by Brandon Garrett
False Justice by Nancy and Jim Petro
Caught by Harlan Coben
Robicheaux by James Lee Burke
By signing up you agree to our Terms of Service
Do you like podcasts like
This American Life, RadioLab, or Planet Money
?
Annotated
is kinda like those, but for books. Go
here to find out more
, or click the image below: