8 Books About the Contemporary Immigrant Experience in America: List List #309
The List List is sponsored by Don't Believe It by Charlie Donlea.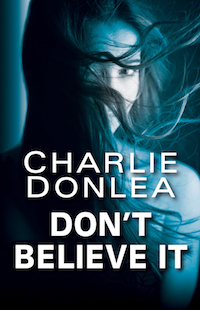 Bestselling author Charlie Donlea explores the dark side of crime docudramas like "Making a Murderer" and "The Jinx" as a TV producer strives to clear a woman convicted of murdering her boyfriend.
---
at the Washington Post, Seven Business Books That Won't Put You to Sleep at the Beach
at Paste, 15 Books You Should Read to Understand Modern Journalism
at Vulture, The 38 Best Queer YA Novels
at the New York Times, Read These 3 Books on the Toll of Migration on Children
at Unbound Worlds, 5 Books About Phantom Hitchhikers in Fact and Fiction
at Entrepreneur, 10 Books Every Aspiring Millionaire Must Read
at Newsweek, 7 Best Books Being Made Into TV Series in 2018
at Bustle, 3 YA Writers Share Why They Wrote Books With Asexual Protagonists
at Signature, 9 Books About the Contemporary Immigrant Experience in America
at Outside, 18 Classic Adventure Books for Kids
at Off the Shelf, 9 Great Books to Listen to During National Audiobook Month
at NPR, Librarian Nancy Pearl Picks 7 Books for Summer Reading
You could win a six-month subscription to an amazing Romance box!
Go here to enter for a chance to win
, or just click the image below: