Featured Book Trailer: BOTTOM FEEDERS By John Shepphird
This week's featured book trailer is sponsored by John Shepphird's Bottom Feeders, published by Blackstone Publishing.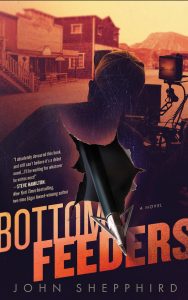 Bottom Feeders by John Shepphird
Lights. Camera. Murder!
As if from a B-movie script only they could make, a low-budget film crew becomes prey when a mysterious killer with a unique weapon of choice makes everyone on set a target marked for death.
Enter to win
a $100 Amazon gift card when you sign up for our sci-fi/fantasy newsletter!
Enter here
: