15 Funny Tweets For Parents Who Love/Hate Kids' Books: List List #307
The List List is sponsored by The Emperor of Shoes by Spencer Wise.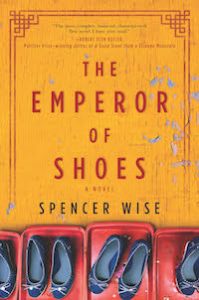 A transfixing story about an expatriate and his burgeoning relationship with a seamstress intent on inspiring political change.
Alex Cohen, a 26-year-old Jewish Bostonian, is living in southern China, where his father runs a shoe factory. Alex reluctantly assumes the helm of the company, and quickly comes to a grim realization: employees are exploited, and his own father is engaging in bribes to protect the bottom line.
Then Alex meets a seamstress named Ivy, who is secretly sowing dissonance among her fellow laborers. Will Alex remain loyal to his father and his heritage? Or will the sparks of revolution ignite?
---
at The Cut, 6 Books to Read If You Need a Career Change
at Buzzfeed, 27 YA Books You'll Want to Devour by the Pool This Summer
at The Guardian, Top 10 Working-Class Heroes In Books
at Electric Lit, The Four Rules for a Good Book Club
at Bustle, 21 Poems by Queer Poets to Read This Pride Month
at Outside Magazine, These 10 Books Might Just Save Your Life
at Entertainment Weekly, 8 Random—But Genius—Musings On Life From David Sedaris
at Off the Shelf, 10 Books You Should Read if You Love the TV Show "Younger"
at Huffington Post, 15 Funny Tweets For Parents Who Both Love And Hate Kids' Books
at Lit Hub, 14 Famous Writers on Whether or Not to Have Kids
at Mashable, 18 Queer Books That Should Be On Your Reading List This Pride Month
at Esquire, The Best Nonfiction Books of 2018 (So Far)
We have 10 copies of
A Gentleman in Moscow
by Amor Towles to give away to Book Riot readers!
Go here to enter for a chance to win
, or just click the image below. Good luck!