28 Mystery Series with a Lady Lead, Chosen By You
This riot recommendation of favorite mystery series with a lady lead is sponsored by Poisoned Pen Press, bringing you Thomas Kies's Darkness Lane.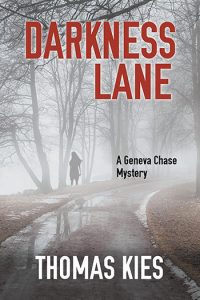 The newshound in reporter Geneva Chase spurs her to bad if not downright dangerous choices as two unrelated crimes unexpectedly collide. She is a very human protagonist who stumbles while striving. During the chilling end game she comes to the horrible realization that she's in over her head. The second novel in the Geneva Chase Mystery Series, hurtles along at a breakneck speed where nothing is what it seems, and where art and reality collide in a terrifying climax.
---
I don't think it's any secret that we here at the Riot have a whole lot of love for Jessica Fletcher. Since yet another month has come and gone without Netflix restoring "Murder, She Wrote" to their catalog, we turned to you to help fill that void. We asked for your favorite mystery series with a lady lead, and you didn't disappoint us. The following women are just some of the sleuthing dames Riot readers can't get enough of:
Elizabeth Peters' Amelia Peabody, Vicky Bliss, and Jacqueline Kirby
Kerry Greenwood's Phryne Fisher
Elly Griffiths' Ruth Galloway
Robin Stevens' Hazel Wong and Daisy Wells
Steph Cha's Juniper Song
Diane Mott Davidson's Goldy Schulz
Cara Black's Aimee Leduc
J. D. Robb's Eve Dallas
Denise Mina's Maureen O'Donnell
Lisa Gardener's D. D. Warren
Janet Evanovich's Stephanie Plum
Sue Grafton's Kinsey Milhone
Ian Hamilton's Ava Lee
Sara Gran's Claire DeWitt
Rachel Howzell Hall's Eloise Norton
Jacqueline Winspear's Maisie Dobbs
Tamar Myers' Magdalena Yoder
M. C. Beaton's Agatha Raisin
Laurie R. King's Kate Martinelli
Deanna Raybourn's Lady Julia Grey
Alexander McCall Smith's Precious Ramotswe
Kristi Belcamino's Gia Santella
Agatha Christie's Miss Marple
Elizabeth George's Barbara Havers
Sara Paretsky's V. I. Warshawski
Julie Smith's Skip Langdon
By signing up you agree to our Terms of Service
We have 5 copies of
My Sister, the Serial Killer
by Oyinkan Braithwaite to give away to Book Riot readers!
Go here
to enter for a chance to win, or just click the image below. Good luck!