Win a Copy of LIT CHAT!
We have 10 copies of our bookish conversation game, Lit Chat, to give away to 10 lucky Book Riot Readers.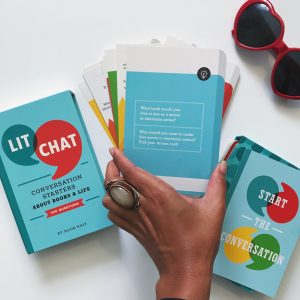 Each of the 50 cards in this conversation deck is printed with two reading-themed questions (100 questions total). Some invoke books that are tied to memories (name your favorite childhood picture book); others prompt you to choose ideal reading material for a hypothetical situation (if you were stranded on a desert island, what book would you want with you?). Some of them aim to get people comparing their favorite (and not-so-favorite) characters or authors, and others engage in popular debates amongst readers (name a movie adaptation you liked and defend your choice). Created to give readers of all persuasions an excuse to talk about books, ideas, and life itself, this deck is a great addition to any booklover's shelf.
This giveaway is made possible by BookClubbish. Brought to you by the publishing professionals at MIRA, Park Row Books, Graydon House and Hanover Square Press, BookClubbish is a community that celebrates books and popular culture, and connects readers, booksellers, librarians and book clubs. It's a place to chat about favourite reads and literary pursuits, read up on the latest book news and enjoy exclusive interviews, recommendations, contests, and more.
Entries are open to residents of the United States (excluding Puerto Rico and all other US territories) and will be accepted until 11:45pm, May 1, 2018. Winner will be randomly selected. Complete rules and eligibility requirements available here.
Enough formalities, let's get you entered. Fill out the form below, including signing up for BookClubbish's email list. Good luck!
Sorry. This form is no longer available.
By signing up you agree to our Terms of Service
Get up to 80% off books you actually want to read with our
Book Deals newsletter
!