Your 34 Suspenseful Page-Turners for Summer Reading
This Riot Recommendation of suspenseful page-turners for summer reading is sponsored by Everything That Follows by Meg Little Reilly.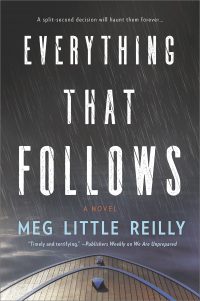 Three friends take their partying from bar to boat on a misty fall evening. Just as the weather deteriorates, one of them suddenly goes overboard. Is it an accident? The result of an unwanted advance? For fans of Megan Abbott and Chris Bohjalian comes a novel of moral complexity about friends who must choose between self-preservation and doing the right thing in the wake of a fatal boating accident. Set in the moody off-season of Martha's Vineyard, Everything That Follows is a plunge into the dark waters of secrets and flexible morals. The truth becomes whatever we say it is…
---
I have to believe that summer is coming. There is no empirical evidence to support that belief as I get bundled up this mid-April morning, but I'm doing everything I can to keep hope alive. One day soon, I'll be sitting by the pool, silently cursing the kids who are running on the deck and splashing water on my hardcover. What suspenseful page-turner will be in my hands? You offered your suggestions, and here are just some of them:
Perfect Days by Raphael Montes
Sunburn by Laura Lippman
The Woman in the Window by A. J. Finn
The Perfect Nanny by Leïla Slimani
The Woman in Cabin 10 by Ruth Ware
I'm Thinking of Ending Things by Iain Reid
Behind Her Eyes by Sarah Pinborough
A Stranger in the House by Shari LePena
The Trespasser by Tana French
The River at Night by Erica Ferencik
The Wife Between Us by Greer Hendricks and Sarah Pekkanen
Among the Ruins by Ausma Zehanat Khan
A Quiet Place by Seicho Matsumoto
The Girls in the Garden by Lisa Jewell
Bluebird, Bluebird by Attica Locke
The Vanishing Season by Joanna Schaffhausen
If You Knew Her by Emily Elgar
After Anna by Alex Lake
Security by Gina Wohlsdorf
The Last Mrs. Parrish by Liv Constantine
The Elizas by Sara Shepard
The Kingdom by Fuminori Nakamura
The Language of Secrets by Ausma Zehanet Khan
All Things Cease to Appear by Elizabeth Brundage
Evelyn, After by Victoria Helen Stone
Bellevue Square by Michael Redhill
Confessions by Kanae Minato
Almost Missed You by Jessica Strawser
Kill the Next One by Federico Axat
Dear Mr. M. by Herman Koch
Anatomy of a Scandal by Sarah Vaughan
A Small Revolution by Jimin Han
Everything You Want Me to Be by Mindy Mejia
The Trophy Child by Paula Daly
Have a listen to our new literary fiction podcast,
Novel Gazing!