45+ of Your Favorite Groundbreaking Women Writers
This Riot Recommendation of groundbreaking women writers is sponsored by Sharp: The Women Who Made an Art of Having an Opinion by Michelle Dean, available now from Grove Press.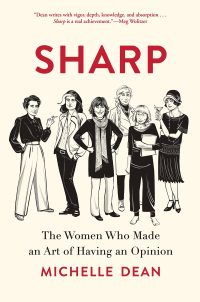 The ten brilliant women who are the focus of Sharp came from different backgrounds and had vastly divergent political and artistic opinions. But they all made a significant contribution to American society and ultimately changed the course of the twentieth century, in spite of the men who often undervalued their work. Mixing biography, literary criticism, and cultural history, Sharp is a passionate portrayal of Joan Didion, Nora Ephron, Susan Sontag, Hannah Arendt, and others, an engaging introduction to their works, and a testament to how anyone who feels powerless can claim the mantle of writer, and, perhaps, change the world.
---
Who are the women writers who pop into your head when you think "groundbreaking"? Who blazed a trail? Who started something? Who kicked it up a notch? Below are only some the names you shared when we asked you last week. Your interpretation of the question certainly affects the answer, but let's all celebrate that these writers are special to Riot readers:
Sandra Cisneros
Ursula K. Le Guin
Jane Austen
P. D. James
Laura Ingalls Wilder
Nnedi Okorafor
Jean Auel
Agatha Christie
Ruth Rendall
Louisa May Alcott
Marguerite Abouet
G. Willow Wilson
Judy Blume
Edna O'Brien
Joan Didion
Julia Alvarez
N. K. Jemisin
Diane Ackerman
Margaret Atwood
Toni Morrison
Louise Erdrich
Sylvia Plath
Dava Sobel
Amy Tan
Mary Shelley
Patricia Cornwell
Zadie Smith
Margaret George
Sheri Tepper
Chimamanda Ngozi Adichie
Cindy Pon
Carmen Maria Machado
Alison Weir
Maya Angelou
Edith Wharton
Isabel Allende
Elizabeth Acevedo
Geraldine Brooks
Harper Lee
Eudora Welty
Angie Thomas
The Brontë sisters
Shirley Jackson
Willa Cather
Jhumpa Lahiri
The best all-around ereader is now even better. Better because it is waterproof. Read in the bath. On the beach. In the shower. And we have one to give away! Go
here to enter for a chance to wi
n
, or just click on the image below. Good luck!