7 Books About Breakups And Heartbreak: List List #298
This List List is sponsored by Houghton Mifflin Harcourt Books for Young Readers, publisher of Rebound by Kwame Alexander.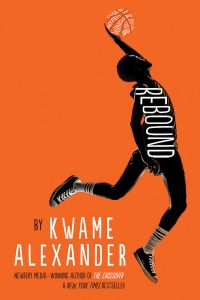 From the New York Times bestselling author Kwame Alexander comes Rebound, the prequel to his Newbery Award-winner, The Crossover. Before he's Chuck "Da Man" Bell, proud father of Jordan and Josh Bell, Charlie is a kid who dreams of basketball glory. In his mind, he can steal, jump, dunk, and make the crowd go wild just like a pro-baller. But when tragedy strikes, Charlie can't help but make all the wrong moves. Will a series of missteps keep him bench, or can he learn how to rebound?
---
at Bustle, 7 Books About Breakups And Heartbreak
at The Strategist, The Best Books About North Korea
at Unbound Worlds, 9 Fantasy Books to Read if You Like Tamora Pierce
at Tor.com, 5 Books About the Collapse of New York City
at Entertainment Weekly, 11 Immigration Novels
at Autostraddle, 100 Poets For Your Survival Pack
at Electric Literature, 10 Books About Tricks, Pranks, Cons, and Scams
at Vagabomb, 10 Magical Quotes by Hans Christian Andersen to Remind You of Your Childhood
at Condé Nast Traveler, 22 Ambassadors Recommend the One Book to Read Before Visiting Their Country
at Signature, 11 Essential Reads for Autism Awareness Month
at Brightly, 10 Classic Audiobooks for Families
at Off the Shelf, 9 Historical Novels That Offer New Perspectives of Our World
We're giving away five copies of Leslie Jamison's new essay collection
Make it Scream, Make it Burn
.
Click here to enter
, or click the image below!