33 of Your Favorite Stories of Women Finding Their Voices
This list of women finding their voices is sponsored by Your Story Is Your Power by Elle Luna and Susie Herrick. Published by Workman Publishing.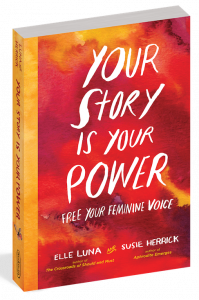 On the heels of International Women's Day, the celebration of strong women is at an all-time high and women everywhere are sharing their stories. Your Story Is Your Power is the tool you need to understand and express your own personal story. Elle Luna, bestselling author of The Crossroads of Should and Must, teams up with psychotherapist Susie Herrick to present an inspiring and practical hands-on guide that will show you how to uncover your own story in order to live a more confident, unapologetic life. Beautifully illustrated throughout, Your Story Is Your Power is a personal, thoughtful, motivating book to help you take control of your future.
---
We asked for your favorite books about women finding their voices!

You delivered some great reads!

Here are your answers!

I Know Why the Caged Bird Sings by Maya Angelou
Hotel du Lac by Anita Brookner
A Piece of Cake by Cupcake Brown
The Girl Who Raced Fairyland All the Way Home by Catherynne M. Valente
Beloved by Toni Morrison
Why Be Happy When You Could Be Normal? by Jeanette Winterson
Little Women by Louisa May Alcott
Bossypants by Tina Fey
Wild by Cheryl Strayed
How to Be a Woman by Caitlin Moran
Tell Me More by Kelly Corrigan
I Am Malala by Malala Yousafzai
Shrill by Lindy West
Make Trouble by Cecile Richards
Excavation by Wendy C. Ortiz
The Color Purple by Alice Walker
Room by Emma Donoghue
Yes Please by Amy Poehler
The Bitch in the House edited by Cathi Hanauer
I Capture the Castle by Dodie Smith
Dumplin' by Julie Murphy
Savage Coast by Muriel Rukeyser
This Will Be My Undoing by Morgan Jerkins
Zami: A New Spelling of My Name by Audre Lorde
Personal History by Katharine Graham
Jane Eyre by Charlotte Brontë
My Beloved World by Sonia Sotomayor
Hunger by Roxane Gay
The Lie Tree by Frances Hardinge
The Woman Upstairs by Claire Messud
Talking As Fast As I Can by Lauren Graham
A Wrinkle in Time by Madeleine L'Engle
Their Eyes Were Watching God by Zora Neale Hurston
Do you like podcasts like
This American Life, RadioLab, or Planet Money
?
Annotated
is kinda like those, but for books. Go
here to find out more
, or click the image below: