What Your Bookshelf Organization Says About You: List List #295
This List List is sponsored by Flatiron Books, publisher of Sometimes I Lie by Alice Feeney.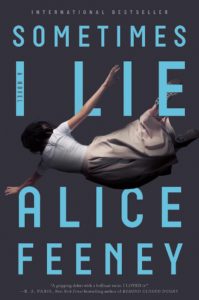 My name is Amber Reynolds. There are three things you should know about me:
1. I'm in a coma.
2. My husband doesn't love me anymore.
3. Sometimes I lie.
---
at McSweeney's, What Your Bookshelf Organization Says About You
At Read it Forward, 5 Novels Made for a Cathartic Ugly Cry
at EcoWatch, 13 Female 'Cli-Fi' Writers Who Are Inspiring A Better Future
at Ozy, What Silicon Valley Superwomen are Reading
at Oxygen, 10 Books You Didn't Know Were Banned in Prisons
at Apartment Therapy, Inspiring Biographies and Memoirs About Women
at Vogue, Vogue's Feminist Reading List
at Bustle, 13 Feminist Books You Need To Read, As Recommended By The Women's March Organizers
at Barnes & Noble, 8 Books That Will Make Kids Lifelong Readers of Sci-Fi & Fantasy
at Signature, Best Books to Understand Haiti's Past and Present
at Unbound Worlds, 21 of the Best Horror Books by Women
at Off the Shelf, 5 Literary Sleuths Jessica Jones Would Approve Of
Start your 14-day free trial
and enjoy the perks of exclusive podcasts and emails, the New Release Index, and behind-the-scenes access.