20 Jane Austen Gifts for the Most Ardent Fan
It is a truth universally acknowledged that a Jane Austen fan in possession of some swag will always want more swag.  If you're into handwritten letters that go on for days, misunderstandings, smoldering looks across the pianoforte, matchmaking, or if you just like to take a turn about the room, keep scrolling, because these Jane Austen gifts are for you.
You'll rule the drawing room with this elegant box of Jane Austen teas. The set comes with a stainless steel teapot infuser and selections like Sense and Sensibilitea. Pinkies up. (From Literary Tea Company)
Also, you're definitely going to need a mug to enjoy your new tea selection. Give this silhouetted 'Talk Darcy to Me' mug a try. (From Bookery Boutique)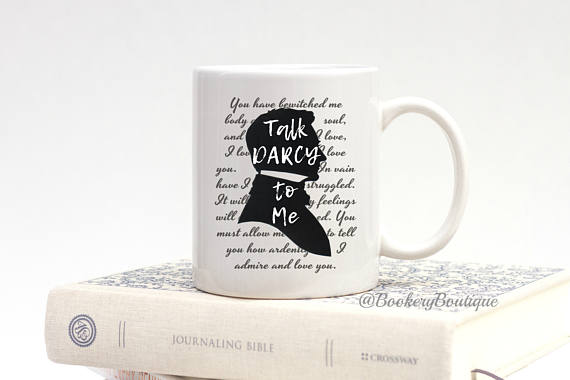 Reading Jane Austen is always a good idea, as this cute and colorful tote bag confirms. (From Vermelho Panda)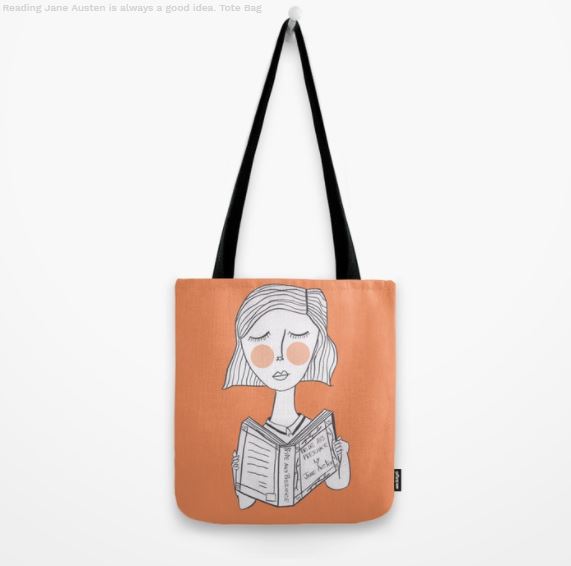 Made with paragraphs from Pride and Prejudice, this book bracelet is a classy way to make sure you never leave home without your favorite book. There's also an extension chain option. (From Poppets Widgets)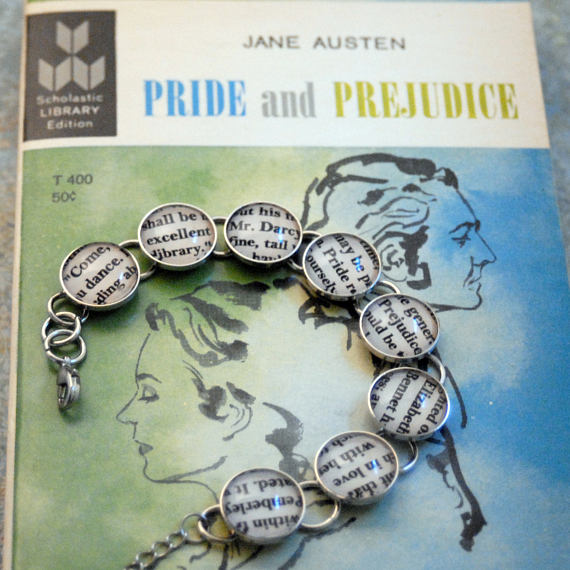 A fluffy and comfy homage to your Jane Austen book shelf. This comforter comes in king, queen, and full sizes. (From Bailey McGinn)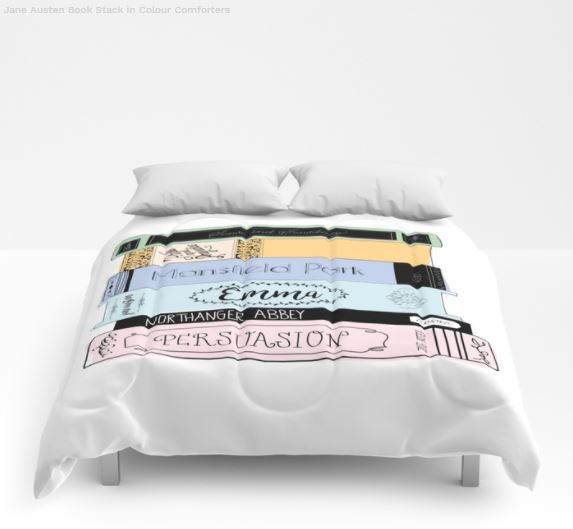 This beautiful hand-made Pride and Prejudice–inspired locket comes with a pearl faceted flower accent bead and skeleton key described as "A key for Ms. Bennet to her future home, Pemberly." Sigh. (From busybeezchickadeez)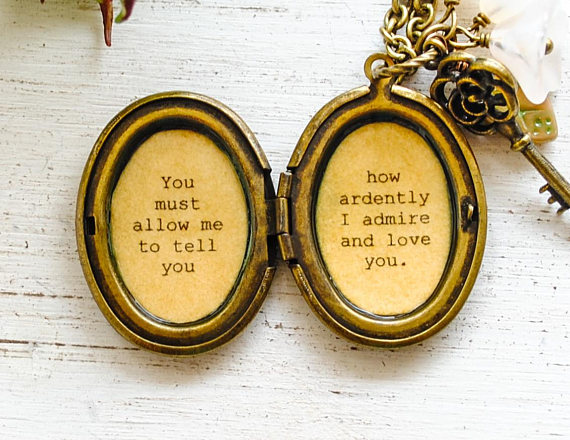 You can snuggle up with your favorite Austen book and snuggle up on an Austen book pillow. The cover of this book pillow even opens to the first page of Persuasion. (From Brassington Hollow)
Every Austen fan absolutely needs this Jane Austen carry-all pouch, with a clever (and true) variation on the famous first line of Pride and Prejudice. (From Jane Austen's Office)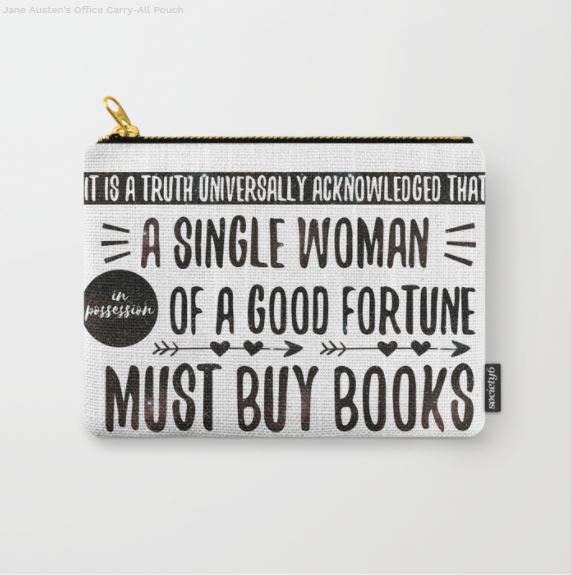 Not going to lie, I LOL'd  when I saw this "Run Like Mr. Collins Just Proposed" tumbler. It's just the thing you need to get inspired for that dreaded workout or if you're just looking to sit back sipping iced tea like some Kermit meme. (From Everlasting Tea Party)
This hand-printed, long sleeve, off the shoulder shirt comes in six different colors and a wide range of sizes. Mr. Darcy's famous, swoon-inducing words are printed on the front in the shape of a heart. (From neenacreates)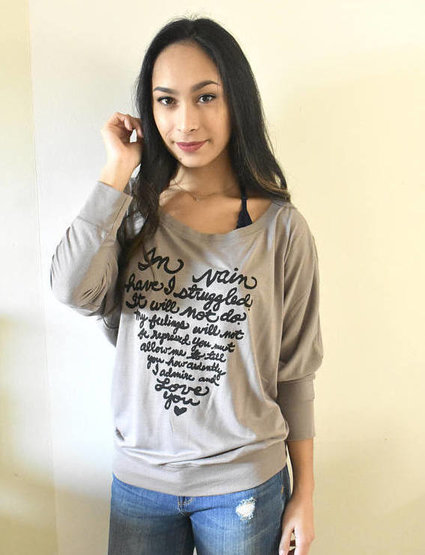 "Obstinate, headstrong girl!" You're going to need this locket for the resistance. (From dspdavey)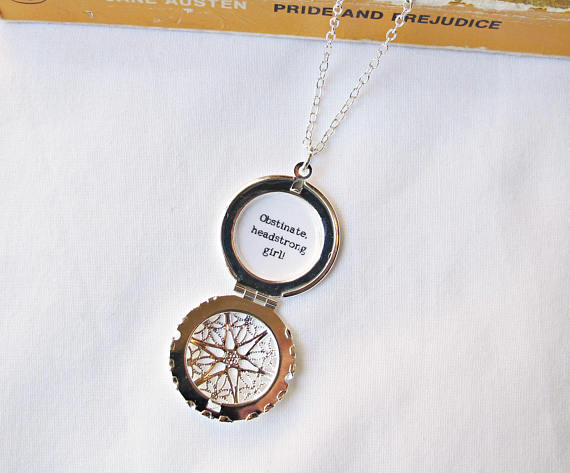 This charming Jane Austen watch takes the classic silhouette motif and displays it as a word cloud of Austen titles and characters names. (From Your Watch Design)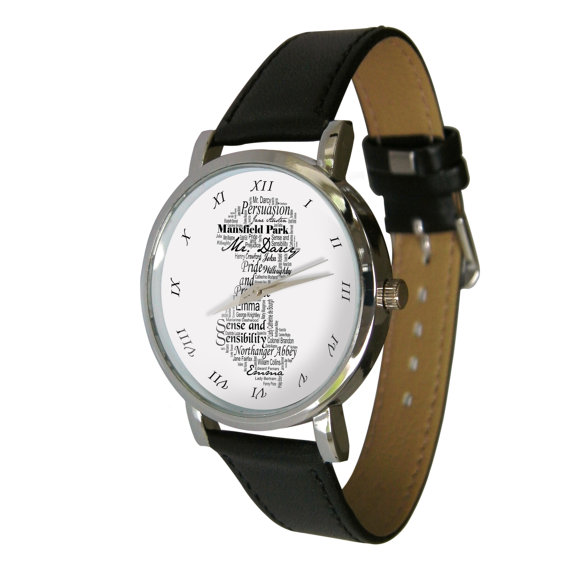 Book earrings are the best earrings. These adorable earrings come in Sense and Sensibility and Emma. (From By The Book Jewelry)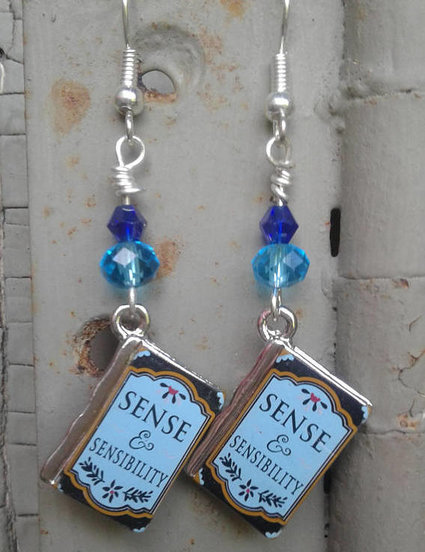 Accessorize your Apple or Android phone with this super sleek, white case featuring a quote from Pride and Prejudice. Be sure to select the "tough case" option if you're looking for a case with the bumper. (From Lindsay Burck Designs)
Be transported back in time with this scented "Jane Austen's Writing Desk" candle. Ever wonder what her writing nook might have smelled like? Well, wonder no more, because it's lilac, berries, tea, mahogany, and leather. (From In The Wick Of Time)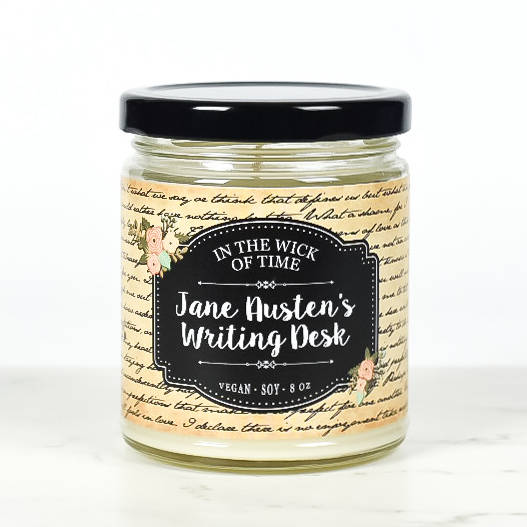 Are you one for super-useful AND stylish Jane Austen gifts? You can tuck this umbrella in your purse or backpack and when the rain starts to fall, spread your wings like Lizzy Bennett.  (From Literati Club)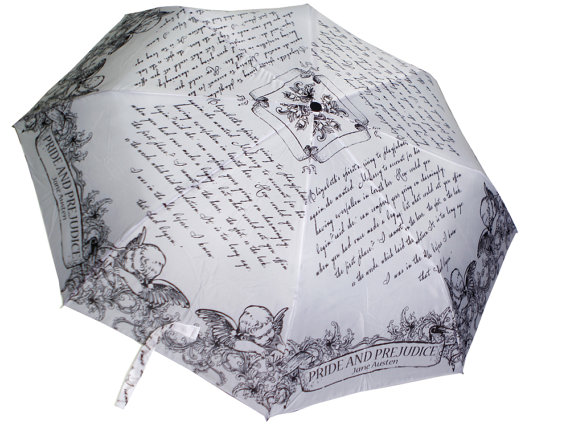 This absolutely gorgeous book purse is made from a black and gold edition of Pride and Prejudice, lined with black satin and stylish gold accents. That heart clasp, though! (From Bookarelli)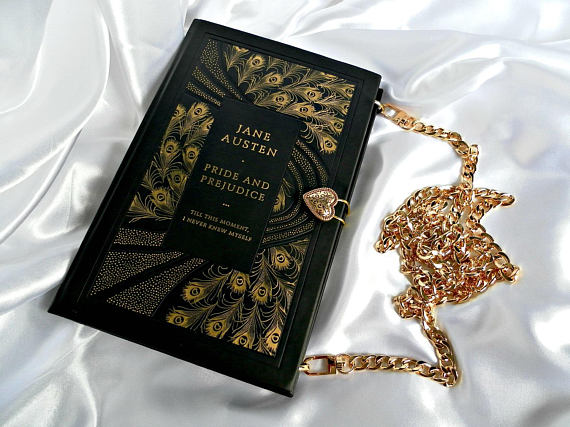 Another really cool gift idea: These lovely paper roses made from the pages of Jane Austen's six novels. (From Anthology On Main)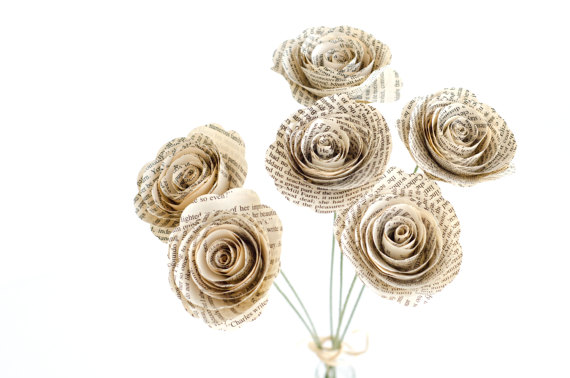 Next, you're going to need some cards to go with all these Jane Austen gifts. Here is a delightful set of blank stationary cards and envelopes featuring the names of our favorite set of literary sisters. (From lionhead44)
And finally, throw a Jane Austen–themed party with this excellent printable party kit. The kit includes everything from a banner and place cards to napkin rings and cupcake wrappers. Ring the bell, I'm ready for tea. (From Party Ever After)
Need more jane austen gifts or just austen in general? Check out these posts:
Book Fetish Jane Austen edition
4 Fantasy Must Reads for Austen Fans
Get Lost in Austen: 13 Adaptations for Jane Austen Fans
5 Excellent Jane Austen Comic Adaptations
By signing up you agree to our Terms of Service
We have 10 copies of
A Gentleman in Moscow
by Amor Towles to give away to Book Riot readers!
Go here to enter for a chance to win
, or just click the image below. Good luck!