21 Travel Quotes From Books To Inspire Your Next Adventure: List List #293
Sponsored by Daughter of the Siren Queen by Tricia Levenseller.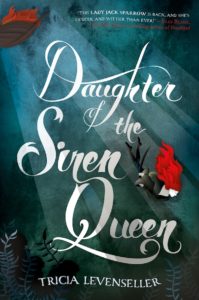 The capable, confident, and occasionally ruthless heroine of Daughter of the Pirate King is back in this action-packed sequel that promises rousing high seas adventures and the perfect dash of magic.
Alosa's mission is finally complete. Not only has she recovered all three pieces of the map to a legendary hidden treasure, but the pirates who originally took her captive are now prisoners on her ship. Still unfairly attractive and unexpectedly loyal, first mate Riden is a constant distraction, but now he's under her orders. And she takes great comfort in knowing that the villainous Vordan will soon be facing her father's justice.
When Vordan exposes a secret her father has kept for years, Alosa and her crew find themselves in a deadly race with the feared Pirate King. Despite the danger, Alosa knows they will recover the treasure first…after all, she is the daughter of the Siren Queen.
In Daughter of the Siren Queen, Tricia Levenseller brings together the perfect mix of thrilling action, tense battle scenes, and a heart-pounding romance.
---
at Bustle, 21 Travel Quotes From Books To Inspire Your Next Adventure
at The Telegraph, 10 Strange Sci-Fi Books That Should Be On Screen
at The Mary Sue, 11 Unforgettable Female Friendships in Literature
at PopSugar, 11 Books That'll Help You Get Your Life in Order
at Grazia, 11 Inspiring Feminist Quotes From Fiction
at MyDomaine, 21 Modern Poems to Read for Black History Month
at Signature, 9 Necessary Works of Non-Fiction by Black Women
at Off the Shelf, 12 Black Writers Everyone Needs to Read
at Nylon, 10 Great Books You Can Read In One Sitting
at Goodreads Blog, 20 Top Short Story Collections 
at Literary Hub, 20 Literary Adaptations Disavowed by Their Original Authors 
at Electric Literature, 10 of Literature's Best (Or Worst) Liars
We have 5 copies of
My Sister, the Serial Killer
by Oyinkan Braithwaite to give away to Book Riot readers!
Go here
to enter for a chance to win, or just click the image below. Good luck!