My Bookish Valentine: Dr. Carla Hayden, Librarian of Congress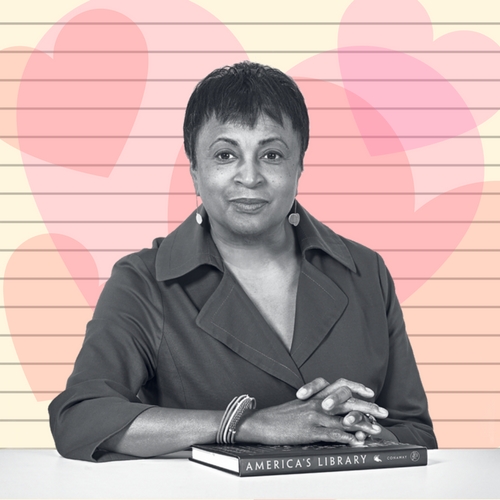 The Library of Congress is a gigantic operation. As well as being one of the largest libraries in the world, the national library: serves as the archive to historical documents (like the rough draft of the Declaration of Independence and the Gutenberg Bible); houses millions of newspapers, photographs, pieces of sheet music, and manuscripts; plus employees thousands of people.  In addition to making sure the whole shebang of the Library of Congress system is working, the Librarian of Congress also appoints the U.S. Poet Laureate, awards the Gershwin Prize, and works develop fair use and protection for technology access.
And at the head of this operation is the COOLEST LADY YOU DON'T EVEN KNOW ABOUT. Dr. Carla Hayden was appointed to the position of Librarian of Congress in 2016 and guys, she's pretty awesome:
She is the first woman to hold the position of Librarian of Congress.
YEAH, SHE IS. In a profession that is predominately staffed by women, there is disproportionate number of men in managerial and director positions. And in over two hundred years, the person appointed to the highest library position in the U.S. has always, ALWAYS, been a man. And, in fact, has always been a white man, which leads me to my next point…
She is the first African-American to hold the position of Librarian of Congress.
Again: YEAH, SHE IS. The field of librarianship has a serious diversity problem. In a diversity study published by the American Library Association (ALA) in 2012, 98.7% of credentialed librarians identified as being white. For a profession that works to serve the needs of an increasingly diversifying population, that is a sobering statistic. And while there is a LOT of work that needs to be done in making the librarian profession more diverse, having a person of color as the Librarian of Congress is a step in the right direction.
She's the first librarian to be appointed* to the position in over 60 years.
You would think that the Librarian of Congress would, ya know, be a librarian. Nope! The position is appointed by the President of the United States and they can choose whoever they feel is the best fit. The previous Librarians of Congress have been lawyers, businessmen, professors, poets, and historians who neither received a degree in Library Science nor worked previously in a library. Dr. Hayden started her career at the Chicago Public Library (where she became acquainted with Barack and Michelle Obama, woot woot!) and then at the Enoch Pratt Free Library in Baltimore.
(*Technically, David Mao, the acting Librarian of Congress before Dr. Hayden, was previously a law librarian. However, he was not appointed and served the position while Dr. Hayden went through the appointment process.)
She understands the importance of libraries to communities during unrest.
When Baltimore erupted into protests and riots regarding the death of 25 year-old Freddie Gray while in police custody, Dr. Hayden (then the CEO of the Enoch Pratt Free Library) chose to keep the library open, despite their location in the epicenter of the chaos. This decision gave residents of Baltimore a place of stability and safety during the unrest. In an interview with American Libraries, Dr. Hayden explained why she made that choice:
"I knew that the libraries are community resources. I knew that they are anchors in so many communities. In a lot of communities in Baltimore, especially challenged ones, we are the only resource. If we close, we're sending a signal that we're afraid or that we aren't going to be available when times are tough. We should be open especially when times are tough".
She encourages and supports young readers (in the cutest way possible).
In 2017, Dr. Hayden named 4 year-old Daliyah Marie Arana as the "Librarian of the Day". Daliyah, who is an avid reader and had already read over 1,000 books despite not even being old enough for kindergarten, got an exclusive tour of the Library of Congress and sat in on meetings with Dr. Hayden.
It was fun to have 4-year-old Daliyah Marie Arana of Gainesville, GA as "Librarian For The Day." She's already read more than a 1,000 books. pic.twitter.com/MQfwlUrakO

— Carla Hayden (@LibnOfCongress) January 11, 2017
(Look at this picture from the Library of Congress of Daliyah in her little pink dress and matching pink glasses sitting at Dr. Hayden's desk! If it doesn't make your heart grow three sizes, you might actually be a robot.)
Enter to win
$250 to spend at Barnes and Noble!