Where to Start: The Books of Ursula K. Le Guin–List List #288
This List List is sponsored by Dara Horn's Eternal Life, on sale now from W. W. Norton.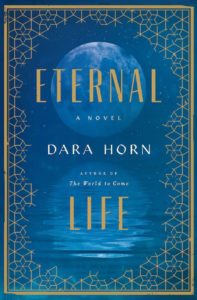 Rachel has a problem: she can't die. Her recent troubles are only the latest in a litany spanning dozens of countries, scores of marriages, and hundreds of children. In the 2,000 years since she made a bargain to save the life of her first son back in Jerusalem, she's tried everything to free herself. As the twenty-first century begins and her children and grandchildren develop technologies that could change her fate, Rachel knows she must find a way out. Eternal Life celebrates the bonds between generations, the power of faith, the purpose of death, and the reasons for being alive.
---
at Signature, Where to Start: Ursula K. Le Guin
at Bustle, 7 Novels To Pick Up When You Need Creative Inspiration
at Unbound Worlds, 5 Familiar Horror Classics Remixed, Reimagined, and Retold
at Cosmopolitan, 10 Books to Help You Beat the January Blues
at Electric Literature, 10 Galvanizing Books About Political Protest
at LitReactor, The 10 Best Places to Find Quality Short Fiction
at Read it Forward, 18 Books Phoebe Robinson Recommends on Instagram
at OZY, 5 African Sci-Fi and Fantasy Books to Add to Your Reading List
at Off the Shelf, 6 Recommended Reads from a Small Town Library
at Entertainment Weekly, 16 Books to Read after the Women's March Anniversary
at Goodreads Blog, What to Read Based on Oscar-Nominated Movies
at Brightly, 8 Great Adult Books for Teens
Do you like podcasts like
This American Life, RadioLab, or Planet Money
?
Annotated
is kinda like those, but for books. Go
here to find out more
, or click the image below: