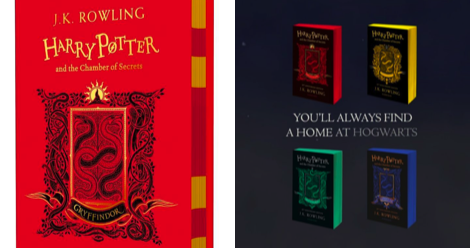 Bloomsbury Publishing Just Announced House Editions of HARRY POTTER AND THE CHAMBER OF SECRETS
Bloomsbury Publishing just announced gorgeous house editions of Harry Potter and the Chamber of Secrets.
They will be released on June 28th to celebrate the 20th anniversary of first publication of Harry Potter and the Chamber of Secrets which will be on July 2, 2018. Hardcover editions will be available in each house's colors and boast sprayed, striped edges with artwork in black. The paperback editions will be black and the artwork in corresponding house colors with single-color edges. As you can see in the video below, it looks like yes, Ravenclaw colors are the actual colors from the books and not the movie color palate.
And if you're into collecting all the Harry Potter editions, check out Bloomsbury's illustrated editions.