This content contains affiliate links. When you buy through these links, we may earn an affiliate commission.
We're giving away $500 of the year's best YA! Click here, or on the image below to enter:
---
Once the 4th of July passes, it always seems like summer is on a downhill sprint to fall, so I have to stop and remind myself that it's not too late for one of the best things about the season: summer reads. You don't have to look very hard to find great YA books set in summer, but it's worth taking a moment to stop and appreciate these 2018 YA summer reads that, like blueberries and peaches, are best enjoyed during the season!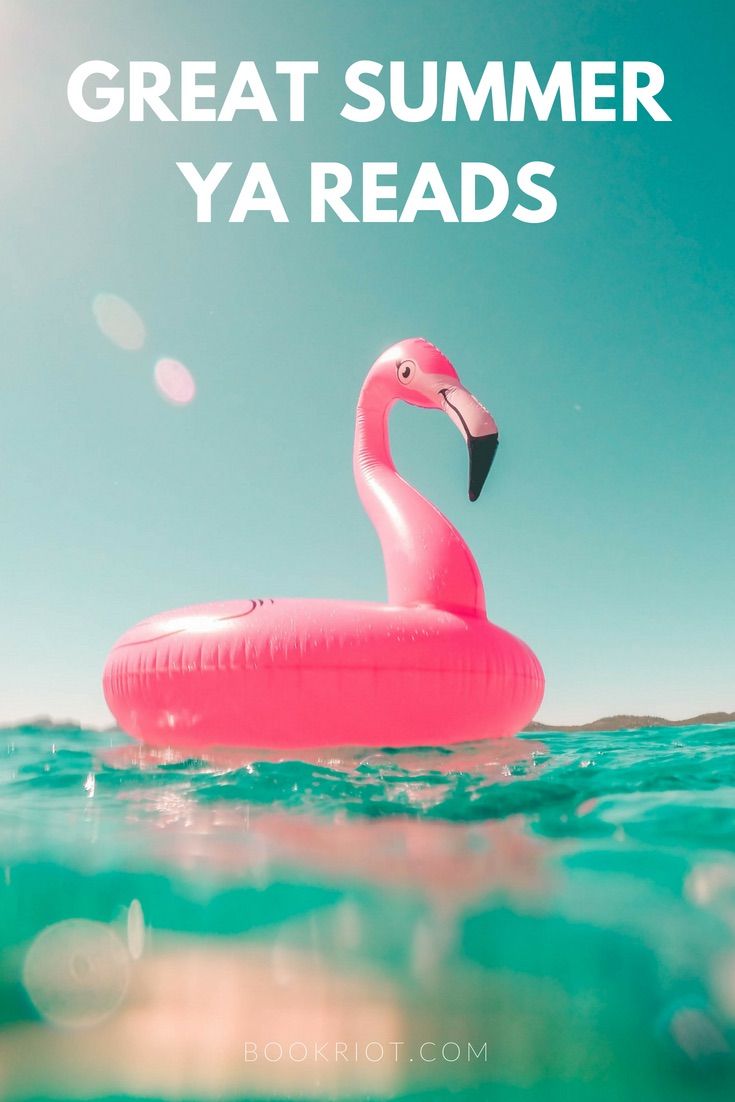 Clara Shin lives for pranks and disruption. When she takes one joke too far, her dad sentences her to a summer working on his food truck, the KoBra, alongside her uptight classmate Rose Carver. Not the carefree summer Clara had imagined. But maybe Rose isn't so bad. Maybe the boy named Hamlet (yes, Hamlet) crushing on her is pretty cute. Maybe Clara actually feels invested in her dad's business. What if taking this summer seriously means that Clara has to leave her old self behind? With Maurene Goo's signature warmth and humor, The Way You Make Me Feel is a relatable story of falling in love and finding yourself in the places you'd never thought to look.
I love a good family business and summer job story, so this is not one to miss!
Georgina Fernweh waits impatiently for the tingle of magic in her fingers—magic that has touched every woman in her family. But with her eighteenth birthday looming at the end of this summer, Georgina fears her gift will never come.
Over the course of her last summer on the island—a summer of storms, falling in love, and the mystery behind one rare three-hundred-year-old bird—Georgina will learn the truth about magic, in all its many forms.
Summer of Salt is the YA book equivalent of Practical Magic, and it's got a great f/f love story!
As the oldest, Des shoulders a lot of responsibility for her family and their independent bookstore. Except it's hard to dream big when she's so busy taking care of everyone else. Vi has a crush on the girl next door. It makes her happy and nervous, but Cece has a boyfriend…so it's not like her feelings could ever be reciprocated, right?
Kat lands the lead in the community theater's summer play, but the drama spills offstage when her ex and his new girlfriend are cast too. Can she get revenge by staging a new romance of her own? Bea and her boyfriend are heading off to college together in the fall, just like they planned when they started dating. But Bea isn't sure she wants the same things as when she was thirteen…
Jessica Spotswood has a good track record of writing sister stories, and this one hits all my sweet spots.
Bloomington High School Lions' star goalie Sebastian Hughes should be excited about his senior year: His teammates are amazing, and he's got a coach who doesn't ask anyone to hide their sexuality. But when his estranged childhood-best-friend Emir Shah shows up at summer training camp, Sebastian realizes the team's success may end up in the hands of the one guy who hates him. Determined to reconnect with Emir for the sake of the Lions, he sets out to regain Emir's trust. But to Sebastian's surprise, sweaty days on the pitch, wandering the town's streets, and bonding on the weekends spark more than just friendship between them.
How wonderful is this cover? I love that it looks so joyful.
The Summer of Jordi Perez

(and the best burger in Los

Angeles)

by Amy Spalding



Seventeen, fashion-obsessed, and gay, Abby Ives has always been content playing the sidekick in other people's lives. While her friends and sister have plunged headfirst into the world of dating and romances, Abby's been happy to focus on her plus-size style blog and her dreams of taking the fashion industry by storm. When she lands a great internship at her favorite boutique, she's thrilled to take the first step toward her dream career. Then she falls for her fellow intern, Jordi Perez. Hard. And now she's competing against the girl she's kissing to win the coveted paid job at the end of the internship.
But really, nothing this summer is going as planned. She also unwittingly becomes friends with Jax, a lacrosse playing bro-type who wants her help finding the best burger in Los Angeles, and she's struggling to prove to her mother—the city's celebrity health nut—that she's perfectly content with who she is.
Just as Abby starts to feel like she's no longer the sidekick in her own life, Jordi's photography surprisingly puts her in the spotlight. Instead of feeling like she's landed a starring role, Abby feels betrayed. Can Abby find a way to reconcile her positive yet private sense of self with the image others have of her?
I listened to the audio of this book, and it was so delightful that I'd just walk around with a huge grin on my face!
Summer in Sand Lake isn't complete without a trip to Meade Creamery—the local ice cream stand founded in 1944 by Molly Meade who started making ice cream to cheer up her lovesick girlfriends while all the boys were away at war. Since then, the stand has been owned and managed exclusively by local girls, who inevitably become the best for friends. Seventeen-year-old Amelia and her best friend Cate have worked at the stand every summer for the past three years, and Amelia is "Head Girl" at the stand this summer. When Molly passes away before Amelia even has her first day in charge, Amelia isn't sure that stand can go on. That is, until Molly's grandnephew Grady arrives and asks Amelia to stay on to help continue the business…but Grady's got some changes in mind…
Another great summer job story, and I love the feminist slant!
Aspiring filmmaker and wallflower Twinkle Mehra has stories she wants to tell and universes she wants to explore, if only the world would listen. So when fellow film geek Sahil Roy approaches her to direct a movie for the upcoming Summer Festival, Twinkle is all over it. The chance to publicly showcase her voice as a director? Dream come true. The fact that it gets her closer to her longtime crush, Neil Roy—a.k.a. Sahil's twin brother? Dream come true x 2.
When mystery man "N" begins emailing her, Twinkle is sure it's Neil, finally ready to begin their happily-ever-after. The only slightly inconvenient problem is that, in the course of movie-making, she's fallen madly in love with the irresistibly adorkable Sahil.
Twinkle soon realizes that resistance is futile: The romance she's got is not the one she's scripted. But will it be enough?
Another book from the author of last year's great YA summer read, When Dimple Met Rishi!
Charlie Grant's older sister is getting married this weekend at their family home, and Charlie can't wait—for the first time in years, all four of her older siblings will be under one roof. Charlie is desperate for one last perfect weekend, before the house is sold and everything changes. The house will be filled with jokes and games and laughs again. Making decisions about things like what college to attend and reuniting with longstanding crush Jesse Foster—all that can wait. She wants to focus on making the weekend perfect.
The only problem? The weekend is shaping up to be an absolute disaster. There's the unexpected dog with a penchant for howling, house alarm that won't stop going off, and a papergirl with a grudge.
There are the relatives who aren't speaking, the (awful) girl her favorite brother brought home unannounced, and a missing tuxedo.
Not to mention the neighbor who seems to be bent on sabotage and a storm that is bent on drenching everything. The justice of the peace is missing. The band will only play covers. The guests are all crazy. And the wedding planner's nephew is unexpectedly, distractingly…cute.
Over the course of three ridiculously chaotic days, Charlie will learn more than she ever expected about the family she thought she knew by heart. And she'll realize that sometimes, trying to keep everything like it was in the past means missing out on the future.
I love how Charlie's mom's comics are included in this book, and you know Morgan Matson never disappoints when it comes to summer reads!
This modern-day retelling of Shakespeare's Much Ado About Nothing takes place at the idyllic Camp Dogberry, where sisters Bee and Hana Leonato have lived their whole lives. Their parents own the place, and every summer they look forward to leading little campers in crafts, swimming in the lake, playing capture the flag and sproutball, and of course, throwing legendary counselor parties. This year, the camp drama isn't just on the improv stage. Bee and longtime counselor Ben have a will-they-or-won't-they romance that's complicated by events that happened—or didn't happen—last summer. Meanwhile, Hana is falling hard for the kind but insecure Claudia, putting them both in the crosshairs of resident troublemaker John, who spreads a vicious rumor that could tear them apart. As the counselors juggle their camp responsibilities with simmering drama that comes to a head at the Fourth of July sparkler party, they'll have to swallow their pride and find the courage to untangle the truth, whether it leads to heartbreak or happily ever after.
Shakespeare, summer camp, gender-bending love stories? Yes, please!
Want more "3 On A YA Theme" posts? Gotcha covered.