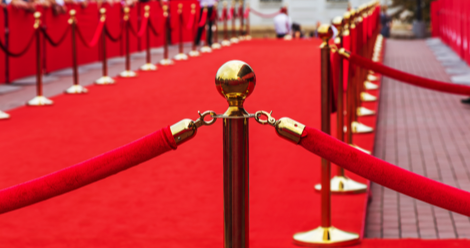 Lists
The 2018 Oscars, But for Books
This content contains affiliate links. When you buy through these links, we may earn an affiliate commission.
The Oscars (but less white and for books) is in its second year here at Book Riot, and we're honoring the best of the best 2018 releases in Hollywood fashion!
Best Escape-From-2018
"Aspiring filmmaker Twinkle Mehra is ecstatic when fellow geek Sahil Roy approaches her to direct a movie. The fact that it gets her closer to her longtime crush? Dream come true x 2."
Delightful, inspiring, and the hug my heart needed. Twinkle is a lovely character to cheer for who I absolutely adored. —Jamie Canaves
Runners up: The Summer of Jordi Perez by Amy Spalding
The Belles by Dhonielle Clayton
Best Debut
"There There is a relentlessly paced multigenerational story about violence and recovery, memory and identity, and the beauty and despair woven into the history of a nation and its people. It tells the story of twelve characters, each of whom have private reasons for traveling to the Big Oakland Powwow. "
Powerful and heartbreaking, it's a stunner of a debut. Worth every bit of buzz. —Susie Dumond
Runner up: The Hazel Wood by Melissa Albert
Best Next-In-a-Series
"The sequel to Vicious, V.E. Schwab's first adult novel. Sydney once had Serena—beloved sister, betrayed enemy, powerful ally. But now she is alone, except for her thrice-dead dog, Dol, and then there's Victor, who thinks Sydney doesn't know about his most recent act of vengeance."
A book full of messed up men grappling for lost power and angry, ambitious women taking it from them. —Emily Wenstrom
Runners-up: Hero at the Fall by Alwyn Hamilton
Force of Nature by Jane Harper
Best Fight-the-System
"In this valuable and revealing anthology, cultural critic and bestselling author Roxane Gay collects original and previously published pieces that address what it means to live in a world where women have to measure the harassment, violence, and aggression they face."
This book is good for hitting men in the face with next time they question rape culture. —Deepali
Runners-up: So You Want to Talk about Race by Ijeoma Oluo
A must-read outline of how to confront and discuss racism with those around us. Required reading. —Margaret Kingsbury
Most Mirror-Steaming Romance
"Stella Lane comes up with algorithms to predict customer purchases—a job that has given her more money than she knows what to do with, and way less experience in the dating department than the average thirty-year-old. She needs lots of practice—with a professional. Which is why she hires escort Michael Phan."
Just…be very wary of where you're reading this.
—Deepali
Best Protagonist
Sadie by Courtney Summers
Sadie, a smart mouthed stubborn young woman, sets off to find her little sister's killer with the plan to kill him. But with no money, friends, and a stutter that makes communicating with strangers difficult it's a near impossible mission…She's a character I will forever keep thinking about. —Jamie Canaves
Runners-up: Jane McKeene from Dread Nation by Justina Ireland, and Shirin from A Very Large Expanse Of Sea by Tehereh Mafi
Best/Worst Cliffhanger
Mirage by Somaiya Daud
"In a star system dominated by the brutal Vathek empire, eighteen-year-old Amani is a dreamer.
But when adventure comes for her, it is not what she expects: she is kidnapped by the regime and discovers that she is nearly identical to the cruel half-Vathek Princess Maram, who requires a body double."
I NEED TO KNOW WHAT HAPPENS NEXT IMMEDIATELY. —Susie Dumond
Just Adapt It Now
Pride by Ibi Zoboi
Just try and tell me you wouldn't pay good money to see this modern Pride and Prejudice retelling set in Brooklyn. I think we can all admit we're trash for a good YA romcom at this point (see: To All The Boys I've Loved Before and Dumplin'). —Rachel Brittain
Runner-up: A Winter's Promise
by Christelle Dabos
A sensation in France, this YA fantasy novel about a young woman who can travel through mirrors and read the history of objects was published in English this year. The world Dabos created with painstaking detail, which features a version of our planet that's been split up into separate Arks with different climates and societies, is crying out to be brought to life onscreen. —Kathleen Keenan
Most WTF
Educated by Tara Westover
The entire book is pretty much one WTF after another. To be honest, it completely stressed me out, but it's a wonderful book. —Margaret Kingsbury
Runner-up: Bad Blood by John Carreyrou
"The full inside story of the breathtaking rise and shocking collapse of Theranos, the multibillion-dollar biotech startup, by the prize-winning journalist who first broke the story and pursued it to the end."
Worst Hangover
Beautifully intertwined stories, full of heartbreak and trauma and grief. How do you follow that? You just have to wait and cry it out. —Susie Dumond
Runners-up: Tin Man by Sarah Winman
A story both beautiful and sad, about extraordinary moments in the very ordinary lives of three people living in Oxford. I didn't want it to end. —Kathleen Keenan
Heavy: An American Memoir by Kiese Laymon
This stunning memoir is told beautifully and passionately. The author's emotions and life will cut through you like you didn't know something could. —Romeo Rosales
Best Opening Line
"The day I came squealing and squalling into the world was the first time someone tried to kill me."
---
Shout at us about which books from 2018 you'd nominate for these categories!
*all descriptions within quotes are from Goodreads