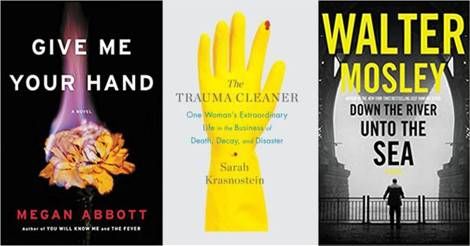 This content contains affiliate links. When you buy through these links, we may earn an affiliate commission.
"2018 Mystery & Thrillers to Be Excited For!" originally ran in our mystery newsletter. Get all the mystery news, reviews, and deals in your inbox: Sign up for Unusual Suspects."
I've already started reading galleys for 2018 mysteries because they're stacked next to my bed chanting my name and who am I to say no? And I'm ridiculously excited for these 2018 mystery & thrillers so prepare your TBR, reinforce your shelves, whisper to your ereader that it's about to get fuller, or pre-buy these: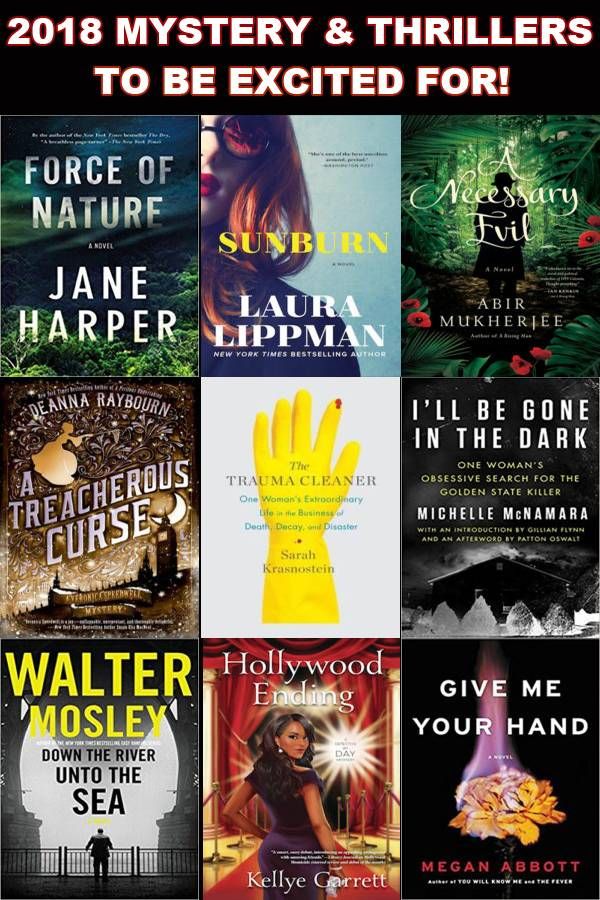 (TW: sexual assault) I'm still making my way through Mosley's catalog but you better believe I dropped everything to read the ARC for his upcoming novel the day it arrived. We're introduced to a new detective, Joe King Oliver, a former cop turned PI. He's a former cop because of a rape charge he denies and the book focuses on him trying to find out who set him up while also taking on a case to find justice for a convicted cop killer. A good read that pits law vs justice, and I loved his relationship with his assistant, his teenage daughter.
Force of Nature (Aaron Falk #2) by Jane Harper ( February 6th, Flatiron Books)
The followup to The Dry is just as good which is saying something. This time around Federal Police Agent Falk is back home with a new case: five women went on a work retreat in the woods, but only four are accounted for. The missing woman was cooperating with a financial investigation, the woods she's missing in once housed a serial killer, and witnesses stories aren't adding up…Harper delivers another solid mystery from beginning to end.
Hollywood Ending (A Detective by Day Mystery) by Kellye Garrett (August 8th, Midnight Ink)
I've been looking forward to this since I finished Hollywood Homicide because I loved the characters so much. I am here for more of this cozy mystery/women's fiction and look forward to seeing what Dayna Anderson and her friends get into. And it looks like this time around Dayna is a P.I.'s apprentice so I'm excited to see her evolution from amateur sleuth.
Give Me Your Hand by Megan Abbott (July 17th, Little, Brown and Company)
Megan Abbott has topped herself with Give Me Your Hand and this is already on the Best of 2018 list! The pages are electric as suspense builds between the "then" and "now" as one woman holds onto a secret she never wanted from her past while trying to grab the future she wants… And reminding me of my love for Abbott, the "now" is mostly set in a research lab looking into PMDD (premenstrual dysphoric disorder).
A Necessary Evil (Sam Wyndham #2) by Abir Mukherjee (April 3rd, Pegasus Crime)
Another sequel for a 2017 release that I can't wait for! The series follows a former Scotland Yard detective trying to not only solve crimes for the CID but to navigate British ruled Calcutta in the early 1900s. The sequel has him working again with Sergeant Banerjee (one of the only Indians working for the CID) and I can't wait for their new mystery in the wealthy kingdom of Sambalpore.
Sunburn by Laura Lippman (February 18th, William Morrow)
I've seen a lot of authors raving about this one so I had to read it. And the buzz is warranted: It's a great read that mixes lit fic, crime, a whudunit, and the "unlikable" woman. In this case you have a woman with a past trying to secure her future—but at what cost? If you're a fan of writers that can tap into the energy of a ruthless need for survival, don't miss this one.
A Treacherous Curse (Veronica Speedwell #3) by Deanna Raybourn (January 16th, Berkley)
A funny, feminist, historical fiction mystery series that I love. This one had me laughing from the first page as Speedwell and Stoker find themselves solving a mystery revolving around an Egyptian archaeological dig involving Stoker's past. If you haven't started this series yet, now's a perfect time to get caught up!
(TW: sexual assault) McNamara never forgot about an unsolved murder from her childhood neighborhood which ultimately led to her creating a website as an adult to try and solve unsolved cases. One of those, which became her obsession, was the East Area Rapist who preyed in California during the '70s and '80s (she'd later name him the Golden State Killer). Her extensive research and work is this book, which sadly she won't get to see published because she passed away while writing it. The true crime sections show McNamara's gift as a crime journalist and her incredible drive for justice rather than a need to obsess over a predator. The memoir chapters show McNamara's gift as a writer, her honesty, and her beautiful ability to analyze herself and the past, seeing the things we all miss when we're in the present. This is a terrifying and heartbreaking search for a serial killer that has gone far too long without capture.
There are books I want to read solely for the title. Others because Rioter Liberty Hardy told me to. And those because I'm interest/fascinated with the subject. This book hits all 3 reasons as Sarah Krasnostein followed and wrote about Sandra Pankhurst, a trauma cleaner with a hell of a life story who "bring order and care to these, the living and the dead…"