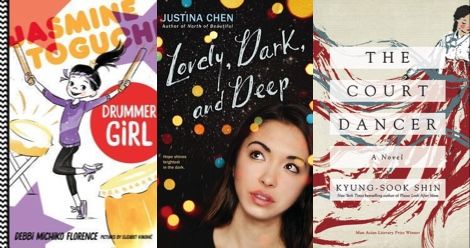 Lists
50 Must Read 2018–2019 Releases With East Asians on the Cover
This content contains affiliate links. When you buy through these links, we may earn an affiliate commission.
This list of books with East Asians on the cover is sponsored by Albert Whitman & Company.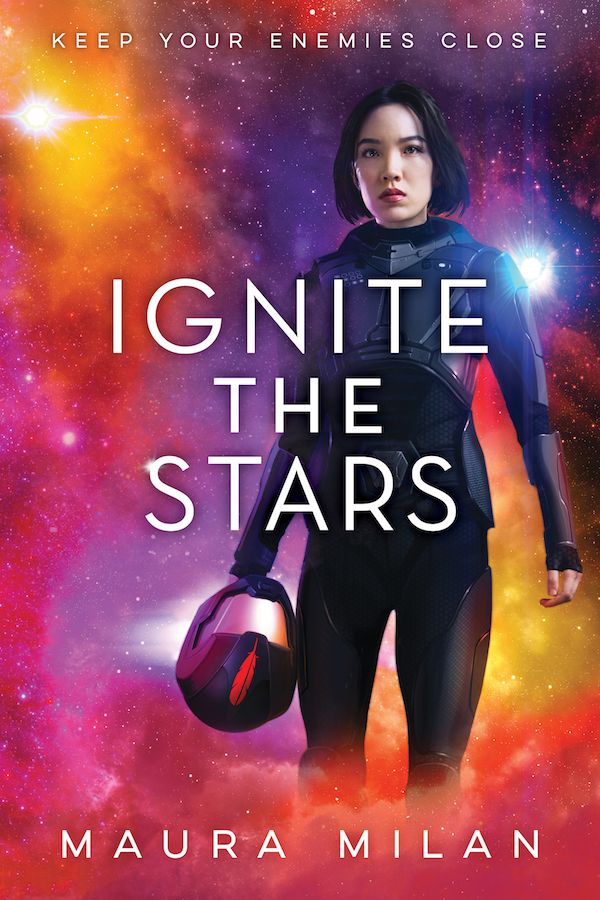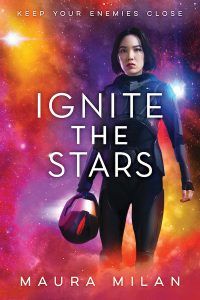 Everyone in the universe knows his name. Everyone in the universe fears him. But no one realizes that notorious outlaw Ia Cōcha is a seventeen-year-old girl.
After being captured by the Olympus Commonwealth, seventeen-year-old criminal mastermind Ia is forced to serve the imperialist nation that destroyed her home. Desperately plotting her escape while trapped at the Commonwealth's military academy, she must find a way to escape before new acquaintances cause Ia to question her own alliances.
In this exhilarating edge-of-your-seat sci-fi adventure, debut author Maura Milan introduces our world to a thrilling new heroine.
---
Growing up as a Korean adoptee in the mostly white state of Iowa, it was rare that I saw people who looked like me on street and in my classroom, let alone in books or movies. Seeing all of the representation that has happened in the past month or so warms my heart like no other. I'm 28 and it means the world to me. I can't imagine what this means to a kid or a teen still growing up.
The following books are 2018 and 2019 releases that feature an East Asian person on the cover. Thank you to all the authors, publicists, and agents who helped me compile this list. As for those whose cover has not been released yet, but fits this category: I cannot wait to include you next year.

Picture/Children's Books
Dragon Dancer by Joyce Chng (January 1, 2018)
"It is the eve of Chinese New Year. Lanterns are hung in the shopping malls and Yao is preparing to wake the ancient sky dragon, Shen Long, from his year-long sleep. From the moment Shen Long opens his great amber eyes and unfurls his silver-blue tail, Yao will be propelled on a magical journey to battle the bad luck of the previous year and usher in the good." (Amazon synopsis)
Confucius by Demi (February 2, 2018)
"His sayings are repeated throughout the world. His teachings set the course of Chinese society for 2,500 years. But Confucius remains merely a name to many readers, rather than the central figure of world history that he deserves to be." (LEE and LOW synopsis)
Natsumi! by Susan Lendroth (March 13, 2018)
"When Natsumi's family practices for their town's Japanese arts festival, Natsumi tries everything. But her stirring is way too vigorous for the tea ceremony, her dancing is just too imaginative, and flower arranging doesn't go any better. Can she find just the right way to put her exuberance to good use?" (Goodreads synopsis)
"Priscilla 'Cilla' Lee-Jenkins has just finished her (future) bestselling memoir, and now she's ready to write a Classic. This one promises to have everything: Romance, Adventure, and plenty of Drama—like Cilla's struggles to 'be more Chinese,' be the perfect flower girl at Aunt Eva's wedding, and learn how to share her best friend." (Goodreads synopsis)
The Turtle Ship by Helena Ku Rhee, Colleen Kong Savage (illustrator) (June 5, 2018)
"Loosely based on Admiral Yi Sunsin and the Turtle War Ship (Keo-Book-Sun), debut author Helena Ku Rhee and debut illustrator Colleen Kong-Savage introduce young readers to a fascinating episode in Korean history and naval engineering." (Goodreads synopsis)
"In busy Beijing, New Year's Eve firecrackers scare a stray white cat into the courtyard of a young girl. The two become fast friends, riding the girl's bike through the city and seeing all kinds of people and things." (Goodreads synopsis)
The Shadow in the Moon by Christina Matula, Pearl Law (illustrator) (July 17, 2018)
"Two sisters and their grandmother celebrate a popular Chinese holiday with family. Their favorite part? Mooncakes, of course—along with Ah-ma's story of the ancient Chinese tale of Hou Yi, a brave young archer, and his wife, Chang'E. A long, long time ago, Hou Yi rescued the earth from the heat of ten suns. The Immortals rewarded him with a magic potion that could let him live in the sky with them forever. But when a thief tries to steal the potion, what will Chang'E do to keep it out of dangerous hands?" (Goodreads synopsis)
Rice From Heaven by Tina M. Cho, Keum Jin Song (illustrator) (August 14, 2018)
"Based on a true story about compassion and bravery as a young girl and her community in South Korea help deliver rice via balloons to the starving and oppressed people in North Korea." (Goodreads synopsis)
First Generation: 36 Trailblazing Immigrants and Refugees Who Make American Great by Sandra Neil Wallace (September 4, 2018)
"The men and women in this book represent nations from Somalia to Germany, from Syria to China, from Mexico to Sweden, and more. They are people like Secretary of State Madeleine Albright, international singing sensation Celia Cruz, star basketball player Dikembe Mutombo, world-renowned physicist Albert Einstein, and influential journalist Jorge Ramos. And they are all immigrants or refugees to the United States of America." (Goodreads synopsis)
"Featuring the true stories of 40 inspirational women creators—from writers to inventors, artists to scientists—this book is as inspirational as it is educational. Readers will meet trailblazing women such as revolutionary architect, Zaha Hadid, actor/inventor Hedy Lamarr, environmental activist Wangari Maathai, modernist painter and animator Mary Blair and physicist Chien-Shiung Wu. Some names will be familiar, some will not—but all these women had a lasting impact on their fields." (Goodreads synopsis)
Middle Grade Books
"It's talent show time at school, and eight-year-old Jasmine Toguchi is excited to show her stuff. Jasmine's friends already have a talent: Tommy yo-yo's, Daisy dances, and Linnie plays piano. Plus, Maggie Milsap (aka Miss Perfect) is saying she'll have the best talent. When Jasmine's mom introduces her to the taiko, a traditional Japanese drum, Jasmine finally finds an activity that feels just right." (Goodreads synopsis)
"Peasprout Chen dreams of becoming a legend of wu liu, the deadly and beautiful art of martial arts figure skating. As the first students from the rural country of Shin to attend Pearl Famous Academy of Skate and Sword, Peasprout and her little brother Cricket have some pretty big skates to fill. They soon find themselves in a heated competition for top ranking." (Goodreads synopsis)
"Everything has changed this year. Nadine has suddenly skipped a grade and gone to high school without Sara. No matter how hard she fights to save their friendship, Sara can feel it slipping away. But change can happen from the inside, too. The forever-friend days of running through sprinklers and slurping up ice cream cones may be over. Yet in their place, Sara just might discover something new and wonderful: herself." (Goodreads synopsis)
Krista Kim-Bap by Angela Ahn (April 18, 2018)
Best friends Krista and Jason have never let their differences come between their friendship. As part of their fifth grade project, their class must prepare presentations for Heritage Month. Jason has always loved Krista's family and how they celebrate their Korean culture, but Krista isn't so sure about sharing it with their class.
Front Desk by Kelly Yang (May 29, 2018)
"Every day, Mia manages the front desk of the Calivista Motel while her parents clean the rooms. She's proud of her job. She loves the guests and treats them like family. When one of the guests gets into trouble with the police, it shakes Mia to her core. Her parents, meanwhile, hide immigrants in the empty rooms at night. If the mean motel owner Mr. Yao finds out, they'll be doomed!" (Goodreads synopsis)
"Jasmine's best friend, Linnie, has just gotten a puppy. And now Jasmine wants a pet of her own—a flamingo! So when her grandmother sends Jasmine a daruma doll as a surprise gift, Jasmine colors in one doll eye and wishes for a flamingo to keep." (Goodreads synopsis)
I'm OK by Patti Kim (October 9, 2018)
Even as a middle schooler, Ok Lee can recognize that his mother needs help making ends meet. So he devises the foolproof plan: enter the school talent show and win the cash prize! Unable to find a suitable talent, he decides to break into the hair-braiding business.
"Don't call him scaredy-cat Sam, because Sam Wu IS NOT AFRAID of ghosts! Except…he totally is. Can he conquer his fear by facing the ghost that lives in the walls of his house?" (Goodreads synopsis)
"Sam Wu is NOT a scaredy-cat (except when he is). And when a shark TOTALLY tries to eat him at the local aquarium, he decides he's not going to take any more chances. So at his friend's birthday party at the beach, Sam refuses to dip even a toe in the water. Nothing could go wrong now, could it?" (Goodreads synopsis)
Young Adult Books
American Panda by Gloria Chao (February 6, 2018)
Mei, a Taiwanese-American teen, heads to college set on fulfilling her parents' wishes: get her doctorate, marry a fellow Taiwanese man, and have many children. But her plans get derailed when she develops a crush on a Japanese classmate.
"Sixteen-year-old Grace is in a race against time—and in a race for her life—even if she doesn't realize it yet…Her mother struggled with schizophrenia for years until, one day, she simply disappeared—fleeing in fear that she was going to hurt herself or those she cared about. Ever since, Grace's father has worked as a recruiter at one of the leading labs dedicated to studying the disease, trying to lure the world's top scientists to the faculty to find a cure." (Goodreads synopsis)
Emergency Contact by Mary H.K. Choi (March 27, 2018)
"When Penny Lee crosses paths with Sam, it's less meet-cute and more a collision of unbearable awkwardness. Still, they swap numbers and stay in touch—via text—and soon become digitally inseparable, sharing their deepest anxieties and secret dreams without the humiliating weirdness of having to see each other." (Goodreads synopsis)
Danny Cheng's parents are immigrants from China. He also has an older sister who died prematurely. Even though he barely knew her, Danny has always felt an emptiness in his life where she should be. One day Danny unearths a box hidden away in the closet, full of files detailing the whereabouts of a powerful Silicon Valley family, and his parents refuse to explain.
Keurium by JS Lee (May 1, 2018)
"Shay Stone lies in a hospital bed, catatonic-dead to the world. Her family thinks it's a ploy for attention. Doctors believe it's the result of an undisclosed trauma. At the mercy of memories and visitations, Shay unearths secrets that may have led to her collapse. Will she remain paralyzed in denial? Or can she accept the unfathomable and break free?" (Goodreads synopsis)
Flame in the Mist by Renee Ahdieh (paperback redesign- May 8, 2018)
After she narrowly escapes an attack by the notorious Black Clan, Mariko dresses as a peasant boy with plans to infiltrate the Black Clan and find out the motive for attacking her.
After Clara Shin gets into a fight with a classmate at prom, her father sentences her to spend her summer working for his Brazilian-Korean fusion food truck, the KoBra…along with Rose, the classmate she had the altercation with.
Picking up where the first book, FLAME IN THE MIST, left off, Mariko is on a mission to rescue Okami after he is kidnapped. She returns to her betrothed, Raiden, and is forced to lie about her time with the Black Clan.
Lara Jean Song Covey writes love letters when she can't express her feelings aloud. Sounds like a good plan, until her letters get sent out. Among the recipients include their neighbor and her sister's ex-boyfriend, Josh, and the most popular boy in school, Peter.
After returning from a trip abroad, Viola Li develops a severe case of photosensitivity, aka an intolerance to light. Viola is trapped indoors, completely cut off from others, and then Josh enters her life.
Ignite the Stars by Maura Milan (September 4, 2018)
Ia Cocha is the biggest, baddest criminal mastermind in the universe. And she's a 17-year-old girl. When Ia is captured, the imperialist commonwealth sends her to their military academy in an attempt to use her expertise for their gain.
Light Years by Kass Morgan (October 9, 2018)
"Reeling from the latest attack by a mysterious enemy, the Quatra Fleet Academy is finally admitting students from every planet in the solar system after centuries of exclusivity. These cadets will have to put their differences aside and become a team if they want to defend their world from a cunning enemy—and they might even fall in love in the process." (Goodreads synopsis)
Every year, eight girls from the Paper Caste, the lowest social group in Ikhara, are chosen to be "Paper Girls." Being selected is considered the highest honor, where they are sent away and forced to serve the king. But instead of conforming and becoming subservient, Lei fights back.
The Girl King by Mimi Yu (January 8, 2019)
Princess Lu has always known she is set to become the first female ruler and her sister, Min, has always known she's destined for a life in Lu's shadow. That is until their father names their male cousin, Set, his future heir…and all hell breaks loose.
Dragon Pearl by Yoon Ha Lee (January 15, 2019)
"Rick Riordan Presents Yoon Ha Lee's space opera about thirteen-year-old Min, who comes from a long line of fox spirits. But you'd never know it by looking at her." (Goodreads synopsis)
Ruse by Cindy Pon (March 12, 2019)
"In near-future Shanghai, a group of teens have their world turned upside down when one of their own is kidnapped in this action-packed follow-up to the 'positively chilling' sci-fi thriller WANT." (Goodreads synopsis)
"Princess Hesina of Yan has always been eager to shirk the responsibilities of the crown, but when her beloved father is murdered, she's thrust into power, suddenly the queen of an unstable kingdom. Determined to find her father's killer, Hesina does something desperate: she engages the aid of a soothsayer—a treasonous act, punishable by death…because in Yan, magic was outlawed centuries ago." (Goodreads synopsis)
Adult Books
A Hero Born by Jin Yong (January 25, 2018)
"China. The year is 1200. The Song Empire has been defeated in the north by invading Jurchen forces. Pushed further south, the empire is in danger of collapse and the Chinese population is furious. Now it falls to lone patriots trained in the martial arts to save China." (Goodreads synopsis)
"The day nine-year-old San San and her twelve-year-old brother, Ah Liam, discover their grandmother taking a hammer to a framed portrait of Chairman Mao is the day that forever changes their lives. To prove his loyalty to the Party, Ah Liam reports his grandmother to the authorities. But his belief in doing the right thing sets in motion a terrible chain of events." (Goodreads synopsis)
Seventeen by Hideo Yokoyama (April 10, 2018)
"Kazumasa Yuuki, a seasoned reporter at the North Kanto Times, runs a daily gauntlet against the power struggles and office politics that plague its newsroom. But when an air disaster of unprecedented scale occurs on the paper's doorstep, its staff are united by an unimaginable horror, and a once-in-a-lifetime scoop." (Goodreads synopsis)
Floating City by Kerri Sakamoto (April 17, 2018)
"Frankie Hanesaka isn't afraid of a little hard work. An industrious boy, if haunted by the mysterious figures of his mother's past in Japan, he grows up in a floating house in the harbour of Port Alberni, BC. With all the Japanese bachelors passing through town to work in the logging camps and lumber mills, maybe he could build a hotel on the water, too. Make a few dollars. But then the war comes, and Frankie finds himself in a mountain internment camp, his small dreams of success dashed by the great tides of history." (Goodreads synopsis)
The Poppy War by R.F. Kuang (May 1, 2018)
Despite acing the qualifying exam, Rin is ostracized from her classmates at the elite Sinegard school. She's darker complected, from a poor province, and on top of that, she's a girl. It's during this time of struggle that Rin discovers she has a secret, powerful ability that may make her the ticket to preventing the next Poppy War.
The Good Son by You-jeong Jeong (June 5, 2018)
"Early one morning, twenty-six-year-old Yu-jin wakes up to a strange metallic smell, and a phone call from his brother asking if everything's all right at home—he missed a call from their mother in the middle of the night. Yu-jin soon discovers her murdered body, lying in a pool of blood at the bottom of the stairs of their stylish Seoul duplex. He can't remember much about the night before; having suffered from seizures for most of his life." (Goodreads synopsis)
"Something terrible happened at the Rewar Teng Institute of Experimental Methods. When the Tensorate's investigators arrived, they found a sea of blood and bones as far as the eye could see. One of the institute's experiments got loose, and its rage left no survivors. The investigators returned to the capital with few clues and two prisoners: the terrorist leader Sanao Akeha and a companion known only as Rider." (Goodreads synopsis)
The Court Dancer by Kyung-Sook Shin (August 7, 2018)
"When a novice French diplomat arrives for an audience with the Emperor, he is enraptured by the Joseon Dynasty's magnificent culture, then at its zenith. But all fades away when he sees Yi Jin perform the delicate traditional Dance of the Spring Oriole. Though well aware that women of the court belong to the palace, the young diplomat confesses his love to the Emperor, and gains permission for Yi Jin to accompany him back to France." (Goodreads synopsis)
A River of Stars by Vanessa Hua (August 14, 2018)
"Holed up with other moms-to-be in a secret maternity home in Los Angeles, Scarlett Chen is far from her native China, where she worked in a factory job and fell in love with the owner, Boss Yeung. Now she's carrying his baby. Already married with three daughters, he's overjoyed because the doctors confirmed he will finally have the son he has always wanted. To ensure that his son has every advantage, he has shipped Scarlett off to give birth on American soil. U.S. citizenship will open doors for their little prince." (Goodreads synopsis)
The Night Tiger by Yangsze Choo (February 12, 2019)
"When 11-year-old Ren's master dies, he makes one last request of his Chinese houseboy: that Ren find his severed finger, lost years ago in an accident, and reunite it with his body. Ren has 49 days, or else his master's soul will roam the earth, unable to rest in peace." (Goodreads synopsis)
"If there's one thing Beatrice Tanaka never wanted to be, it's normal. But somehow, her life has unfolded as a series of 'should haves.' Her powers of emotional projection should have made her one of the most formidable superheroes of all time. And she should have been allowed to join her older sister Evie as a full-fledged protector of San Francisco, pulverizing the city's plethora of demon threats." (Goodreads synopsis)
Comics/Graphic Novels
Animus by Antoine Revoy (May 8, 2018)
Animus takes place in Kyoto, Japan, where there have been several unsolved murders/disappearances of young children. Friends Hisao and Sayuri discover that their playground has been taken over by a mysterious masked entity calling himself "Toothless," who claims the playground is magic.
"En route to rescue an old friend from an abandoned outpost, Bridget Lee is dragged back to the battlefield where her husband died. There, she discovers the plans of the alien race known as the Kra'kuu to unite and rise up behind a new figure, but will it be enough to fend off the merciless Marauders when the time comes?" (Goodreads synopsis)