20 Reading Pillows for When You Want to Hibernate with Your TBR
Once upon a time, back when I was a much younger book nerd, my favorite thing to do at my grandparents' house (aside from making forts out of couch cushions and then not cleaning up after myself) was to hide out in the extra bedroom, with its threadbare reading pillow, and read. Years later, when they sent me off to college, my parents bought me a plaid reading pillow in screamingly bright shades of cyan and teal and highlighter yellow. It served me well through my late teens and early 20s as I studied for exams and discovered new authors and hid from a constantly rotating cast of roommates.
I'm now 37 and, somewhere along the way, my reading pillow disappeared. I haven't had one since. Instead, I crawl into bed and lean back against my two regular pillows, smooshing them beyond recognition so that, by this point, I have zero neck support when I go to sleep at night. This grave injustice must be rectified. I must get a reading pillow. We all must get reading pillows! READING PILLOWS FOR EVERYONE!
Some options to consider:
1. The Reading Pillow That Is Actually a Yoga Bolster
I'm getting this one out of the way first because it's the setup I often use in times of desperation, and it actually works pretty well. I recommend a large, round bolster—like this Manduka bolster—for strong lower back support. Just plop it behind you, rest your elbows back, and read until your eyeballs fall out.
2. The Reading Pillow with a Super-Chic Design
Just because an object is utilitarian doesn't mean it can't also be a thing of beauty, complementing the rest of your home décor. I like this particular reading pillow because it has the same pattern as my dining room tablecloth.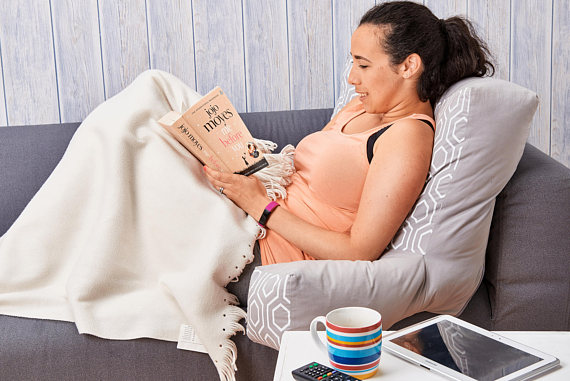 3. The Best-Seller
This reading pillow is apparently one of the most popular ones out there, thanks to its foam stuffing, which provides optimal back support. It also has a handle up top so you can carry it from bedroom to living room to home office and back again.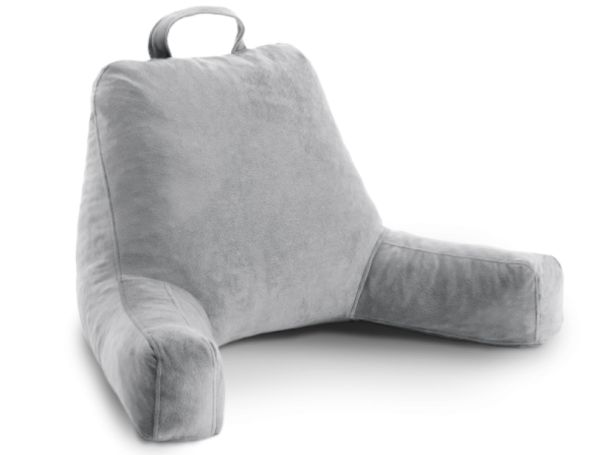 4. The Extra Glam Reading Pillow You'll Want to Snuggle With
This reading pillow has a faux-fur exterior that will make you want to cuddle up close. Its design also ensures that, even if you keep it out all day long, it won't look schlumpy sitting on your carefully-made bed.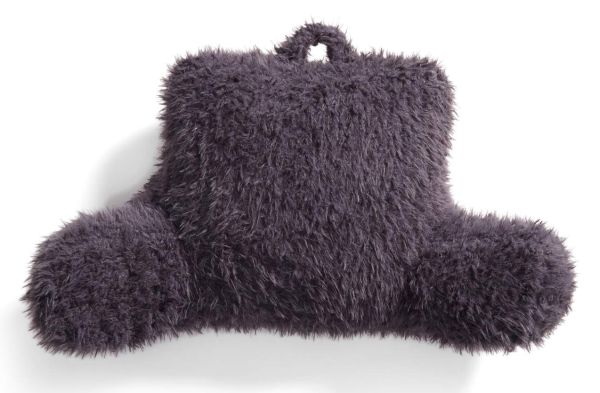 5. The Relaximals Reading Pillow You'll Want to Steal from Your Kid
Because let's get real here. Who wouldn't want to be hugged by an adorable hippo pillow while relaxing with the latest lost-in-the-jungle thriller?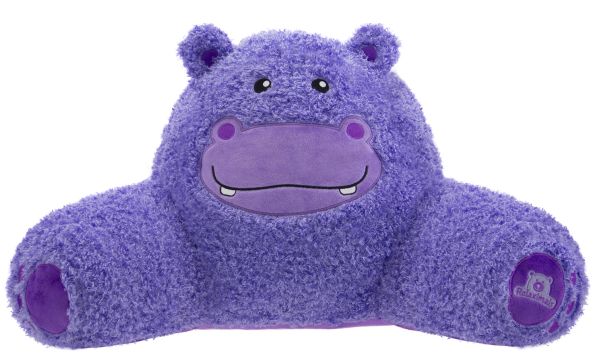 6. The Reading Pillow with Cushioning on Top of Cushioning
It's not much to look at, but this reading pillow has extra arm cushioning, extra back cushioning, and even a built-in neck rest. Firmness and fluffiness.
7. For Those Who Prefer Wedge Pillows
Do a search for reading pillows, and you're bound to stumble upon eleventy billion wedge pillows. Because even though they don't have arms on which to prop up your, um, arms, their shape seems to be ideal for in-bed reading. Brentwood Home has a selection of foam wedge pillows that are meant to hug your body while still providing support. Check out this one, being modeled by a woman who is looking pensively out the window while pondering the magic of fine literature:
8. For Those Who Prefer Wedge Pillows with a Little Extra Somethin' Somethin'
And by "somethin' somethin'," I mean a massage. You prefer your wedge pillow with a massage function.
9. The 'Support Pillow Comfort System'
Leave it to Brookstone to create an entire pillow "system," necessitating a higher price tag that makes it a true indulgence. (Put it on your wish list?) The pillow system includes a "back scoop" for lumbar support, a headrest for neck support, and a small wedge you can place under your knees. Intense.
10. The Reading Pillow For any Old Reading Position You Can Come Up With
Here at Book Riot, we've explored the issue of optimal reading positions several times, even calling out those that can be most deadly. But with this 10-in-1 Flip Pillow, it doesn't matter which position you choose. It's got you covered.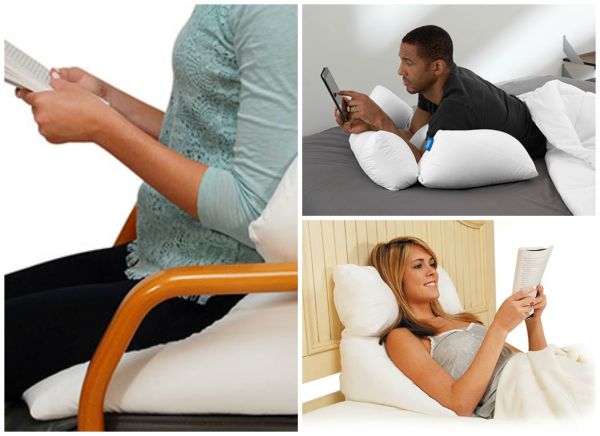 11. The Reading Pillow That Enables You to Never Get Up Ever
Why bother getting up to grab a drink when you can just start your reading session by plopping a toasty beverage into this reading pillow's built-in cup holder? It also features pockets on the outsides of the arms for MOAR BOOKS, notebooks, pens, and whatever else you need. (A bottle to pee in?)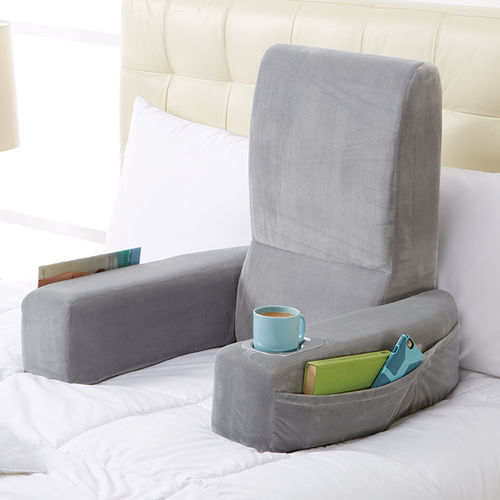 12. The Upgraded Reading Pillow with Cup Holder That Totally Missed an Opportunity
Yes. They upgraded the reading pillow above. No, they did not add in a built-in catheter so as to allow you to avoid getting up to pee. What they did add was a massage function.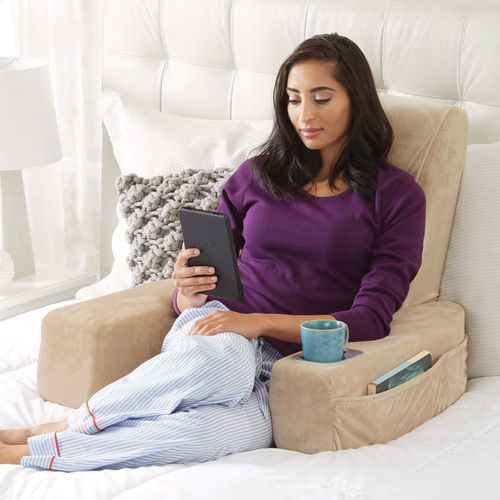 13. The Ultra Upgraded Reading Pillow with All the Bells and Whistles
Not to be outdone by Brookstone, Support Plus took the massaging reading pillow with a cup holder and added a heat therapy function and a book light. This is getting ridiculous, but I also wouldn't turn this reading pillow down if someone bought it for me (hint hint).
14. The Splash of Color
Okay, let's turn it down a notch. Things are getting a bit cray up in here. This wedge pillow makes me happy because of the bright pop of color it provides (I'm partial to the sky blue, but it also comes in lime green, hot pink, yellow, and other colors). And the corduroy cover makes it look extra huggable.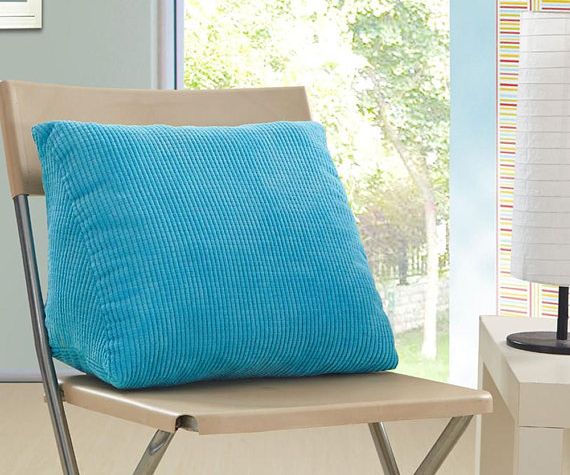 15. The Wedge Pillow That's Big Enough for the Whole Family
I once took a selfie of me and my husband, with our toddler daughter between us, all reading our own books in bed. It was like my dream come true. Just imagine if we'd had this extra-long wedge pillow at the time.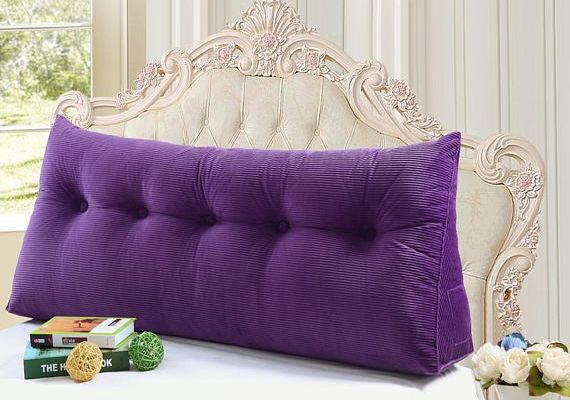 16. The Reading Pillow for Your Lap
When I first went searching for reading pillows, I found a whole different type of reading pillow I'd never even heard of before: throw pillows with a big pocket for your books. It's like a traveling reading nook that you can pop onto your lap in order to prop up your book. There are so many cute designs online. I thought this one was super cute: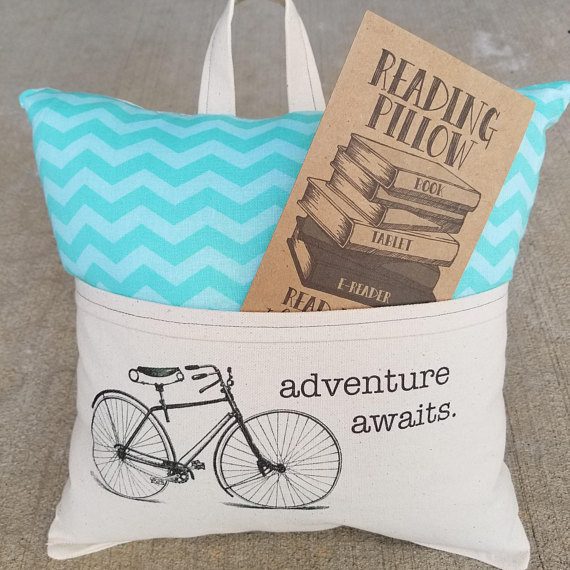 17. Another Reading Throw Pillow That's All About Reading and Cats
Just indulge me while I share one more. The demand to "READ." The cute kittens. The only thing that could make this pillow more perfect would be pictures of coffee.
18. The Other Pillow Configuration I Have Never Heard Of
This particular pillow is actually billed as a reading/gaming/tablet pillow, and it provides support for both your arms and your book when you place it in your lap. Pretty nifty!
19. The Bean Bag Reading Pillow
A friend of mine has this massive bean bag chair that takes up her entire basement and I lust after it so much. It's from Yogibo, and I'm obsessed with them, and it turns out they also make back and lumbar support pillows from the same materials. You can even pile them on top of each other for added, full-body support.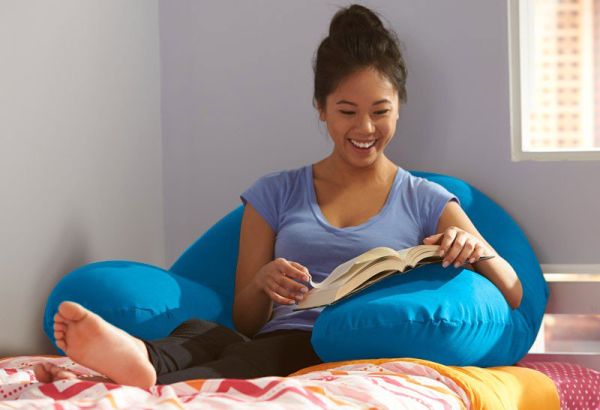 20. The Most Ridiculous Support System That Has Ever Existed
The picture of this six-piece set speaks for itself.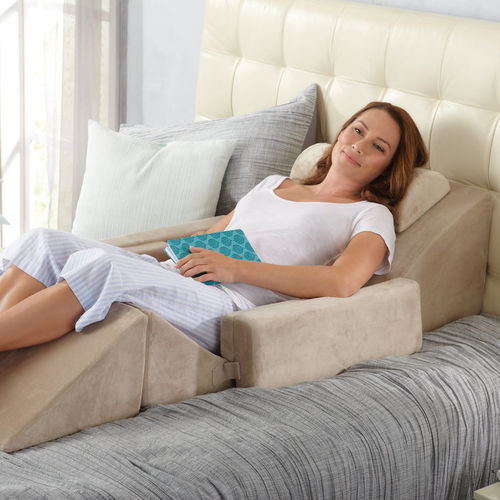 Oh, who am I kidding? I'm buying all of these.
Also In This Story Stream
By signing up you agree to our Terms of Service