Celebrate the Longest Night with these 7 Cozy Picture Books
I am not one of those people who hates the holidays. I enjoy the hustle and the bustle to a certain extent. I like getting together with friends and family; I like the snacks, etc. I do, however, tend to get burnt out by the middle of the season. The Christmas songs and commercials and marketing have been playing since late November and I am just done. Thankfully, it's right around this time that midwinter occurs. Winter solstice is an astronomical phenomenon marking the shortest period of daylight and the longest night of the year. Around the world, this day is celebrated with feasts and songs, festivals and dancing. In my house, we celebrate this day with books!  The longest night of the year is the perfect time to snuggle up with your loved ones, and if you're me, ban all talk of Christmas. Instead, we read books about light and dark; books that celebrate the beauty of nighttime and the magic of the moon. Here are ten of my favorite cozy picture books to read on the Winter Solstice.
Tiny Hannah wakes up when it's still dark outside and discovers she is the only one awake. Accompanied by her cat, she walks around the house, spies on her sleeping family, and enjoys a middle of the night snack, among other things. A simple, sweet story with stunning illustrations in a muted color palette to evoke a dark but still welcoming home.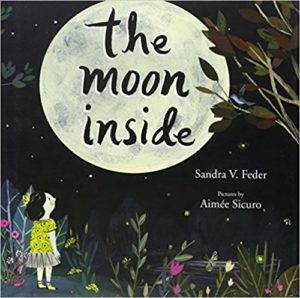 The Moon Inside
by Sandra Feder. Illustrated by Aimee Sicuro
"Every night, when the dark entered the house, traveling slowly down the walls and over the floors, Ella grew afraid." So begins this lovely, lyrical story about a young girl afraid of the dark. Her mother encourages her to stay up late one night and observe the nighttime. She sees fireflies and stars; she hears the wind in the trees and the crickets; and finally, she sees the bright glowing moon. Just like that, her fear starts to fade as she learns to appreciate the beauty of the nighttime.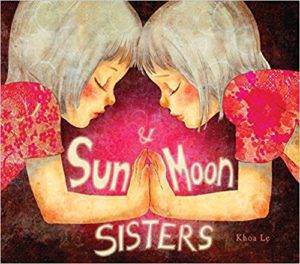 This gorgeously illustrated book tells the story of the sisters Sun and Moon. They rule the sky together but occasionally get jealous of each other. One day, they decide to switch roles, staying longer than they normally would in the sky. Havoc ensues! After much pleading from the boys and girls on earth, the sisters find a way to work together again. A simple, pleasing story about the importance of balance in our lives.
A six-year old girl leaves her home in the remote woods early in the morning while it's still dark outside. As she walks alone in the dark and spooky woods on her way to school, she is frightened by the noises she hears until– she takes a big, deep breath and decides to sing her fears away. A wonderful metaphor for overcoming fear and finding beauty in your surroundings.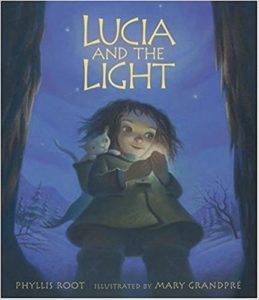 Lucia lives a cozy life with her family in the Far North. Despite the long cold winters and the dark, dark  nights, they live a happy life and look forward to the rising sun each day. Until one day, the sun doesn't rise. Convinced that someone has stolen it, Lucia sets out with her white cat to find and rescue the lost sun. Inspired by Nordic lore, this story is the perfect winter read aloud.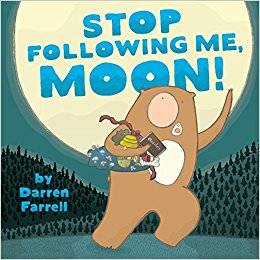 This hilarious book follows a bear (and other nighttime animals) as he raids campsites and merrily feasts on the spoils he finds. Then Bear notices that ever present moon that seems to be watching his every move and starts to feel both guilty and paranoid. Bear's attempts to outrun the moon are amusing and kids and parents alike will crack up at the visual jokes hidden in every spread.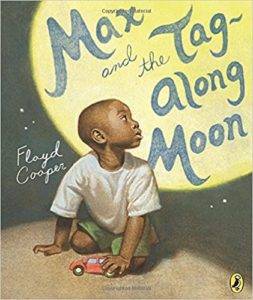 Max loves his grandfather very much and is always sad to say goodbye when it's time to go home. Together, Grandpa and grandson admire the moon. "That ol' moon will always shine for you…on and on!" his Grandpa tells him. One evening, as his family drives home from Grandpa's house, Max watches the moon out of his window and is surprised and happy to see it "tag along" with them. When an unexpected jumble of clouds briefly covers the moon's warm yellow glow, Max worries it has gone away. It returns, of course, and young readers will be gently reassured by this warm, peaceful look about a parent or grandparent's unwavering love.
By signing up you agree to our Terms of Service
We have 10 copies of
A Gentleman in Moscow
by Amor Towles to give away to Book Riot readers!
Go here to enter for a chance to win
, or just click the image below. Good luck!