20 Literary Gifts Under $20
Whether you're preparing to stuff some stockings, pass along clever and thoughtful gifts to various party hosts, and/or are taking part in one of those white elephant gift exchanges, chances are that this time of year is one where you're seeking out inexpensive, yet practical and fun gifts. If you're like me and balk at the idea of "great gift ideas" which start at the $50 price point and only go up, I'm continuing the tradition here of rounding up great literary gifts under $20.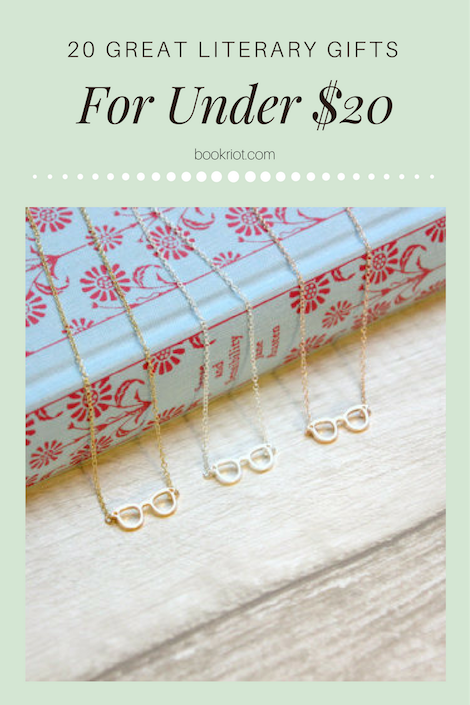 No one will tell on you if you choose to pick up one of these bookish goods for yourself. The items below are all generic book/reading gifts, meaning that you don't necessarily need to know your giftee's favorite book series or author to know they'll love what you're getting them.
Cameo reading girl pendant, $4.50 and up. Even with the chain included, this gift is under $10.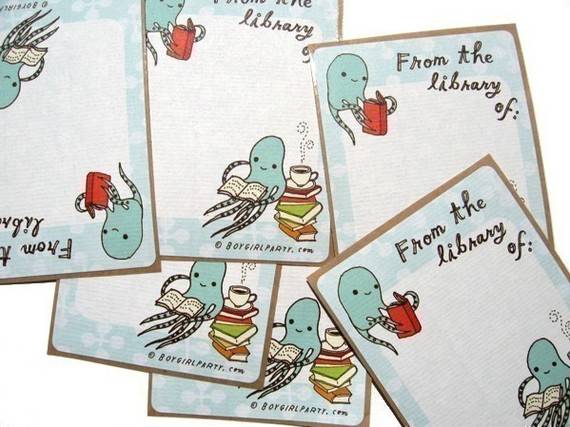 Set of 6 squid bookplates, $4.50. Nothing says "don't steal my book" like bookplates.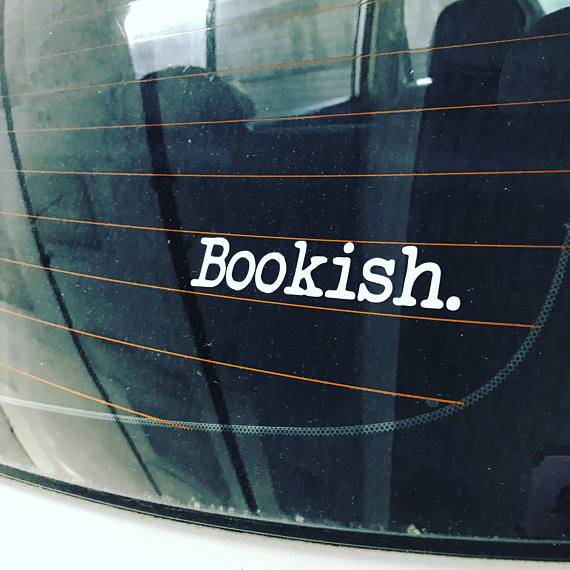 Bookish. decal, $3. Short. Simple.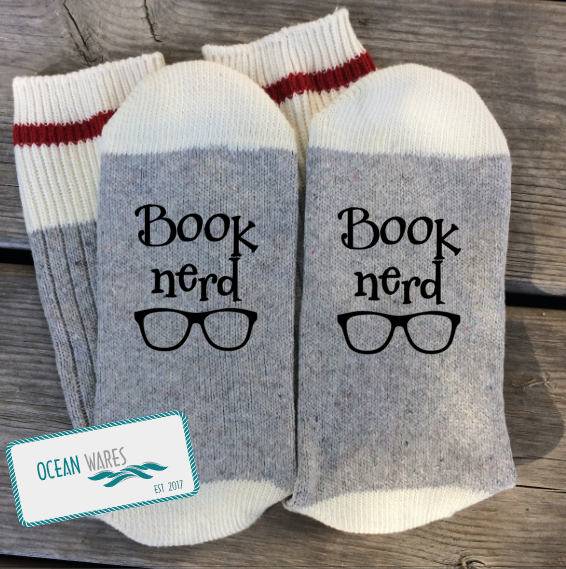 Book nerd socks, $12.13 and up. For the giftee's reading uniform.
Vinyl record bookends, $12.95 and up. These would be great for a music lover.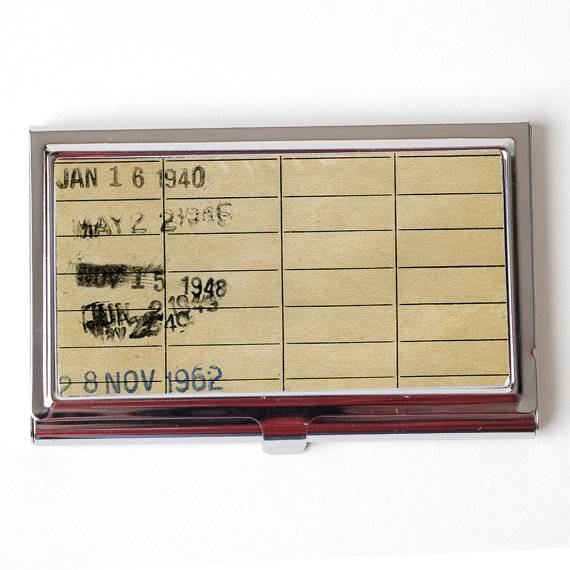 Vintage library card business card holder, $14. Even if you don't use it for business cards, it could be a good place to hold your library check out lists.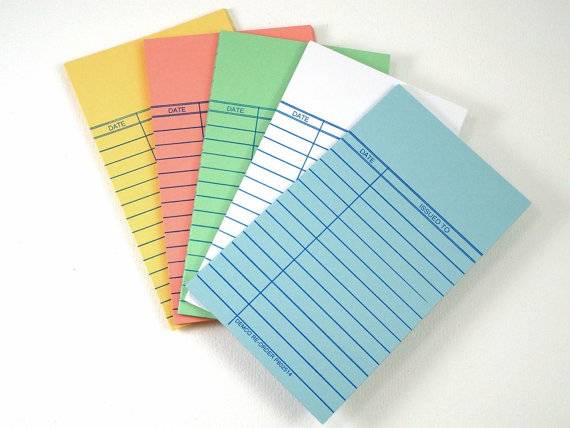 Library due date cards, $4.50 and up. Because there are a million uses for date due cards (for real!).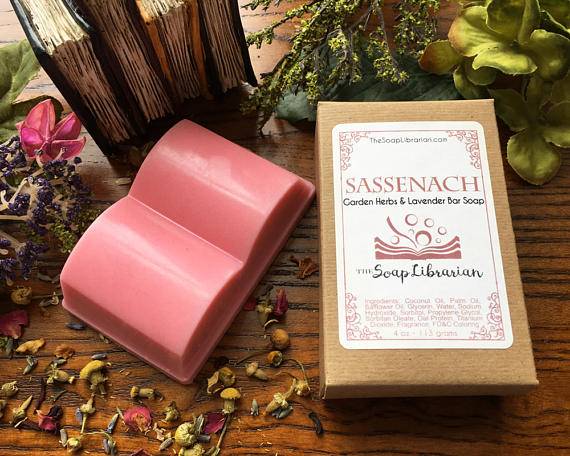 Book shaped soap, $6. Take your love of books to the bath, without the fear of getting pages wet and ruining them.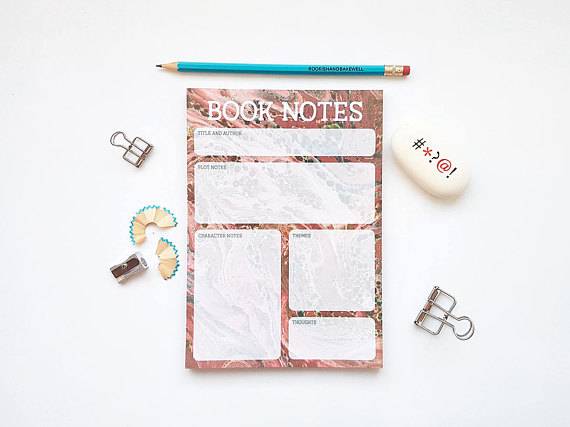 Book notes notepad, $8.95. The perfect tool for making notes about what you're reading.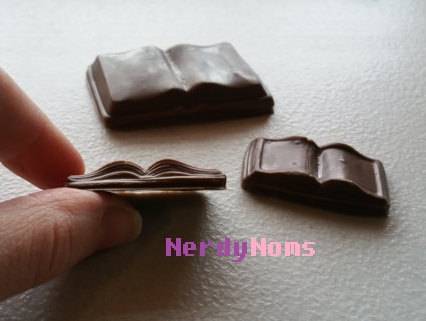 Book shaped chocolates, $4.95 and up. Cute and delicious.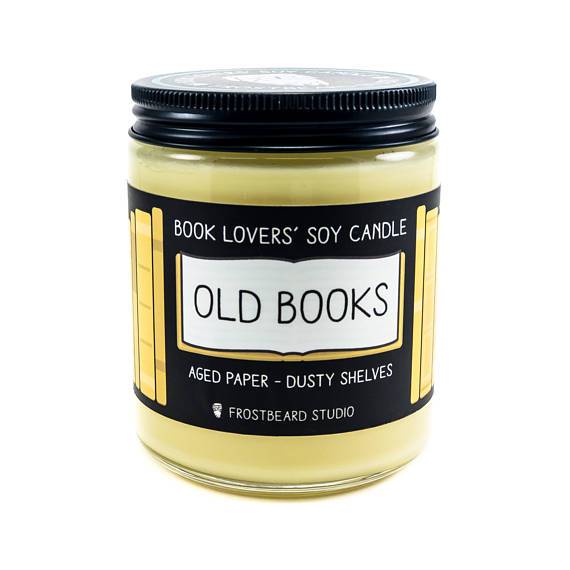 Old Books scented soy candle, $18. There are a ton of other scents, but it seems like old books is a nice, classic standby.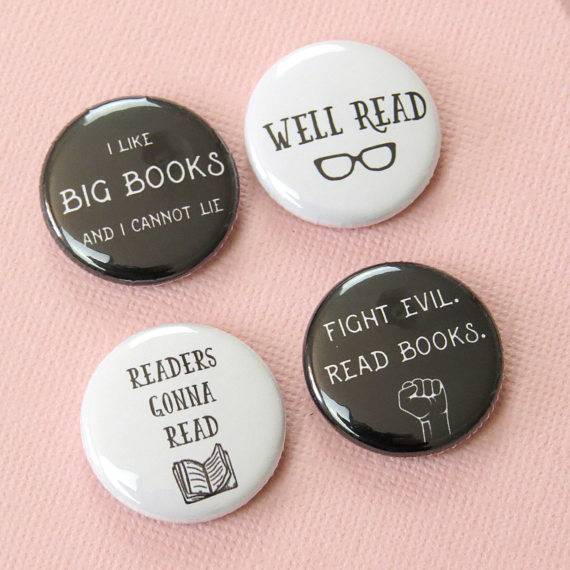 Book buttons, $4.13. No lies on any of these buttons.
Books have to be heavy tote bag, $12.32 and up. For, of course, toting the books.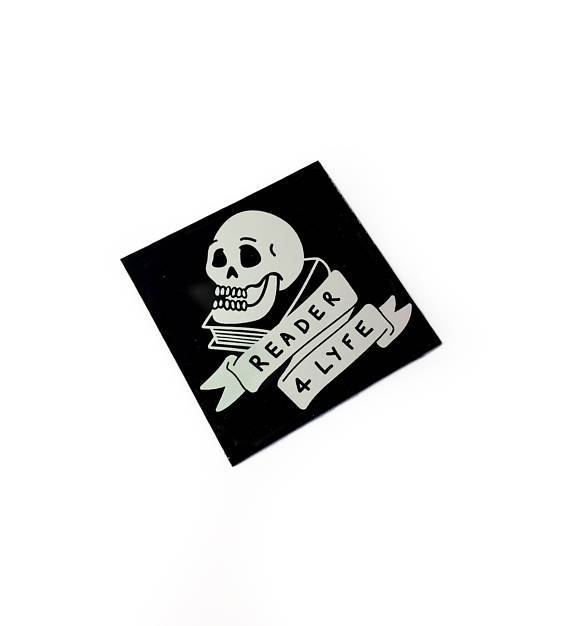 Reader 4 Lyfe magnet, $2.75. Yes!
Glasses necklace, $12.39 and up. Because many book nerds wear glasses and many famous authors have been specs wearers, too.
Book downloadable print, $6.68. Even if you framed it, this would come out well under budget.
Wooden book page holder, $5.54 and up. Clever and different.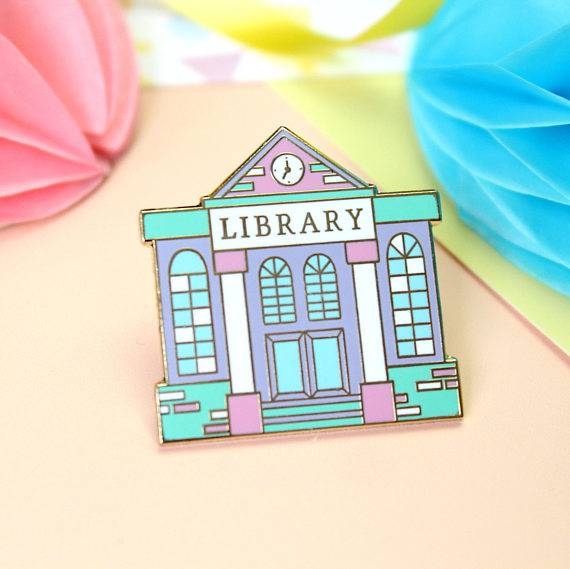 Library enamel pin, $9.64. Honor the iconic symbol of the book lover. Check these out, too, if you're looking for more options when it comes to library enamel pins.
All the cool kids are reading tee, $19.50 and up. The "and up" is for the larger sizes, and those are just slightly over budget.
Book fuel mug, $10. Because a book nerd needs their book fuel, and this mug doesn't tell you what that fuel needs to be.
Looking for more ideas of literary gifts under $20? Here are the guides to literary gifts under $20 from 2016 and from 2015. Not all of the items may be available still, but they're worth exploring. Also check out out guide to 10 great bookish gifts under $5.
By signing up you agree to our Terms of Service