10 Super Luxe Christmas Gifts for Book Lovers
Want to give something extra special to the book lover in your life this Christmas? These extravagant gifts for book lovers are sure to wow!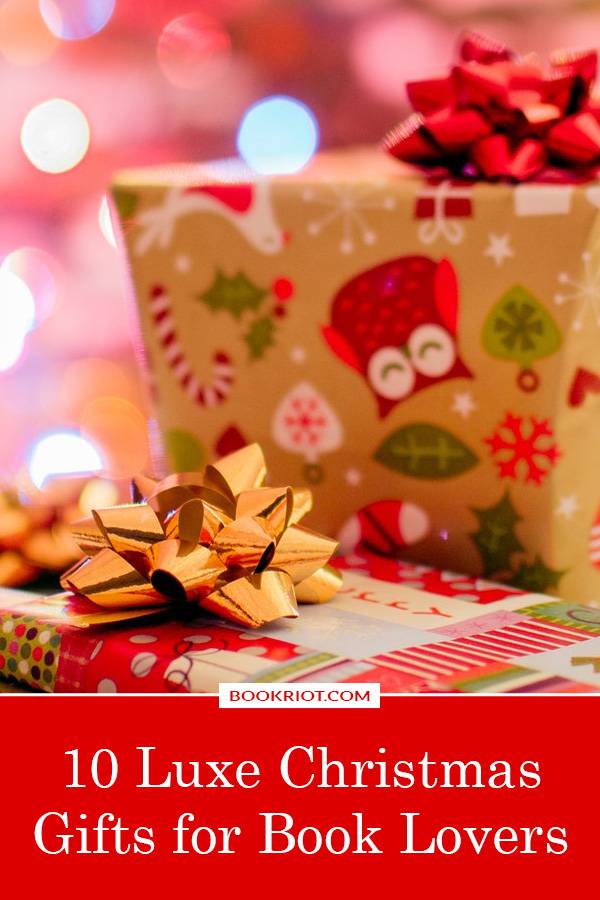 Immortal Perfumes offers a wide range of handcrafted scents inspired by fictional characters such as Montague & Capulet, Heathcliff & Catherine, and Hades & Persephone. Also, explore the Dead Writers collection, which includes scents like Pemberley, Lenore (inspired by Edgar Allan Poe), and Sylvia (as in Plath).
Cost: $30–75
This beautiful 6-book slipcased set features color illustrations by Anna and Elena Balbusso, Philip Bannister, Sam Wolf Connelly, Deanna Staffo, Jonathan Burton, and Darya Shnkina.
Cost: $346.55
Malena Valcárcel's stunning book sculptures are the perfect addition to any home library. They're sure to elicit oohs and ahs from your giftee! You can see more of Malena's work and read an interview with her here.
Cost: $25–$1,560
Shayne Greco makes the most amazing ceramic houseware. These nautical bookends evoke the spirit of the Mediterranean and are a stunning addition to any home library.
Cost: $950
This Italian label is the recipient of numerous awards for its innovative literary design. Each bottle is affixed with a booklet featuring a short story. Choose from "L'omicidio" ("The Murder"), "Ti Amo. Dimenticami." (I Love You. Forget Me."), and "La Rana Nella Pancia" ("The Frog in the Belly"). Luckily, this wine comes at a very reasonable cost, but you'll have to brush up on your Italian!
Cost: $17.41
This stunning set features a cherry-stained storage chest/playing board and characters painted in life-like color. The White Rabbit is so cute!
Cost: $143.96
I don't know a single book lover who doesn't have an affinity for vintage typewriters. Mahogany Rhino offers a range of refurbished, fully functional typewriters.
Cost: $200-$1,200
Juniper Books dresses hardcover sets in stunning jackets and this set is one of my very favorite sets. The portrait featured on the spines is by Denver-based artist Detour (Thomas Evans).
Cost: $250
Whether you're planning a Christmas wedding or just want a beautiful bookish ring to give to your honey, this ring, inscribed with the famous quote "After all this time? Always." is perfect. It also comes in yellow gold and white gold options. If you're hankering for something a little less romantic—or pricey—Hearts or Spades also carries a line of $58 rings inspired by great works of literature.
Cost: $225
If you really want to splurge, take your book-loving friend, lover, or family member on a memorable literary vacation! Check out the Literary Tourism archives for ideas and inspiration.
SaveSave
SaveSave
SaveSaveSaveSaveSaveSaveSaveSaveSaveSaveSaveSave
SaveSave
SaveSave
SaveSave
By signing up you agree to our Terms of Service