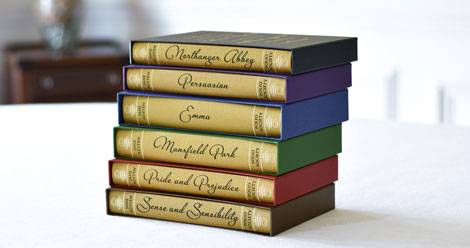 10 Stunning Jane Austen Book Sets
True fact: I own four copies of Pride and Prejudice and two full sets of Jane Austen's novels. It's funny because I'm actually more of a Brontë girl and yet I only own two copies of Jane Eyre. I don't know why, but there's something about Austen's books that makes me want to hoard as many copies as possible.
If you're anything like me, you'll probably enjoy these beautiful Jane Austen book sets.
This luxurious slipcased set from The Folio Society features illustrations by Anna and Elena Balbusso, Philip Bannister, Sam Wolf Connelly, Deanna Staffo, Jonathan Burton, and Darya Shnkina. It also features introductions by Sebastian Faulks, Elena Ferrante, Fay Weldon, Siri Hustvedt, Val McDermid, and Lucy Worsley.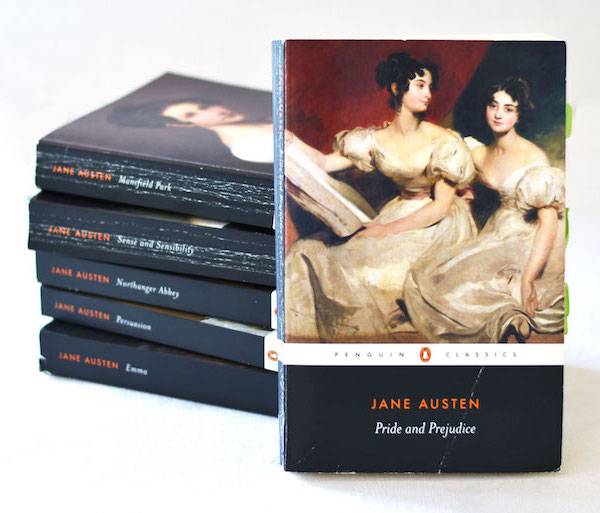 Penguin's original classics collection may not as visually stunning as some of the other sets on this list, but it's my favorite because of what's on the inside. The first three books in this set feature new introductions and the original Penguin introductions written by Tony Tanner in the 1960s. Tanner's introductions are so good I once wrote an entire blog post about them. Though not pictured here, this series also includes Lady Susan, The Watsons, and Sandition in one volume.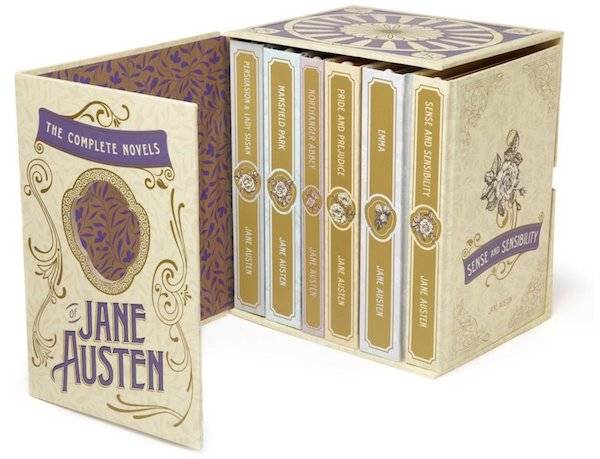 I bought a different Heirloom box set for my nephew a few years ago and I was really impressed with the quality to price point ratio. Unfortunately, this set had a limited run. You can still buy it on Amazon, but the price has skyrocketed with rarity. You can buy the entire set on Kindle though for only $5.99, and it includes the original four-color illustrations by Jacqui Oakley.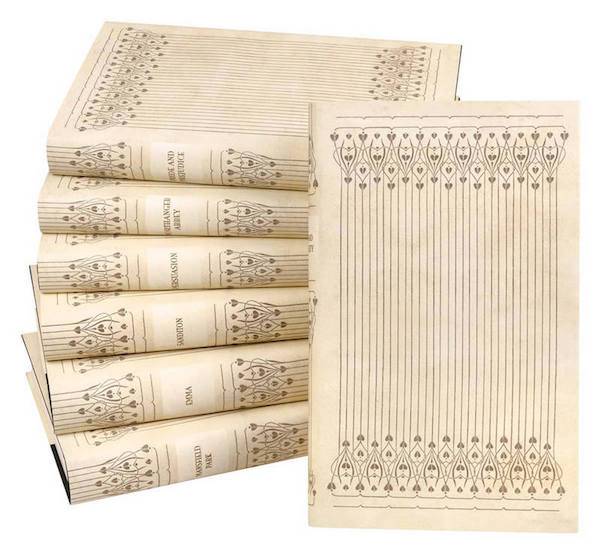 Juniper Books offers two different Jane Austen book sets. This one is my favorite and it also comes in pink for those who prefer a more overtly feminine look. Beneath the custom jackets are Everyman's Library hardcover editions, which I think is an excellent choice. In my experience, Everyman's editions are very high quality and can survive almost anything. (I once dropped my Everyman's copy of Parade's End in the bathtub and the ink didn't even smudge a little.)
These gorgeous Penguin hardcovers were designed by the award-winning Coralie Bickford-Smith. Tactually, they're not my favorite. I find the spines stiff and the foil-stamped design prone to wearing off, but if you're looking for shelf candy, you can hardly go wrong with these.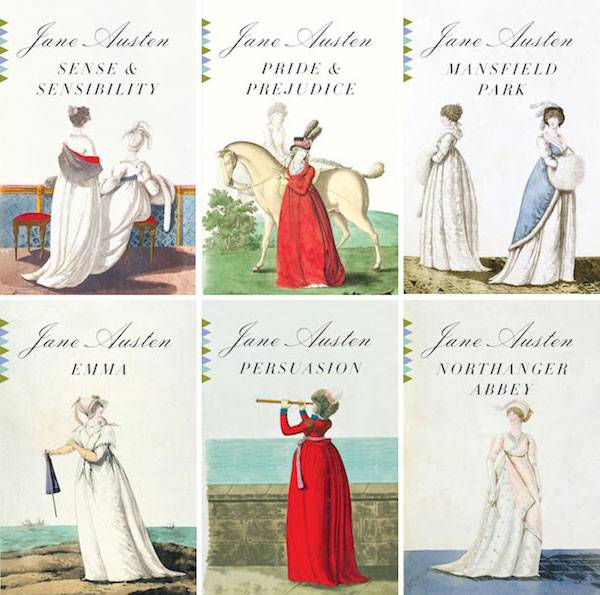 This is where it gets confusing. There are three different Vintage Classics Jane Austen sets. One is American, one is from the U.K., and the third seems to be available everywhere and features a design that is exclusive to Jane Austen's work (in other words, there are no books by other authors in the series). The American version is my favorite and I especially love the cover of Persuasion.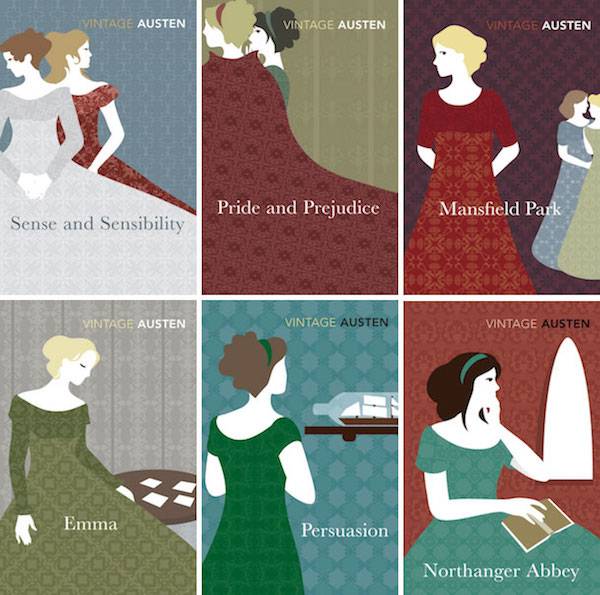 The U.K. version of Vintage Classics (known for their red spines) features bold patterned cover illustrations. Though not my favorite, they certainly win points for style.
These pretty little Vintage editions were designed by Leanne Shapton and feature introductions by Alexander McCall Smith, Lynne Truss, Amanda Vickery, Francesca Segal, P.D. James, and Andrew Motion.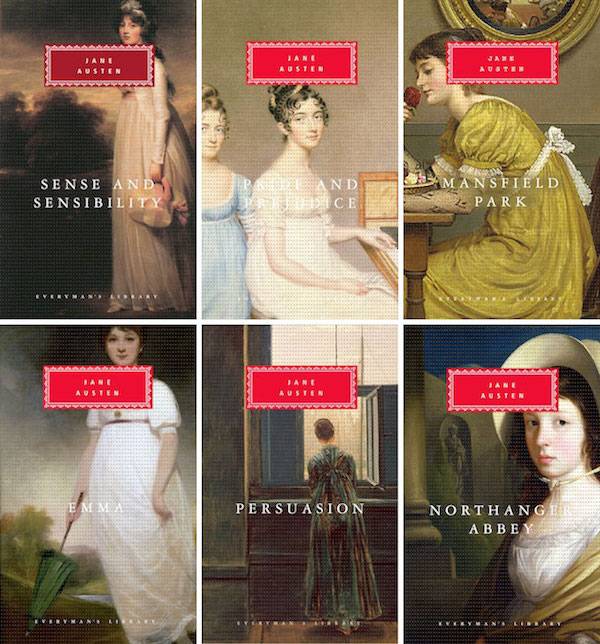 And here we come to the Everyman's Library hardcover editions. As I mentioned before, they are extremely durable and will weather any abuse. I absolutely love Everyman's matching jacket designs, but these sturdy little volumes also look gorgeous naked. They feature introductions by Peter Conrad, Marilyn Butler, Judith Terry, and Claudia Johnson.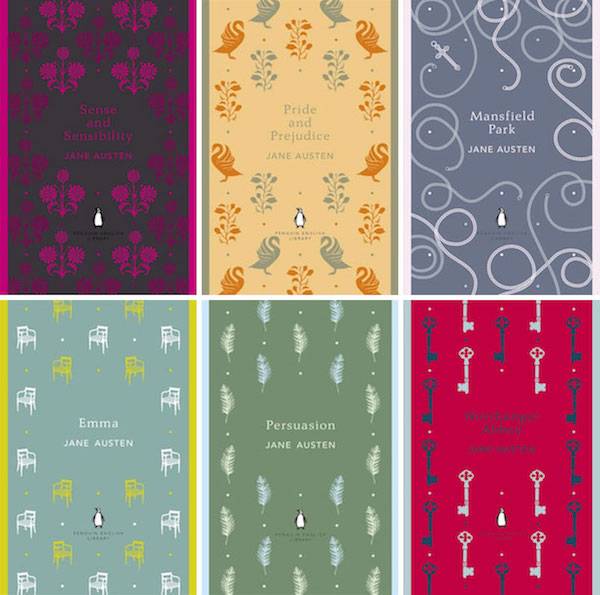 When it comes to paperback design, I think Penguin English Library is right up there with the U.S. Vintage Classics. I don't have any Austen in my small English Library collection, but all the books in the series share beautiful design and flexible spines that won't crack.
Which of these delicious sets is your favorite?