10 Books That Changed the World: List List #279
Sponsored by OverDrive.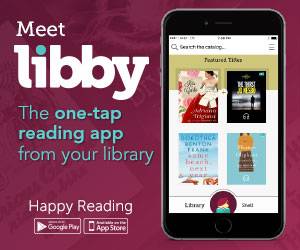 Meet Libby, a new app built with love for readers to discover and enjoy eBooks and audiobooks from your library. Created by OverDrive and inspired by library users, Libby was designed to get people reading as quickly and seamlessly as possible. Libby is a one-tap reading app for your library who is a good friend always ready to go to the library with you. One-tap to borrow, one-tap to read, and one-tap to return to your library or bookshelf to begin your next great book.
---
at Granta, 10 Books That Changed the World
at the National Book Foundation, 2017 National Book Awards Winners
at Bustle, The 9 Best Sci-Fi & Fantasy Books Written By Women In 2017, According To Amazon
at The Guardian, The Most Beautiful Books of 2017
at Southern Living, The Best New Books to Read During the Holidays
at Brightly, 15 Books to Share Stories of Native American History and Experience with Kids and Teens
at Wired UK, 5 Must-Read Books for a More Forward-Thinking World
at The Root, Fantasy and Science Fiction Made for Black People, by Black People
at ThoughtCo., Classic Poems About Sailors and the Sea
at Signature, 8 Books About Fierce Queer Women to Read Now
at Off the Shelf, 11 National Book Award-Winning Novels to Read Before You Die
at Read it Forward, 14 Notable Epistolary Novels
We have 5 copies of 
the
Forbidden Hearts series
by Alisha Rai to give away to Book Riot readers!
Go here to enter for a chance to win
, or just click the image below. Good luck!