BAME Authors Students Should Read: List List #277
This List List is sponsored by The Bride Who Got Lucky, Janna MacGregor's captivating new Regency romance that's available October 31.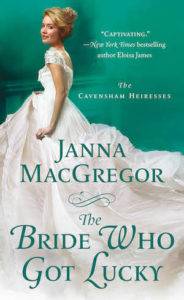 On October 31, Janna MacGregor's Cavensham Heiresses series continues with The Bride Who Got Lucky.
Nicholas St. Mauer prefers solitude to society. But driven by honor, the reclusive Earl feels obliged to keep a watchful eye on Lady Emma Cavensham. She possesses a penchant for passions that finds Nick in constant peril of losing his well-structured solitude.
Emma has little use for a man—especially with the more pressing mission of proving her late friend's death was no accident. But when a compromising moment upends all her plans, Nick may be the only man brave enough to join in Emma's cause…and fight for her heart.
---
at The Guardian, The BAME Authors Readers Think Students Should Read
at Mental Floss, 11 Women Horror Writers You Need to Read
at Tor, 9 Terrifying Books That Aren't Shelved as Horror
at Signature, 12 Witchy Reads
at Off the Shelf, 9 Tales of Intrigue, Suspense and Disaster Set on Ocean Liners
at Vox, The Most Popular Books in All 50 States
at BuzzFeed, 9 Books To Add To Your Reading List This Month
at Io9, November Scifi and Fantasy Books
at Kirkus, 9 Page-Turners Too Addictive to Put Down
at Unbound Worlds, 5 Works of Horror by African American Writers
at The Millions, The Millions Most Anticipated for November
at Electric Literature, 9 Walking Books That Let You Follow in Literary Footsteps
Do you like podcasts like
This American Life, RadioLab, or Planet Money
?
Annotated
is kinda like those, but for books. Go
here to find out more
, or click the image below: